From client relationship management to scheduling and invoicing, small business owners often end up with a lot more admin work than they bargained for. Business management software takes care of some of the hassle by eliminating a lot of data entry, and keeping all the important stuff in one place. Usually business management software has customer relationship management, invoicing, and other tools. Ideally, it can also help you manage your employees, your schedule, and give you analytics to help steer you in the right direction. There's a huge variety of business management software out there, each with its own unique combination of features. So how do you choose? Below are a few things to look for, plus the top 7 solutions on the market today.
What to look for in small business management software
Small business owners with fewer than 20 employees will likely benefit from a simpler, all-in-one solution that manages CRM, invoicing, scheduling, and employee communications. This is especially true of solo operations or businesses that don't have admin departments—if there are only a few people using the software, it's better to have something intuitive that's easy to maintain.
However, there might still be some small variation: Service based businesses that manage client appointments might need scheduling tools, while ecommerce businesses might benefit more from inventory management options. First, try to identify what admin work you'd like to automate, then take a look at what's available to see if it's possible.
Below are first the:
Best 3 business management software for less than 20 employees: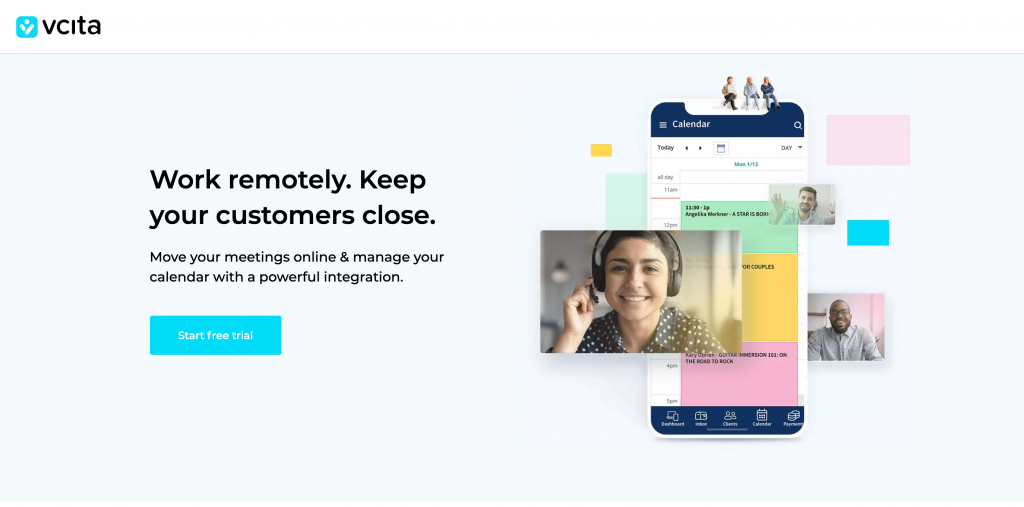 Pros:
integrates with popular apps such as Zoom, Paypal, Stripe, Square, Zapier
easy-to-use interface
team view for multi-staff accounts
Cons:
only offers solutions for up to 20 users
software only comes as a package; not custom-built
no expense tracking feature
Pricing: 14-day free trial, with prices ranging from $19/month for individuals to $196/month for teams of up to 20 people
Features: 
scheduling features allow clients to schedule their own appointments
client portals allow for document sharing, 24/7 payments
CRM tools that integrate with billing features
invoicing and payment processing make it easy to track AR
automated email reminders for appointments
Small business owners looking for all the basics in a user-friendly platform will find what they're looking for in vcita. With invoicing, CRM, scheduling, and team collaboration tools all rolled into one, it's a great option for business owners that want to cover all their bases in one elegant solution. vcita's unique scheduling features make it a particularly attractive option for service-based businesses, since it enables clients to schedule their own appointments right from a website or Facebook widget.
Those looking for inventory management might find it limited, as would larger businesses working on more complex projects. Integration with Zapier does make it possible to integrate it with more complex project management software, however. The basic package is pretty affordable, and clients and employees alike will appreciate how easy it is to use.
3. AllProWebTools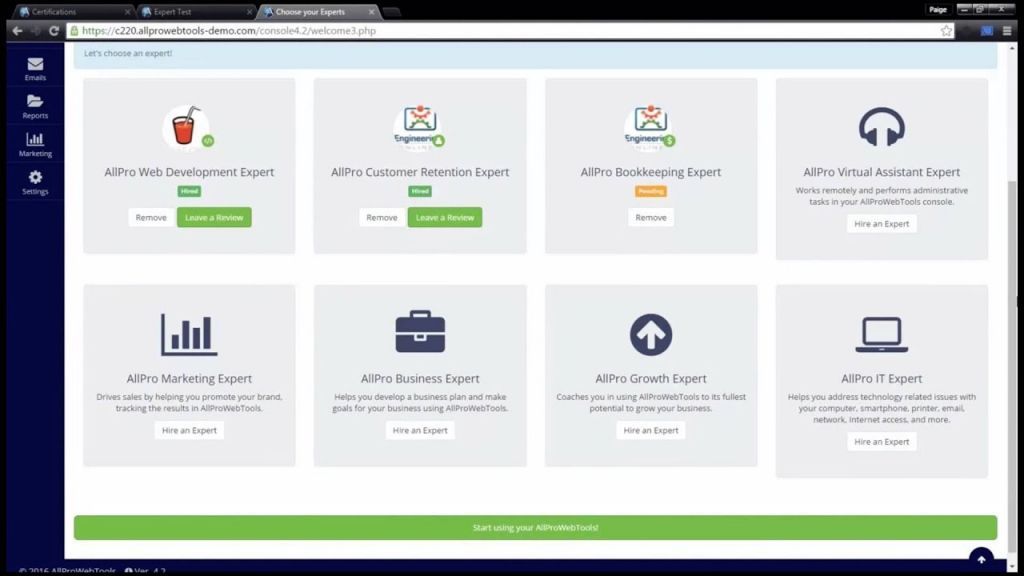 Pros:
lots of collaboration/team management tools
unlimited users on every plan
free SSL certificate for your website
Cons:
tech support is capped at 30 min/month; extra support costs almost $1.00 per minute
no client portal
invoicing and payment features not available on basic plan
Pricing: ranges from $30/month for the "CRM + Email Marketing" plan to $90/month for the "Sales Team" plan
Features:
CRM with customizable tags
email marketing tools
workflow timeline that streamlines collaboration
task manager to track team progress on specific tasks
employee chat feature with admin monitoring
This option has more features geared towards team collaboration, with a task manager and workflow timeline ideal for more complex projects. AllProWebTools also has features geared towards retailers, with inventory tracking and abandoned cart notifications.
There might be some drawbacks here for service-based businesses, since it doesn't have the same scheduling features as vcita. Although there's an internal calendar, clients can't schedule their own meetings. There are also fewer plan types to choose from, meaning less flexibility in terms of finding a tailored solution. Still, it's a good, simple option for small businesses that need project management features.
3. FreeAgent CRM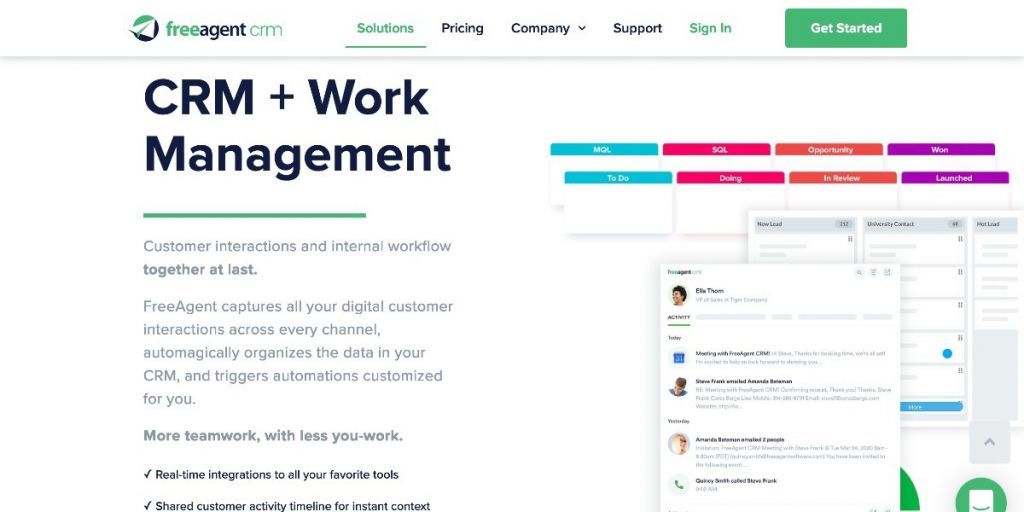 Pros:
CRM is fully customizable to your sales funnel
more in-depth marketing analytics
easy to manage to-do lists for you and your employees
Cons: 
pricier option than the first two
no invoicing features
tech support is limited to How-To's in "Essentials" plan
Pricing: free trial, with priced plans ranging from $25 per user/month to $250 per user/month
Features:
integrated CRM and team management features
task list with alerts and reminders you can configure
analytics by month, quarter, and year
MS Office 365 and Gmail integration
onboarding assistance with Professional, Enterprise, and Unlimited version
FreeAgent CRM is a good option for small businesses with a heavy focus on sales. With a fully customizable CRM system and in-depth analytics, it allows business owners to tailor their management software to fit their sales funnel.
This software is pricier per user than the other two, and doesn't come with integrated invoicing or payment processing. However, direct sales business models or those who already have POS systems in place might benefit from the simplicity.
Best solutions for 20+ employees
Once a business hits a certain size, its software needs will usually become both more complex and more specific. Concerns like payroll, HR management, and timekeeping come into play, as well as financial reporting. Teams of this size might have speciallized IT or admin personnel who can take on some of the more complex user interfaces.
Once businesses start growing, they might also decide to outsource things like payroll or accounting—and therefore be more interested in strictly project management or CRM tools instead. What you'll need at this stage will depend on how you're growing your business, but below are a few options to consider.
4.Odoo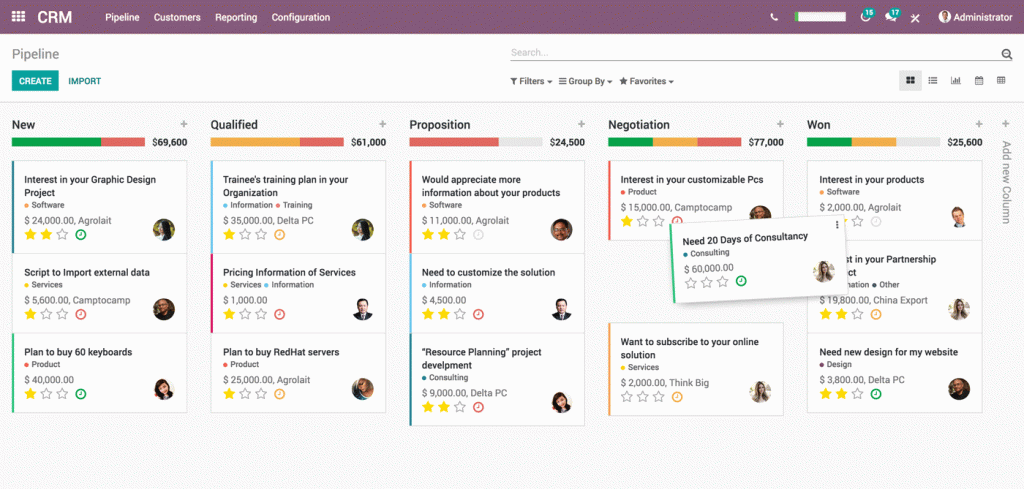 Pros:
open source software means that the code itself is available to customize
users can try one free app
modular system means you can pick the exact features you need
Cons: 
steep learning curve
each feature is priced individually, adds up quickly
Success Packs for implementation help are expensive
Pricing: free open source version, or a 15-day trial of paid plans starting at $24.00 per user/month, with additional features starting at $12.00 per user/month. Success Packs for implementation help start at $3,060.00.
Features:
CRM, sales, and marketing apps
invoicing, accounting, and expense management apps
website builder
social media planner
cloud infrastructure with hosting and data security services
Odoo is a freemium service that allows users to install one free application from its modular list of available applications—but if you need more than one, it will cost you. It's a good option either for businesses that want to try a specific application out, or for anyone seeking a fully customizable, DIY solution.
This option is likely to be much better with IT staff on board to tailor a solution for the business. Although it offers more potential complexity than the prior three options, that complexity comes with a steep learning curve.
5. Wrike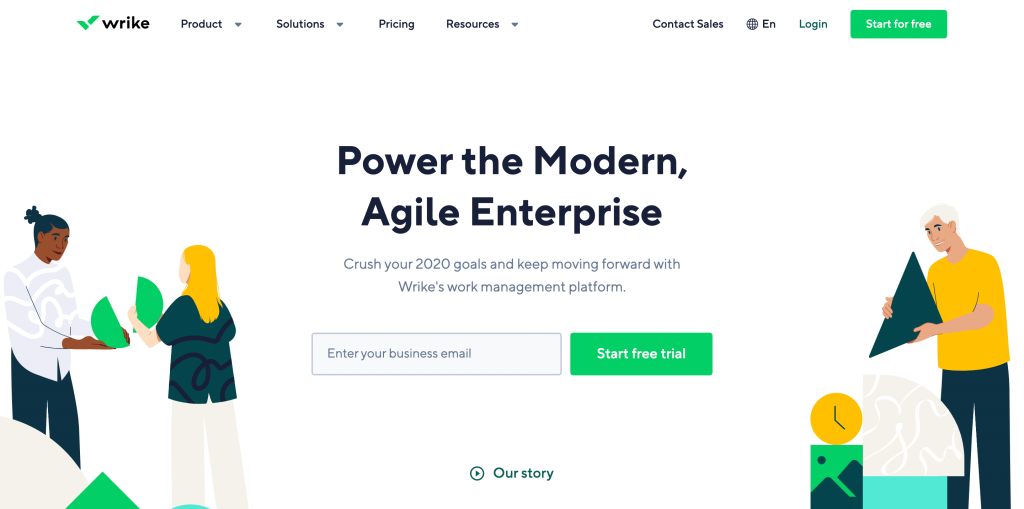 Pros:
has a free version for 5 users or less
integrates with Creative Cloud
tailored solutions for marketing and professional services
Cons:
no CRM features or invoicing, accounting
time tracking features, but no payroll
integrations with other software only available as an add-on service
Pricing: free version available, with pricing starting at $9.80 per user/month to $24.80 per user/month. Each priced version also has a 14-day free trial available
Features:
to-do list that allows you to rank tasks
file sharing with cloud storage
desktop and mobile apps
calendars and time tracking in more advanced plans
integrates with Salesforce
Wrike is a good solution for larger businesses that need project management software, but not as much in the way of CRM or accounting software. It's a simple and user friendly way to organize teams and projects into manageable tasks and timelines.
The software has customized solutions for marketing and creative teams, as well as professional services, project management, and product development options. Although smaller businesses might be interested to try the free version, it doesn't offer nearly as much as  the paid plans do.
6. Omnidek
Pros:
easily create forms for clients and employees
library of form templates included
all plans come with tech support and monthly consulting
Cons:
no invoicing tools
not as many CRM features as other options
expensive
Pricing: Ranges from $250/month for 10 "Boss" users to $4500/month for 50 "Boss" users, with form submitters and field employees priced at an extra $10 per user/month
Features:
create custom forms for accounting, HR, field reporting, etc.
chat features for employees, clients
workflow inbox consolidates tasks into one list
customer portals allow collaboration/file sharing with customers and vendors
integrates with accounting platforms
Omnidek is geared towards businesses primarily looking for an intranet, with client portals that help employees connect with clients and vendors. Businesses that routinely need to get contracts signed, or share multiple documents over the course of a longer project, would benefit from its features.
Its main selling point is that it enables you to make custom forms for your team to fill out—so for example, you could make a custom HR onboarding form or a custom timesheet or expense template. The "Business Standard" and "Business Enterprise" plans come with monthly development support for those without the IT help to do it on their own.
7. NetSuite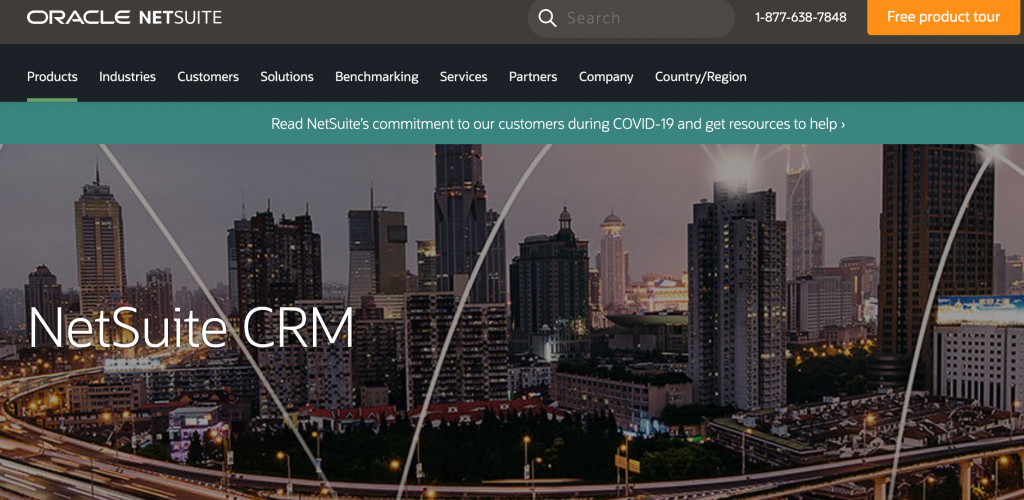 Pros:
offers packages tailor-made for specific industries
allows for scalability
extensive tech support available
Cons: 
difficult user interface
occasional integration problems if not kept up to date
custom solutions can get very expensive
Pricing: starts at $999/month, with an additional $99 per user/month
Features:
CRM software w/ customer portal
finance and accounting options with comprehensive reporting
HR, Employee Center, and payroll options
project management features
basic support available for all accounts
Businesses that need room to scale might look to Oracle's NetSuite as an option, since it has everything a large company might need. NetSuite offers a tailor made solution with substantial tech support, but its bells and whistles come at a cost. In addition to the high price tag, you'll also need to budget for two to six months of implementation.
While it may be too much for smaller companies with simpler workflows, it also has the potential to be a timesaver down the road for companies that plan to grow exponentially.
What to do if you're stuck deciding
Keep in mind that your software will also influence your business practices—software that's too complex will leave you swimming in technical issues, while software that's too simple might leave you overlooking important things. If you still aren't sure what solution is right for you, opt for a few that have free trials to get a feel for how you like them. Remember that your decision isn't set in stone! With integration getting easier all the time, the right solution is always just a few clicks away.