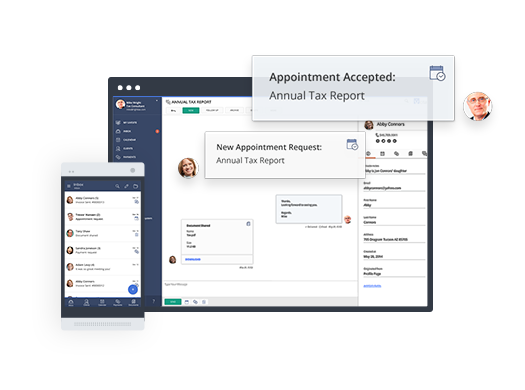 CRM Software
Build stronger customer relationships and manage client interactions across your team
CRM software doesn't have to be complicated and expensive.
Small businesses need an easy way to manage, follow up and serve their clients anywhere, anytime – even on their phone. But even more than that, your clients need a seamless experience when interacting with your business.
This is why both the vCita online CRM software and our Mobile CRM app uniquely integrate with your website, social media and email, creating LiveSite - an integrated client engagement platform for all your client interactions.
Collect Customer Details

Customized client card fields and web forms help you collect and record all the information you need on every contact, lead or customer in your CRM software.
vCita Online CRM software also automatically adds the lead source, photo and other insights from public social network profiles.

Manage Customer Relationships

Access client information on your online CRM or on your Mobile CRM app anywhere you are. Review past communication, documents, payments and upcoming appointments.
Easily add new clients on your phone,or import your contacts and customer data from Gmail, or an Excel file.

Follow-up with Customers

Get instant notifications for new client requests to your smartphone and immediately respond via your Mobile CRM app. Remind yourself to follow up with customers, schedule appointments or create invoices.

Increase Client Engagement

Go beyond managing customers and empower your clients with a self-service portal. Greet returning customers on your website, and allow them to review their past activity and take action: schedule appointments, send messages, share files and pay online.

Manage Your Team

Manage work schedules, assign clients to staff members and share client information across your team. Easily generate customer activity reports and export to Excel.

Professional, Branded Emails

Build relationships with every customer communication. Brand every email with your logo, colors and staff member photo – all in a professional templates that can be customized for each type of interaction.
Pricing
Basic Contact Management
LiveSite forms and widgets, for web, mobile and social
Limited customer history and client details
Email notification for every contact request
Professional
Starts at $12.45/month
CRM software for small business.
Unlimited customer records and customer relationship history
Customized customer details, including social media insights
Mobile notifications & branded follow-up emails
Integrated LiveSite with scheduling, invoicing, payments and file sharing
Easy import/export
Business
Starts at $39.90/month
Everything in Professional - for your whole business
Company branding and customization
CRM administrator view & control
Share client records across your team
Assign customers to specific staff members