As small business owners, there's nothing like the joy of seeing an outstanding invoice finally get paid, is there?
But the paperwork, stress, and legwork required to get that hard-earned money in your bank account?
Yeah, not as fun.
There's a reason why invoices are such a huge headache for busy business owners on a time crunch. From creating invoices one-by-one to chasing those late payments, there's so much wasted time and money.
We totally get it. That's why vcita created a simple invoicing app to help service business owners get paid on time, every time.
But did you know there's more to vcita than just somewhere to manage your payments and invoices in one place? In fact, there's a ton "under the hood" that can help you put most of your invoicing on autopilot.
If you want more time on your hands, and less stress about getting paid, we invite you to take full advantage of vcita's powerful invoicing options. Following these five tips & tricks can help you quickly set up a process that gets you paid faster and makes your business look like a million bucks.
With that, let's dive in!
1. Follow Up with Automated Payment Reminders
Let's be real: we all have those clients. You know the ones that need an extra push in order to pay up?
If you're tired of email chains and back-and-forth, we don't blame you.
With vcita, you can easily set up automated email and SMS payment reminders to remind your clients of outstanding invoices.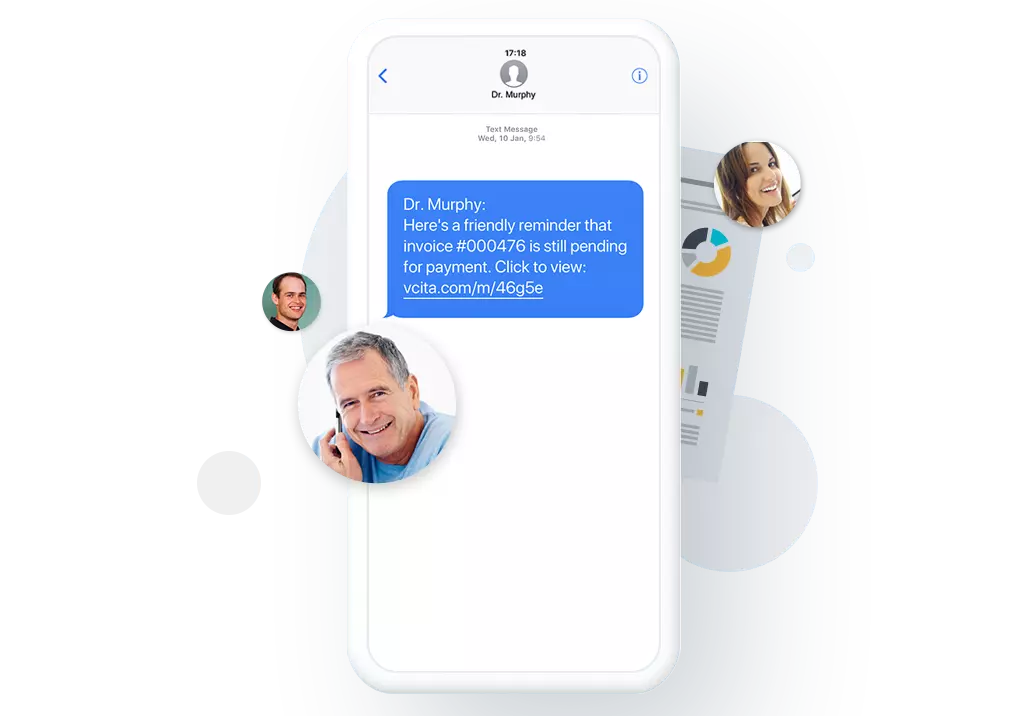 The fact that you can send reminders via email and text makes your notifications can't-miss, reaching your clients whether they're at home, at their own office, or on-the-go.
You can also send reminders to prospects for price estimates which are about to expire, allowing you to follow up with would-be clients in addition to your current ones.
The beauty of reminders is that you don't have to think twice about them after you've done the initial legwork of setting them up.
And spoiler alert: vcita makes that set-up super simple! In just a few clicks, you can determine the best time for your reminder to be sent based on your personal preference.
Whether it's an hour or days after to weeks or months, you can start focusing on your business rather than waste your time playing the role of a collection agency.
2. Give Your Invoices a Much-Needed Personal Touch
Personalization is a so important to small business owners.
As such, vcita has you covered. Give your small business' invoices a sort of "big business" vibe with personalization that also highlights your status as a professional.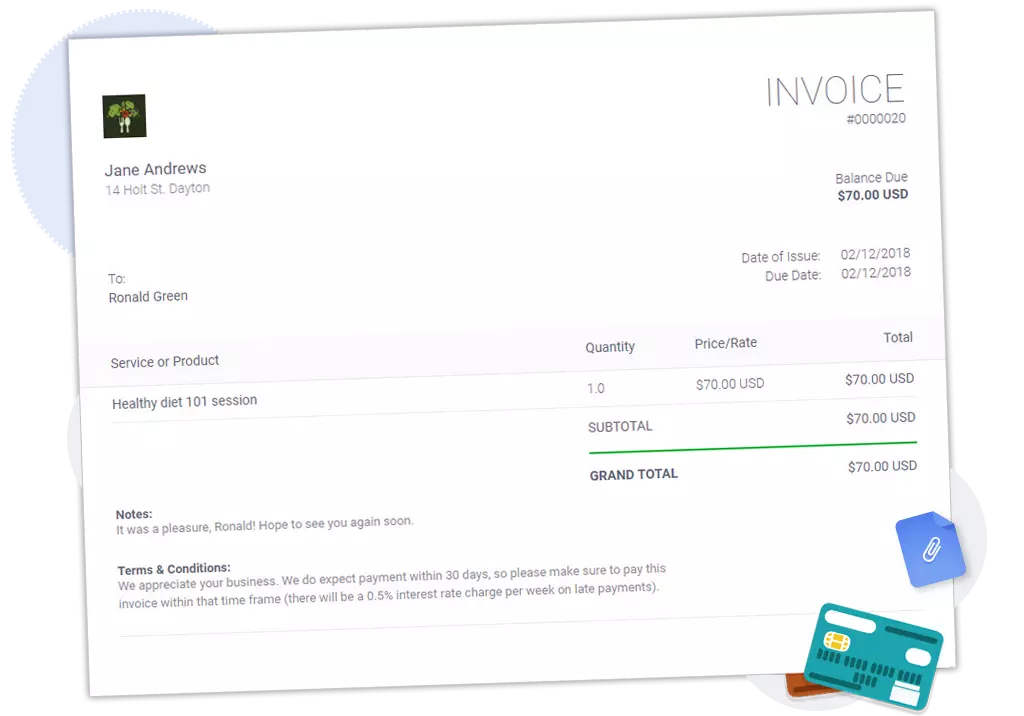 Customizing your very own invoice template in vcita is a cinch, allowing you to do the following:
Add your company logo
Edit your header and title in line with your brand message
Add terms and conditions (such as late payment terms)
Include notes (such as personal client "thank-you's" and meeting reminders)
These custom touches guarantee a professional-looking invoice that sends the message that you mean business, all on your own terms.
3. Save Time with Line Items for Future Use
Entering the same line items, again and again, is totally tedious and time-consuming.
This rings true whether you offer dozens of services or either just a handful of them.
To help speed things up, vcita allows you to save repeat products and services within our platform. As an added bonus, you can also save specific details of your services such as prices, taxes, and relevant discounts.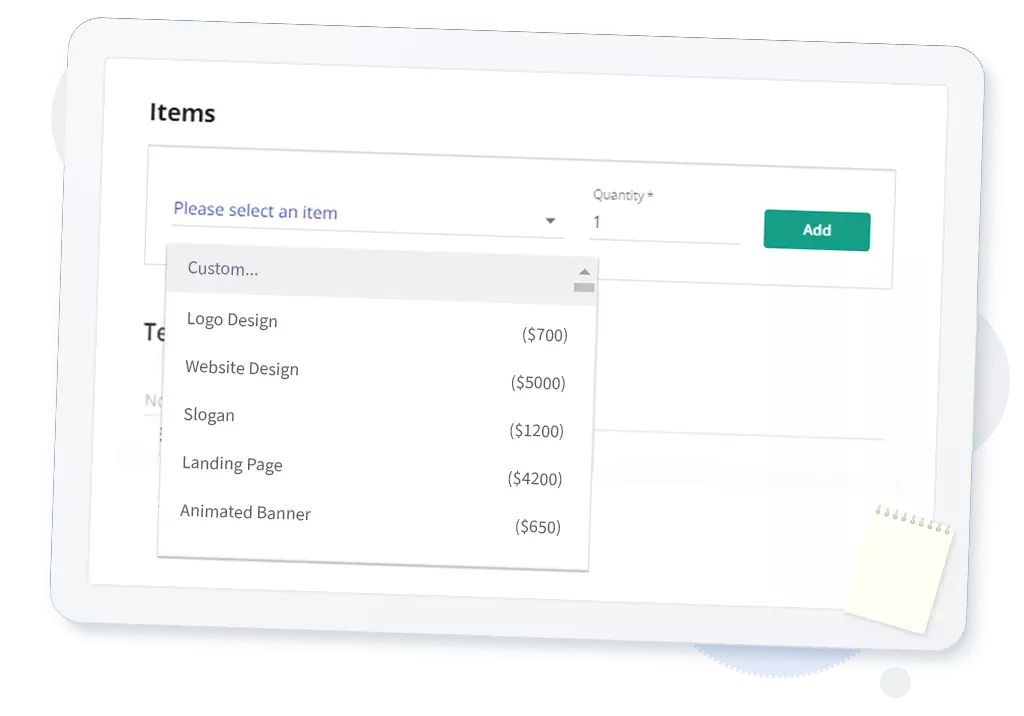 This means that filling out an invoice can be done in a few clicks rather than having to start from scratch. Beyond saving time performing manual entry, this guarantees that your invoices are always consistent in terms of how they look and there's no second-guessing what your clients are paying for.
4. Display Client Discounts as Negative Line Items
Clients love feeling like they're getting the best deal possible.
Providing discounts on your invoices is a subtle yet significant way to give your clients the sort of VIP treatment they deserve.
vcita helps you put those discounts front and center as negative line items. This reminds your client that by doing business with you, they're scoring some awesome savings.
Much like your business line items, discounts can be saved based on the unique deals you're offering your clients. Again, any sort of time-consuming manual entry should be a relic of the past.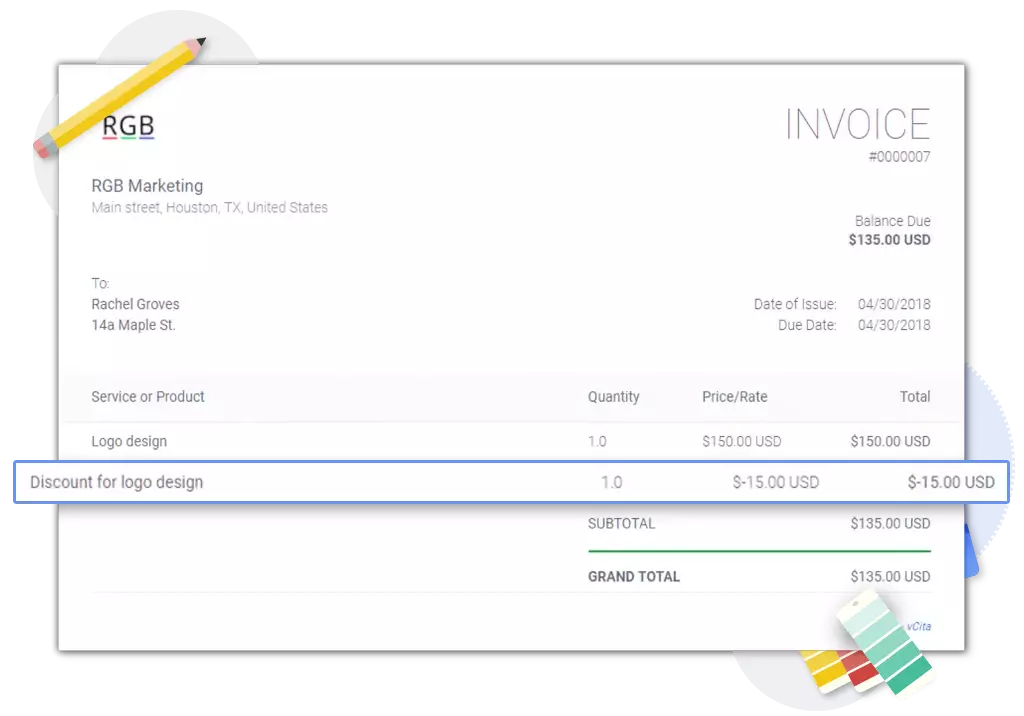 5. Seamlessly Sync vcita with Your Accounting Software
Keeping track of your finances is a must-do for all small business owners.
That means logging invoices to ensure that you're reaching your monetary goals and that your business is on track to grow.
Instead of jumping between your invoicing and accounting solutions, save some serious time by aligning them.
Whether you use Quickbooks, Freshbooks or any other sort of accounting software, vcita has you covered! Through our integrations, you can document your invoices across systems with ease.
You can also connect the apps you use through Zapier for any solution in our integrations section.
Syncing the payment, invoicing and CRM apps that you use on a daily basis gives you peace of mind as your records are 100% correct. Oh, and no more worrying about having to go back-and-forth between platforms all day. It's a win-win for your schedule and bank account.
Ready to Get Paid Faster with Professional Invoices?
Listen: invoicing doesn't have to be a bummer!
vcita not only allows you to create beautiful invoices but also a streamlined system that helps you get paid faster.
From automated payment reminders to features that require little to no manual legwork, small businesses can breathe a sigh of relief by putting their invoicing process on autopilot.
The end result? More time on your hands and more money in your bank account. What could be better?
And if you're not already on board with vcita's invoicing and billing solution tailor-made for small businesses, give us a spin today!