Have you ever paused to consider how many business emails get sent each day? If not, you're in for a shock. It's more than 1 billion. It's more than 100 billion.
Almost 300 billion emails, sent every single day.
Out of those 300 billion, around 128 billion are business emails. It's estimated that the typical office worker receives over 120 emails daily, and that number is only rising each year.
That means that your business email is under a lot of pressure to perform. Whoever you're emailing is busy and has a full inbox, so if your email is confusing or poorly formatted, the person who received it is not going to work hard to try to understand it.
There's no alternative: if you want your emails to succeed, you're going to have to dedicate some time and energy into formatting them. If you're starting to feel stressed out, don't worry. Here are 5 simple tips for writing business emails that people will read and reply.
Step 1: Nail Your Subject Line
A successful business email begins in the inbox. Think carefully about your subject line, because that's going to help the recipient decide whether or not to open the email. This is especially true if you're emailing someone who doesn't know you, and has to decide whether to open and read your email, or to send it straight to spam.
Your subject line should be:
Short
Clear
A clue to what the email is about
Here are some subject lines that are not going to fly:
Hi, it's Jim from accounting, we need to talk about your expenses sheet for last month which was unusually high. Please call me as soon as you can so that I can tell you why I have written everything in the subject line of this email – Far, far, far too long.
Hi – It's vague and unhelpful. It's also the same subject line as millions of spam emails, so the chance that someone will think that this is an important email are pretty low.
DEADLINES!!!! – This subject line commits two deadly sins at once: it's all in caps, which comes across as aggressive, and it has too many exclamation marks.
Urgent – This just makes the recipient feel stressed and nervous from the beginning, which means that they are less likely to be able to take in what you write properly, and a lot less likely to agree to any requests you make.
Emojis – Do not belong in a business email subject line. You are a professional, so let's keep it that way.
And here are some better alternatives:
"Expenses for November"
"Estimates for your kitchen renovation"
"Tax return deadline 12/29/2019"
"Your invoice for wedding hairstyling"
"Good news about your order"
Notice that all these subject lines are short, they all make it clear what the email is about, and none of them are shouting at you.
Step 2: Use the Right Salutation
Once you get past the subject line, the next challenge is how to address the person you're writing to. Many people feel so nervous about this, they skip it entirely and plunge straight in to the body of the email. This can be fine if you're emailing someone you know or replying to an email string, but if you're sending the first email, it's best to say hello.
It's never a good idea to use a casual or silly salutation. "Dude!" "Wazzup" and "Yo" don't belong in business emails, even if you're writing to a good friend. Remember that your email might be forwarded on to other people in the company, who would judge you based on that opener.
If you're writing to someone that you know or you've written to before, then "Hi Judy," or "Hey, Pete," can be appropriate. If it's a formal email, like a cover letter, an application for a project, or an email to someone higher up in the business than you, you should always write "Dear Mr./Ms. X,".
If you're in that tricky spot where you don't know the recipient's gender, use their full name, like "Dear Sam Watson," Some people prefer non-gendered salutations anyway.
Step 3: Create an Email that is Easy to Scan
Pay attention to the formatting and layout of the body of your email. The bitter truth is that whoever is reading your email probably doesn't have time to read it properly, so you want to lay out your content in a way that makes it easy for them to scan it fast.
Only write in black or dark grey. No one wants to peer at the screen to decipher bright red, orange, or blue lettering.
Don't use fancy fonts that are hard to read.
Use 11 or 12 point text.
Don't use emojis. They look childish and they distract from the point of your email.
Keep bolding and italics to a minimum.
Don't write everything in one long, dense paragraph. Use a separate paragraph for each point, and include bullets and numbered lists to help the reader grasp your requests
Step 4: Make Your Point, Fast
Like we said above, whoever is reading your email is really short on time, so don't beat around the bush. It's nice to write a short introductory sentence, like "I'm happy to work with you on this project," or "I met you at the craft fair last Tuesday," but don't write a novel. Just get to the point.
Your email will be easier to read and sound more professional if you use short sentences – 7 to 9 words is ideal – and even shorter paragraphs.
And even though long words can sound impressive, you want the reader to understand your email in the shortest possible time. To avoid confusion and miscommunication, stick to short, simple words, and save the Thesaurus for parties.
Step 5: Don't Forget to Say Goodbye
You've made it all the way through your business email – subject line, salutation, and all – and now the end is in sight. You just need to sign off.
If your email was kind of long (longer than a paragraph or two), recap what you want the reader to do now. Should they read and reply to your quote, visit your website, call you tomorrow?
It's usually best to sign off with a friendly but professional closing phrase, like "All the best," or "Thanks." If you've written a formal email, use a more formal closing phrase, like "Sincerely."
Finally, include your name on the bottom of your email. You can use an automatic business email signature that adds your name, your business name, and your phone number to the end of every email, or you can write it yourself. Not sure what to put on your singature? Check out these inspirational email signature examples.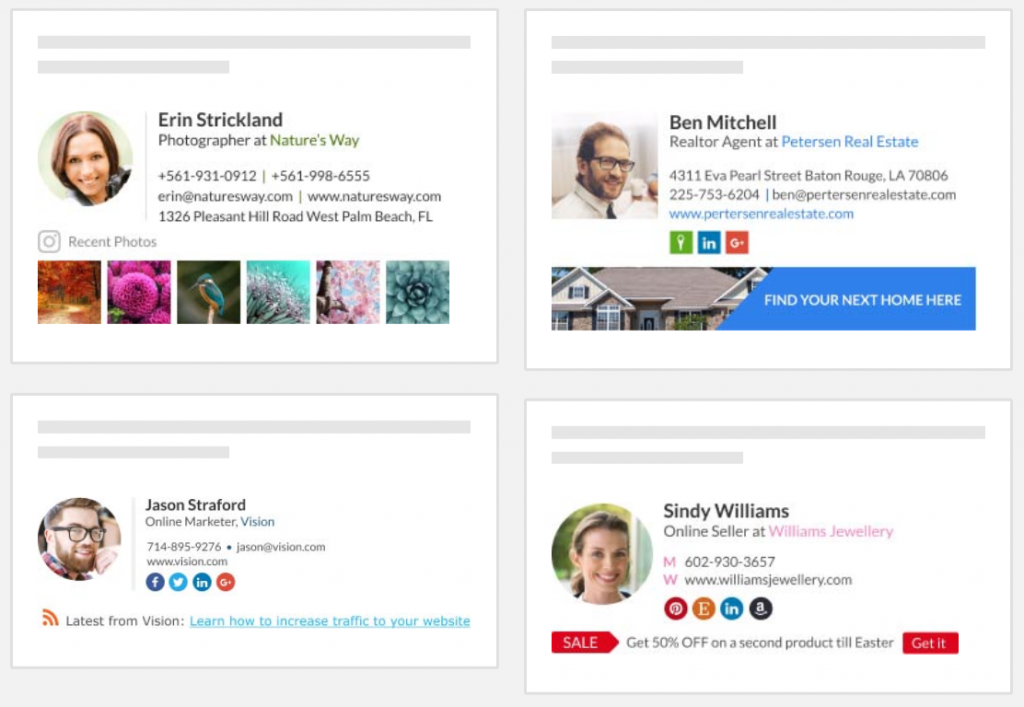 One last thing…
Don't send your email yet! You need to proofread it to check that you didn't make any embarrassing mistakes like misspelling the recipient's name, forgetting to include your phone number, or some really awful typo.
Tip: If spelling isn't one of your strengths (or even if it is) it's always best to run your email through a spell-check tool. Our favorite tool is Grammarly, a simple (yet powerful) add-on that works on every browser. It's also absolutely free.
Congrats! Now you're all set to write business emails that get read and get replies.