Signing off…
Huh?! Isn't this the beginning of the post?
Yes, but it's a post about the power hidden in signing off, and how you can use your email signature to deliver a lasting impression that will directly benefit your small business.
Why you really need an email signature in your life
Social networks come and go, but email is the oldie communication channel that never dies. There are 293.6 billion emails sent per day worldwide, and it's predicted that by 2023, 347 billion emails will be criss-crossing the globe every day.
Right now, the average office worker gets 121 emails daily. It's no wonder that your inbox keeps filling up so fast.
Imagine that every email that leaves your business is carrying an eye-catching, effective, and high-converting ad for your business that costs you barely anything.
Sounds pretty good, right?
That's what email signature marketing can do for you when you use an email signature generator.
Unlike your regular email signature that's just a couple of lines of plain text, an email signature platform helps you create a marketing-oriented email signature that's all-singing, all-dancing, and all awesome. It uses different colors, fonts, text sizes, and images to catch the reader's eye and make sure that they remember your business. It only takes a microsecond glance at your email signature for your business to burn itself into the recipient's memory.
Are you excited for your next-gen email signature yet? We're ready to show you some of the best so that you can knock it out the park when you make yours.
1. Marie Kondo your email signature
You don't have to go over the top to make an impression with your email signature. Keep it simple, elegant, and classy, especially if you're trying to attract corporate clients.
All you need to share is your name, your business name, and some basic contact information, like Jane the vet does here. It's eye-catching and memorable, but it's not intrusive.
2. Go bold and beautiful
But hey, your email signature doesn't need to be bland. Experiment with color to make your business pop off the page and burrow itself into the reader's memory. This is an especially good opportunity to show off your taste and design skills if you're in the design field.
Graphic designers, illustrators, interior designers, and photographers can all benefit from eye-catching color, or dramatic black and white.
3. Make a personal connection
Ever wish you could look the reader in the eye while they read your mail? Well, now you can… kind of.
Include a clear, professional, head-and-shoulders photo of yourself in your email signature so that the recipient can imagine you talking to them face to face. Just like Lisa does.
Another way to wow your email contacts is to include your logo as part of your email signature. It's an awesome way to convey your brand message.
If you really want to stand out, you could go all the way and make an animated email signature.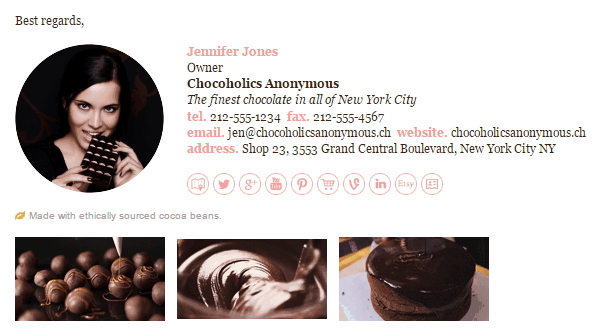 Are you craving chocolate now? Obviously Jennifer's signature works!
Here's another amazing way to use images in your signature. Peter focuses on his product: cars. His signature has a link to his latest product video, which is an incredibly clever way to promote your marketing content.
4. Put your brand first
Your email signature shouldn't just have dry information about your company, but visually express what your business stands for.
Here, take a look at Jennifer Jolie's signature. She conveys her fashion brand perfectly with bright colors, a catwalk pose, and bold font that tells you that her brand is exciting, vibrant, and fun.
Of course, if your business is less edgy than fashion design, you'll want a more sober and corporate vibe to your email signature. Tom Boston's draftsman business uses a colorful signature that's still composed and professional-looking. He includes his business motto to help boost his brand.
5. Get more eyeballs on your content
It begins with email. But it doesn't have to stay there. Use your email signature to guide potential customers to follow you on social media.
You can make it understated, like Robert does.
Or pull out all the stops and display every single social media account you own.
But if you really want to boost your social media following, the best thing to do is use Wisestamp's email signature generator, because that's the only platform that connects your email signature with your Instagram feed. Check it out: Joules' email signature displays a selection of photos that updates itself whenever she posts to Instagram.
Nature photographer Steven does the same thing with his latest photos, encouraging you to click through to see more.
You don't have to stop there. You can do the same thing with any one of your social media channels, so Jason, who's a tech writer, connects his Twitter feed so that his latest tweets always show up.
For Dillon, YouTube is his main channel, so he shows videos of his latest jamming sessions.
It does not get cooler than that!
6. Optimize for mobile
We probably don't need to tell you this, but the vast majority of your email recipients read your emails on their phone. That makes it vital that you use an email signature that is mobile-friendly, otherwise the effect will be lost.
It also means that you can include mobile-optimized links, like directing people to download your business app from the app store.
You can also include a click-to-call button for your phone number, so mobile viewers can get through to you in just one click from your email!
7. Ramp up the traffic
Your email signature is the gateway to all the rest of your awesome content. You can use your signature to redirect leads and clients to your blog, where they can read more of your words and fall in love with your content. Check out how Jess promotes his latest travel blog at the bottom of his emails.
Many email signature generators have a cool feature that links your signature with an RSS feed from your blog, so your latest post shows up automatically at the bottom of each email.
And hey, why not give leads a nudge to sign up to your newsletter, so that they'll always get notifications about your new blog posts? That's what marketer Jack Rui does.
What's even better is that many email signature platforms link with Google Analytics, so you can measure the click through rate and conversion rates and prove to yourself that email signatures really work. Ha. 🎃
8. Push to action
As you can see, email signatures can be a lot more versatile than you might have expected. You can turn your email signature into a powerful tool for driving sales by adding an effective, bold CTA at the bottom
Karina reminds every single email recipient that they can order online, with a clear "Shop now" button to make it easy for potential customers.
You can promote sales and special offers by adding a banner, like these.
And Merrie? She drives sales by pushing leads to her Etsy store.
9. Make a big announcement
Maybe you've just opened up a new location, like Hanz.
Or perhaps, like Karen, you're pumped to tell everyone about your upcoming event. Karen's email puts their trade show front and center on her email signature. C'mon: You might not be able to slip information casually into your emails, but you can always add it to your signature. Your email signature gives you a place to share big news about your business.
Your email signature gives you a place to share big news about your business.
.
10. Build trust
Your email signature is a fabulous opportunity to brag a little about your achievements, show off customer testimonials, and establish your authority in your field. You can include real customer quotes together with a link to more reviews.
Or you can display logos of all the awards you've won or big-name companies that are your clients.
It's the perfect way to show that you're trustworthy and reliable. Win-win, right?
11. Get more bookings (Oh wow)
Here's where it gets incredibly clever. You can drop a link in your signature that goes straight to your vcita online scheduling tool, so everyone can book an appointment with you online instantly, right from your email.
It drastically shortens the journey that potential customers need to take between thinking about using your services, and actually making an appointment.
Feeling inspired?
Now that you've got 11 awesome examples, we're hope you're feeling empowered to go ahead and create your own email signature. And remember: there isn't "one perfect" email signature… keep tweaking it to make it work!