There's nothing better than getting paid, is there?
And while dealing with paperwork such as invoices may not be a party, fresh money in our bank accounts is always welcome.
Here's the thing, though: invoices aren't always a matter of "the more, the merrier."
Reality check? As your business grows, your payment problems tend to snowball.
Tracking down clients who won't pay up. Juggling invoices. Follow-ups and email chains galore.
Almost feels like being punished for doing good business, right?
We've been there! If you're struggling with late payments or seem to be wasting a ton of time on invoices, don't panic just yet.
In this guide, we're going to break down what you need to do to come up with an efficient invoicing strategy from A to Z. From crafting your first invoice to putting client payments on autopilot, you'll be a money-collecting machine when it's all said and done.
And with that, let's dive in!
What Information Must Be Included on an Invoice?
Let's break down how to send an invoice that clients can actually pay.
Here's some food for thought: invoices represent contracts. For any sort of contract to be legit, it needs to have the proper pieces in place.
When your invoices are laid out correctly from the word "go," you're less likely to deal with endless back-and-forth or clients having hang-ups with your documents.
And while little frills like formatting or some wording here or there might change, the "meat" of most invoices out there is the same.
Below is a general outline of what should be in any and every invoice you shoot over to a client:
1. Header: At a glance, it should be crystal clear that your document is, well, an invoice. Many businesses include their company name and logo on their invoice headers to further signal an "official" document.
2. Invoice #: Numbering your invoices helps avoid any bookkeeping nightmares. Likewise, this helps you and your clients keep track of payments.
3. "From" Field: The contact information (name, address, email, phone #) of either yourself or your business
4. "To" Field": The contact information (name, address) of the person or company who's ultimately going to pay your invoice.
5. Services: A simple snippet detailing the line item that's being paid for. For example: "Front headlight replacement – labor," etc. Bear in mind that there should be an individual line for each service rendered.
6. Quantity: A number detailing how many of the aforementioned services were completed.
7. Price/Rate: An individual dollar amount and rate for each service based on your business' pricing structure.
8. Amount/Total Due: A column adding up the total amount due including a subtotal and any necessary taxes (if applicable)
9. Add-Ons/Notes: Some invoices might require special details or notes for clients that are too lengthy for the services line.
Here's what your final product might look like based on an invoice we cooked up using our own online invoicing tool:
Crafting an invoice might seem like a lot of legwork and nitpicking on the surface, but they quickly become second nature once you've sent a few off.
Likewise, this is exactly why business owners need to take care when it comes to how they create their invoices.
Get more tips on how to format your invoice template here.
And hey, that leads us directly to our next point!
How Do I Create an Invoice?
Spoiler alert: there is no "one" way to create an invoice.
However, not all invoicing strategies are created equal when it comes to saving time and your sanity.
For example, some business owners take a "manual" approach to their invoicing. That is, they work within a generic Word doc that they use as a template, tailoring each invoice for each specific every client.
The problem with this approach is two-fold. For starters, going back-and-forth between docs is an organizational disaster waiting to happen.
What happens if you accidentally save over an invoice or two?
What if you get locked out of a document?
Heck, what if your computer gets fried and you're left with no backup?
And secondly, creating invoices from scratch is time-consuming. When you consider the fact that you're likely repeating the same services and details from client-to-client, it makes much more sense to have your payment details stored away in a dedicated invoicing app, where you can duplicate invoices, or easily edit the ones that you frequently send without re-entering the data.
By working within a billing software instead of juggling docs, all of your invoicing and client details are kept in the same cloud-based, secure place. This means you can populate, copy and recall specific client details in mere seconds. You'll also be able to access and send your invoices 24/7, from any device – your laptop, smartphone, or tablet.
When creating invoices through a trusted billing software, you never have to second-guess whether your formatting details are on-point or not. You can save templates for each of your clients and save hours of grunt work.
Oh, and since professional billing software keep track of invoicing activity on your behalf, you have a consistent pulse on what's been paid and what hasn't. This makes monitoring and predicting your month-to-month income so much easier.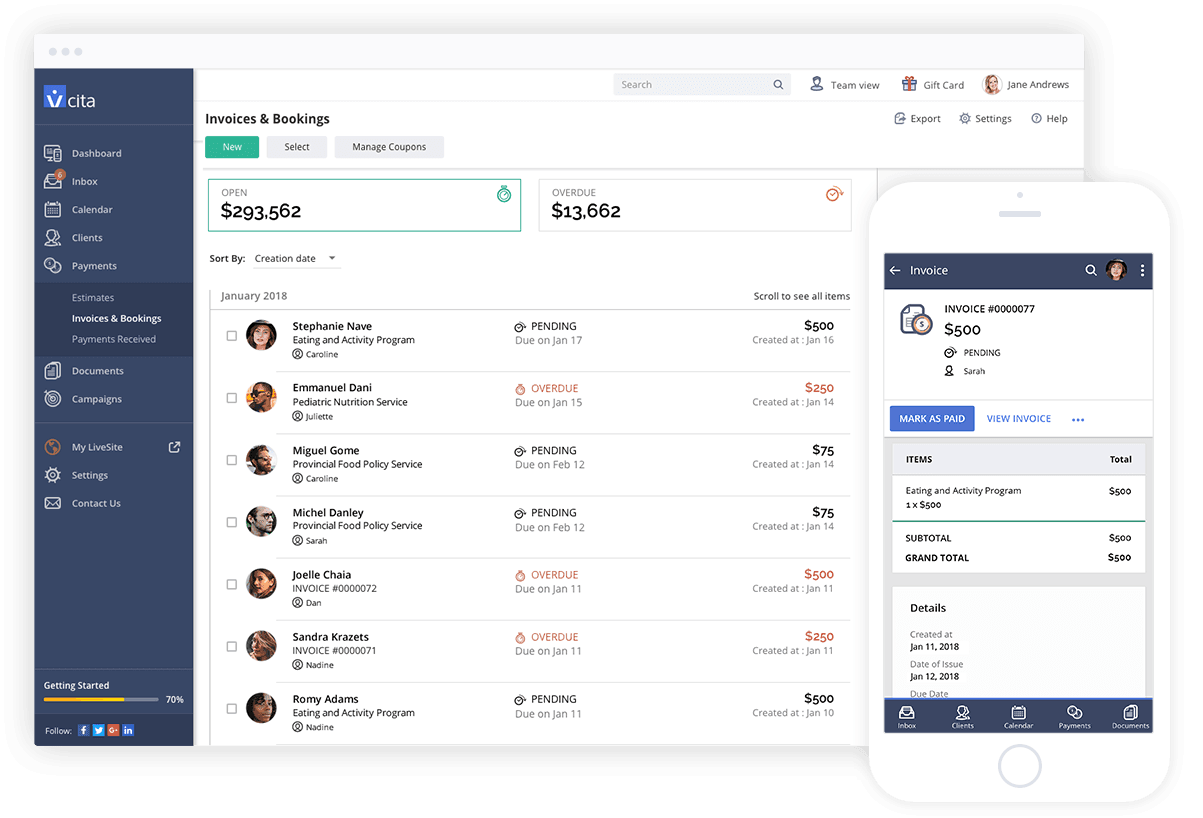 How Much Does It Cost to Send an Invoice?
Conventional wisdom would tell us that invoicing is (and should be) totally free, right?
Well, not necessarily.
Inefficient invoicing can actually cost you dollars and cents in the long-run, not to mention tons of lost time.
How so? Consider first and foremost that every minute you're spending following up or crafting a fresh invoice represents time that you aren't spending with a client. There are tons of ways that small businesses waste time, but can you guess what's the second, biggest time waster?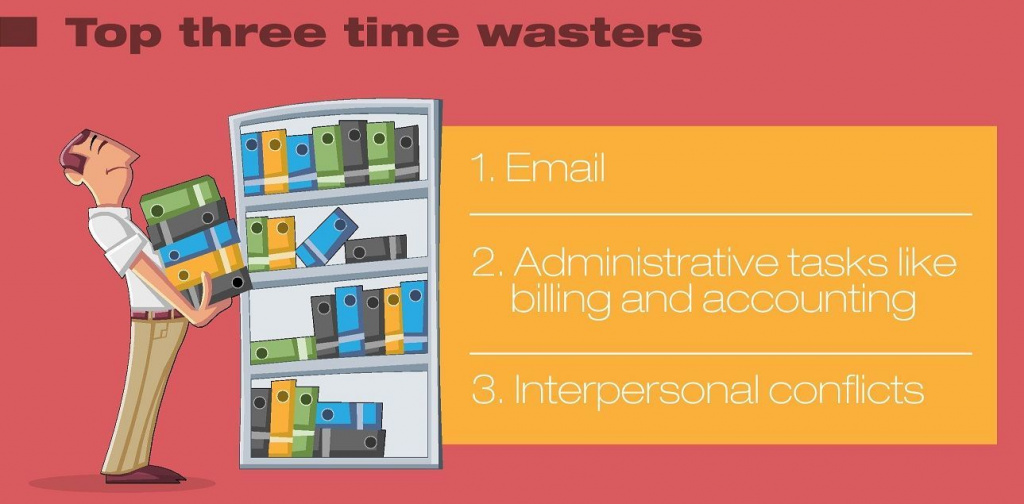 You guessed right. Invoicing could easily eat up hours of your week if you aren't careful. From chasing down clients to checks bouncing because someone was late on a payment, there's a lot of lost time involved that goes into bad billing.
As such, streamlining your payment process isn't just a matter of reducing stress: it's also a matter of boosting your bottom line.
The big picture of payments is easy for small business owners to overlook but is instrumental to your business' success. Getting paid might be a no-brainer, but getting paid more efficiently minus "the chase" can work wonders for your schedule and overall productivity.
How Can I Make Sure My Invoices Get Paid Instantly?
This all leads up to the question: how do you get your invoices paid in a jiffy?
Great question!
The best way to secure quick payment is to use a billing software that allows your clients to pay invoices online.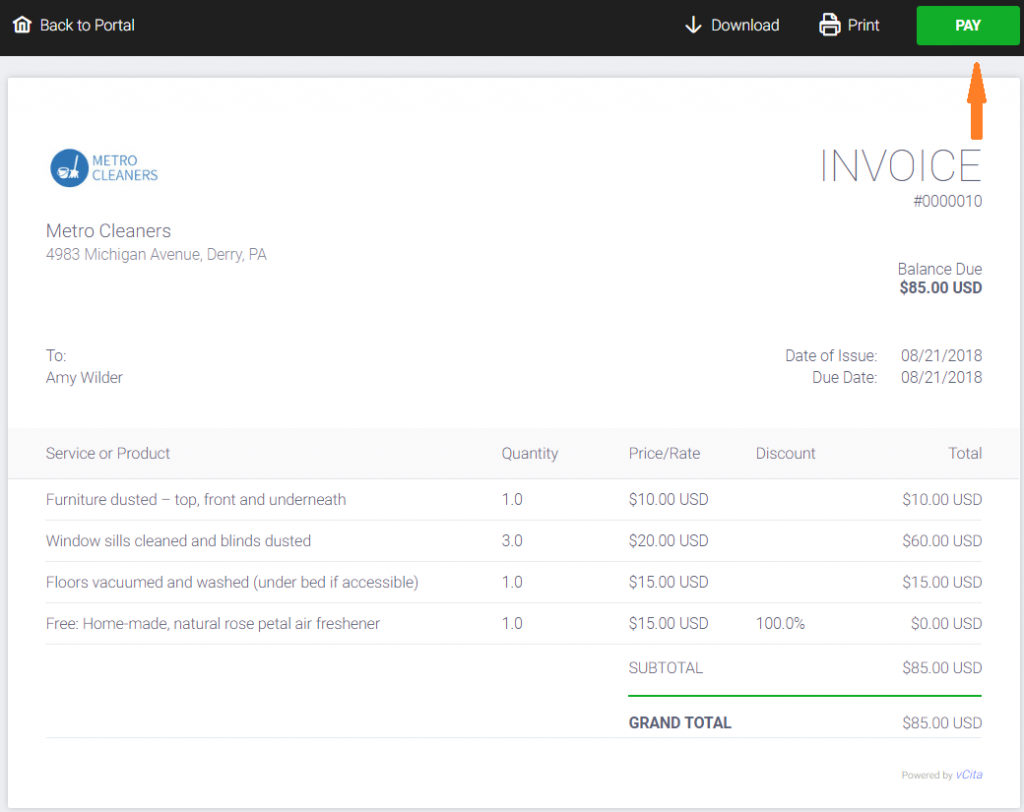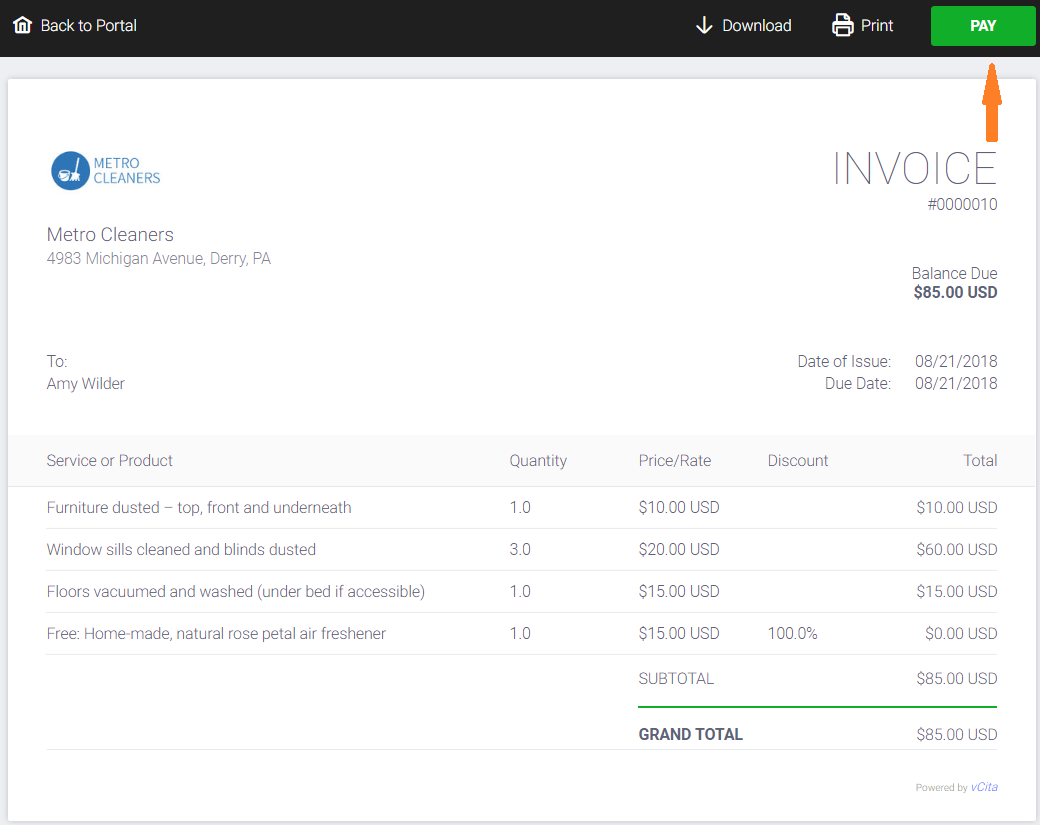 Imagine sending a digital invoice that has a "Pay Now" button on it. Yes, you heard right!
As soon as your client gets your invoice, they click on the "Pay" button. A secure online payment form instantly opens.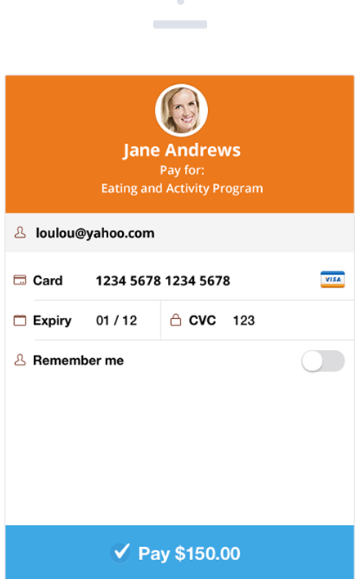 Your client puts their credit card info into the form and bam! Money gets transferred straight into your bank account.
Nice, right? And such a far cry from the old-fashioned way of collecting payments.
Allowing your clients to pay invoices online has so many perks that it's easy to see why so many small business owners choose it over any other option:
It expedites your invoice-to-cash cycle, saves you hours of non-billable work, makes you look professional, and gives your clients an added incentive to pay quickly.
Oh, and if you're worried about credit card processing fees, wait until you hear what this smart tax consultant has to say about it.
How Do I Choose the Right Invoicing and Payment Platform?
If you're done with chasing clients and are looking to choose an invoicing platform, what should your top priorities be?
Based on what we've seen on behalf of our own users, your platform should tick the following boxes:
Made for small businesses. There are plenty of options out there, but you're not likely to benefit from a "bloated" software with features you'll probably never use.
Low learning curve. Likewise, you need something easy and intuitive that you can start using "out of the box."
Supports flexibility for you and your clients. From one-click payments to automated reminders, invoicing should be easier on everyone involved with your business.
And if you're looking for an invoicing solution that does all of this and more, might we suggest taking vcita for a spin?
What Are You Doing to Get Paid ASAP?
Listen: paperwork is part of doing business, plain and simple.
But that doesn't mean you need to drown in it.
Taking a strategic approach to invoicing, you can both reduce stress and increase your earning potential like never before. With the help of this guide and invoicing tools like the ones we offer at vcita, we want to empower you to get paid on time, every time.