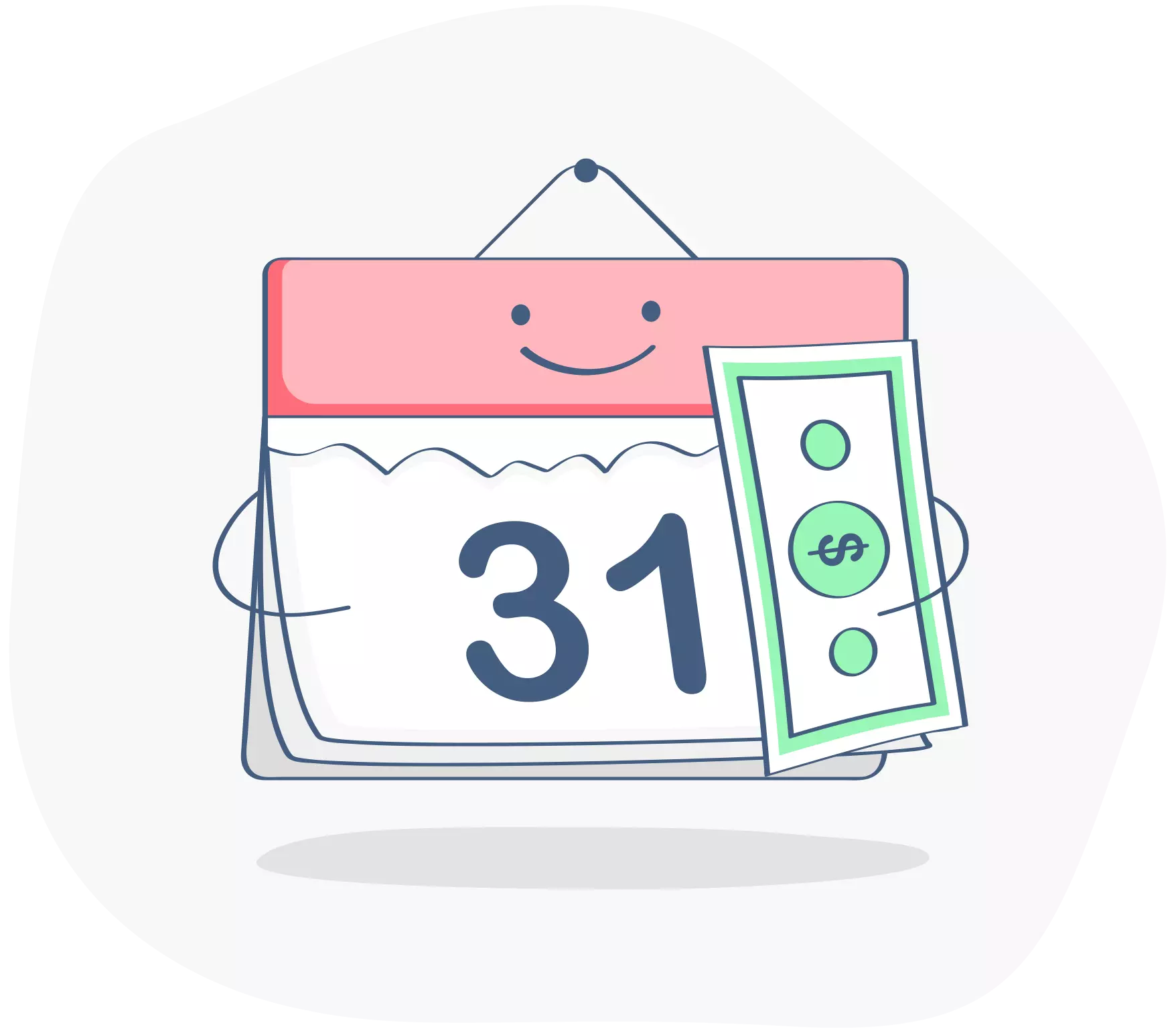 Free Weekly Schedule Templates 
Organize your work week with free and easily customisable schedule templates. Whether it's for professional or personal use, a free weekly schedule template can help you make the most of your time management and stay on track of your small business. 
Benefits of using a well-organized weekly scheduling template:
Get an overview of your work week
You'll have a better overview of your entire week, knowing what to prepare for.

Up-to-date with your calendar
With an appointment scheduling template, you'll see all your appointments in your calendar and will be able to avoid making double bookings with your clients.

Let you know when you have time off
Track your availability and time off from appointments.

Let you manage your employees' schedule
Organize your employee shifts and tasks using a work scheduling template.
Weekly Schedule Templates for Word and Excel (Free download)
With a weekly schedule template, you can quickly organize your week, ensuring that you don't miss or skip any of those important dates and times you need to remember. The scheduling templates also help you keep track of employees, keeping your small business running smoothly and efficiently.
Weekly Appointment Scheduling Template
Using an appointment schedule helps you stay organized and manage each of your bookings. You'll be able to schedule appointments and allocate specific times for each. You can also block in hours when you're not taking appointments.
With the appointment schedule template, you can customize by choosing the start day of your week as well as the daily start time and intervals of time, such as 30 minutes or one hour.

Weekly Work Scheduling Templates
A free weekly schedule template lets you keep track of the tasks assigned to each employee and the hours they've worked throughout the week. You can easily determine who is working on what task and if employees are spending too much or too little time on an assignment. You can also see if someone is available for additional assignments.
The weekly work schedule template allows you to select a weekly start date, company name, and specific department. After setting up employee names and work assignments, daily hours are input into the spreadsheet, adding up the hours for an easy-to-read weekly total.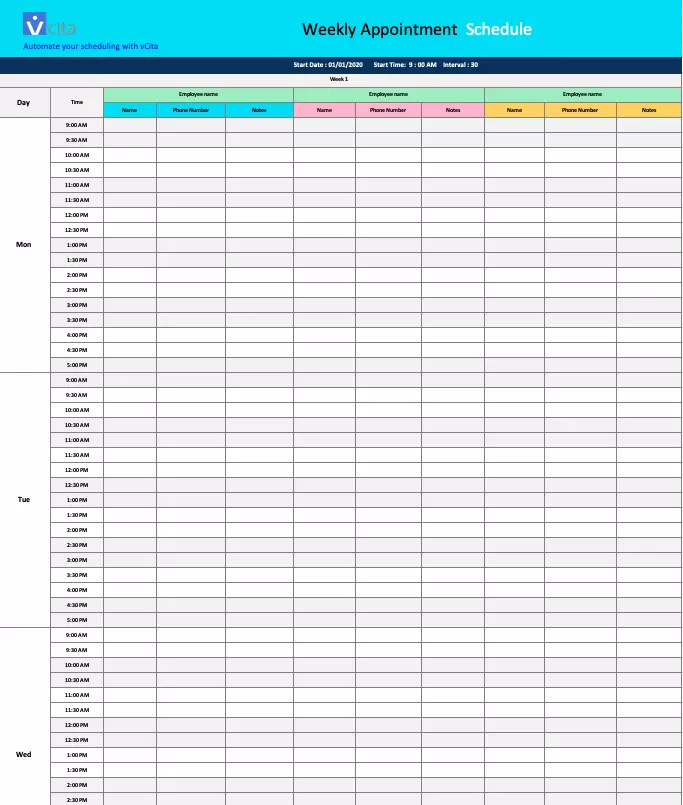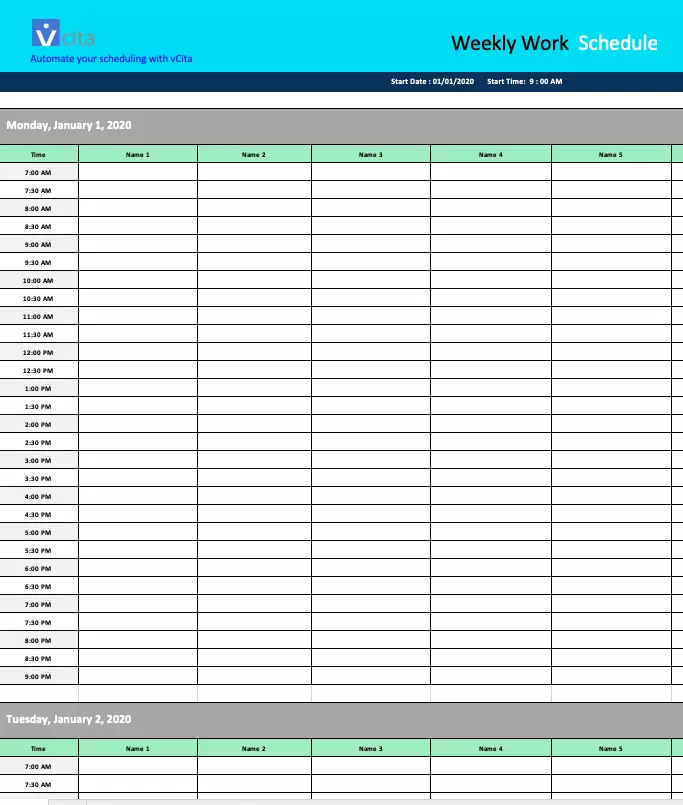 Say goodbye to no-shows, get booked 24/7 and manage all your appointments from one single app
Hereafter from only $12/month

Employee Scheduling Templates
Managing your employees work schedule lets you keep track of what your team is doing so you can better manage your workflow. You'll be able to tell at a glance that all shifts are covered throughout the week and if there's any overlap. Using a weekly employee template, you can edit each week as you update each employee's schedule. The template includes employee name and ID for easy reference.
Saving you hours each week, the weekly shift schedule template not only allows input of hours, it also lets you input rate of pay and total pay for the week for each employee. The weekly total cost spend is accumulative on the spreadsheet, giving you accurate employee expenses. You can customize this template with your preferences, choosing the start day of the week.

Class Scheduling Templates (Academic Class/Gym Class)
Whether you're a student or instructor, being able to organize and manage your class schedule is crucial to a successful week. If you're a student, you can plan ahead for the week by creating a daily routine, including due dates for assignments and dates for upcoming quizzes and exams. For teachers and instructors, class scheduling lets you plan your daily agenda so you're well prepared for each class.
The class schedule template can be used by students, teachers, personal trainers, and yoga instructors for a wide variety of classes, including academic and fitness. Customize the weekly template by weekly start date, daily start time, and hourly intervals such as 15 minute increments to keep on track.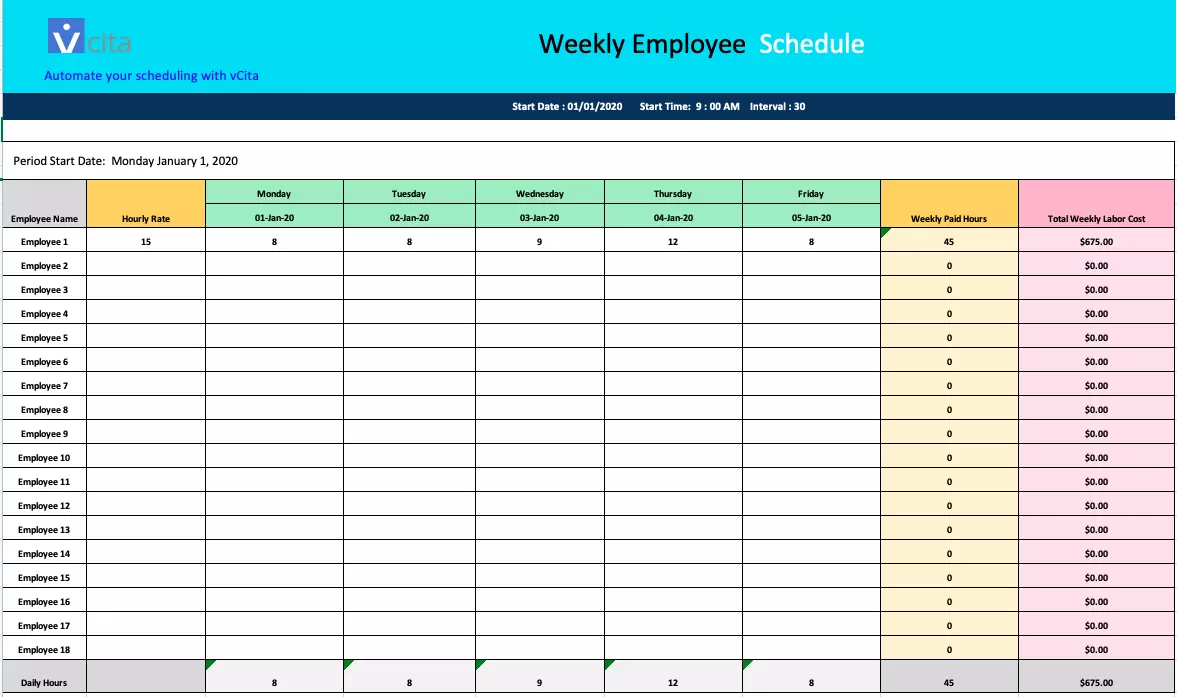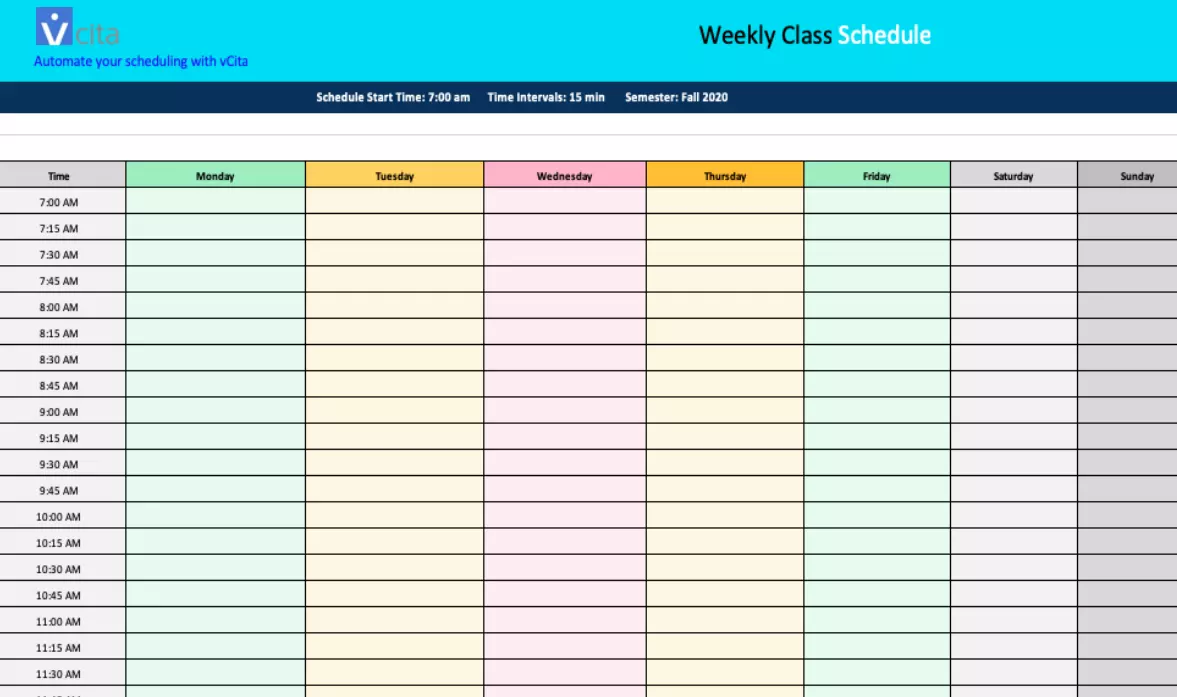 Tips to Design and Customize Your Free Weekly Schedule Template
After downloading your scheduling template, customize it for your own business or personal use. Here's what you can do to personalize templates:
Choose a design that's eye-catching.
Change the font you're using to add information to the template.
Change the color of text and text boxes to enhance the readability of the information you're inputting.
Add grid lines and borders to the template – this helps to separate data and keep it organized.
"I'm an orthopedic physical therapist and vCita allows my patients to view my schedule and book appointments online 24/7, but even more importantly, it allows referring physicians and surgeons to book their patients into my schedule before leaving their office. Once an appointment is booked, we're able to contact them within seconds and engage in an online dialogue that is a huge convenience to them. The best practice tool I've used in 25 years"
Drive more business and deliver amazing service to your clients with vcita – a complete web engagement platform including Online Scheduling Software, Contact Management, Document Sharing, Invoicing and Online Payments.