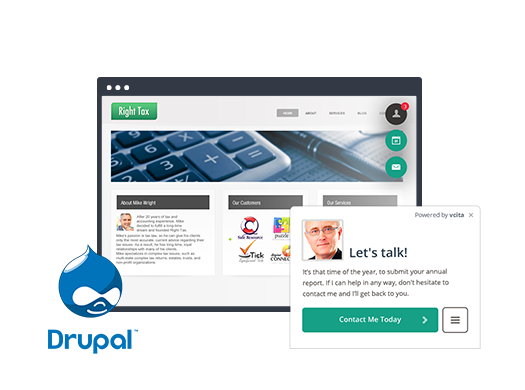 Drupal Plugin for Online Scheduling & Contact Management Software
LiveSite by vCita integrated into Drupal to provide online scheduling, credit-card payments and contact form for your website
vCita LiveSite for Drupal helps you generate more business opportunities on every page of your site and deliver amazing service . LiveSite transforms your Drupal website into a personalized portal where clients can communicate, share documents, schedule appointments and pay for services anytime, on any device. vCita LiveSite helps more than 100,000 businesses worldwide increase the number of opportunities through their website.
Add LiveSite to Your Drupal Website in Seconds

Add LiveSite with just a few clicks - no coding required. Customize your LiveSite colors, fonts and text to match your website's color theme and your business branding. Collect customized data from your clients with every contact request.

Double Your Leads With vCita LiveSite

Invite your website visitors to contact you on every page of your site. The LiveSite invite is on every page of your website. It encourages visitors and clients to take action - contact, schedule an appointment, pay for a service and more.

Automated Email and Text (SMS) Notifications

Get instant notifications for every new contact request. Reply from your computer, tablet or phone. Click to return client calls.

Robust Contact and Client Management

Capture unlimited contacts and client communications and other important data. Easily search for contacts and follow-up: take notes, edit contact information and track sent emails.

Appointment Booking and Online Scheduling

Increase opportunities with online scheduling. Empower visitors to schedule a phone call, an appointment or request a service while visiting your site, anytime on any device.

Online Payments & Invoicing

Get paid faster by offering your clients a simple and convenient way to pay right on your site using a credit card or PayPal.
Not sure how? We make it easy for you!
Call +1-855-824-8244 M-F 7am-4pm Pacific Time or Contact Us.