Getting more bookings during the holiday season is not only possible, it can be downright easy.
With as little as five minutes work, you can send your clients beautiful, timely holiday emails, announcing your special deals and exclusive pricing.
To help you close more sales and turn more profit, we've created 3 great holiday email campaigns you can send your clients today.
To send these campaigns, click on the image, add a little extra personal touch and boom!
Get ready to get booked!
Pre-Holiday Sale: Click on the image to send this email
There's lots of energy in the air towards the holiday season, with many people planning their holiday to-do list months ahead. The best time to approach potential clients is when they're already primed to spend money – on gifts, treats, spa treatments – but also on their New Year's resolutions: losing weight, recovering their finances, redesigning the house, etc. Offering a special discount can give your clients just the push they need to book your service and move closer towards their goals.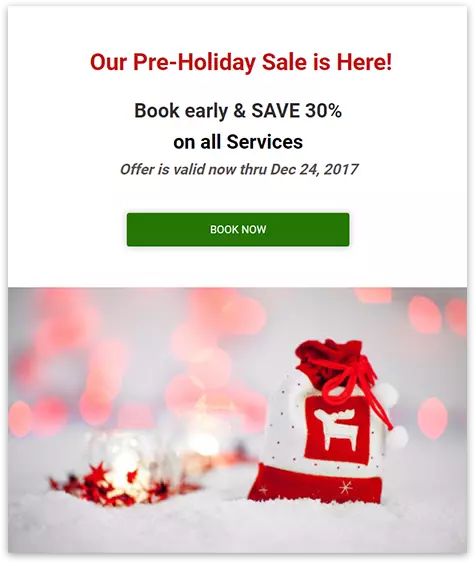 Black Friday Sale: Click on the image to send this email
Traditionally, Black Friday is thought of as the time of year where big retailers dominate the sales charts. However, in recent years, many small businesses are waking up to the fact that while they may not be able to offer huge discounts like big-box stores, they can still get in on the action by offering exclusive, value-added perks.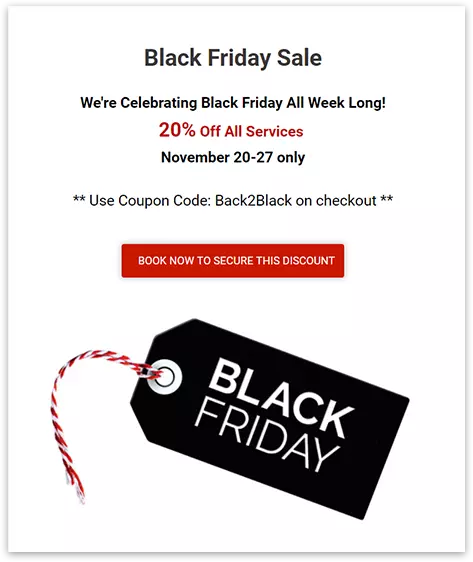 Small Business Saturday Sale: Click on the image to send this email
We all want to be aligned with good causes and do right by the world, and sometimes all that's missing is a good opportunity. Small Business Saturday is the perfect time to remind your clients why local businesses are important for the growth and prosperity of the communities around them. Making people feel that they're supporting a good cause while offering them a great perk can be a great incentive for clients to book your services.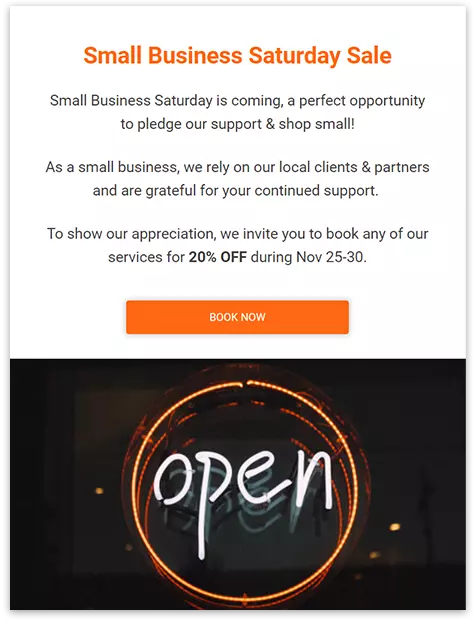 Special tip: create a discount coupon!
Wanna make your holiday campaign even BETTER? Add a coupon to your email campaigns! According to industry surveys, clients are 30% more likely to book a service when they have a coupon.
Never sent a coupon before? vcita's Coupons feature makes it easy to create, distribute and track online coupons within seconds. Check out these 5 examples of high-converting coupons you can start sending today.
Before You Go: 5 More Quick-n'-Easy Holiday Tips
#1
Add a special holiday deal to your service menu to draw in new clients
#2
If you have an office/store, make sure you have a printout announcing your special holiday deal with the coupon code you created
#3
People tend to be a little less responsive during the holiday season so send all your invoices and friendly payment reminders today!
#4
Update your social media profiles and pages with your special deals
#5
You deserve a holiday too! Just don't forget to update your availability so clients don't book with you while you're away
Want even more marketing tips? Subscribe to the vcita blog and get a weekly article delivered straight to your inbox.