"Work smarter, not harder."
We hear this motto time and time again in the marketing world; however, is it all a bunch of fluff?
How do we prevent ourselves from slaving away at our keyboards and actually save time when it comes to Internet marketing?
While service-based businesses are expected to put in some serious legwork to reach new clients and customers online, there are shortcuts you can take to realistically refine your marketing strategy.
Best of all, these shortcuts are far more effective than a brute-force advertising attack.
The following six hacks are cost-effective and time-efficient: in other words, you can implement them without blowing out your budget or losing sleep.
Score with Social Proof
In an era of incredibly fierce competition, businesses today thrive by the creed of "show, don't tell."
You can talk up your services all day long; however, modern customers want to see your positive results with their own eyes before they'll give you much attention.
Representing an incredibly powerful psychological trigger, social proof should be a staple of your online marketing strategy.
Ask yourself: do you have satisfied customers? Do you have reviews and testimonials for your services?
If so, then you've got social proof.
Just about any form of positive feedback can be leveraged on-site to help trust between you and your traffic.
For example, check out how virtual assistant, Robyn Bennet, has a dedicated testimonials page to show off her satisfied customers. These comments not only establish trust but also give her brand a sense of expertise and authority.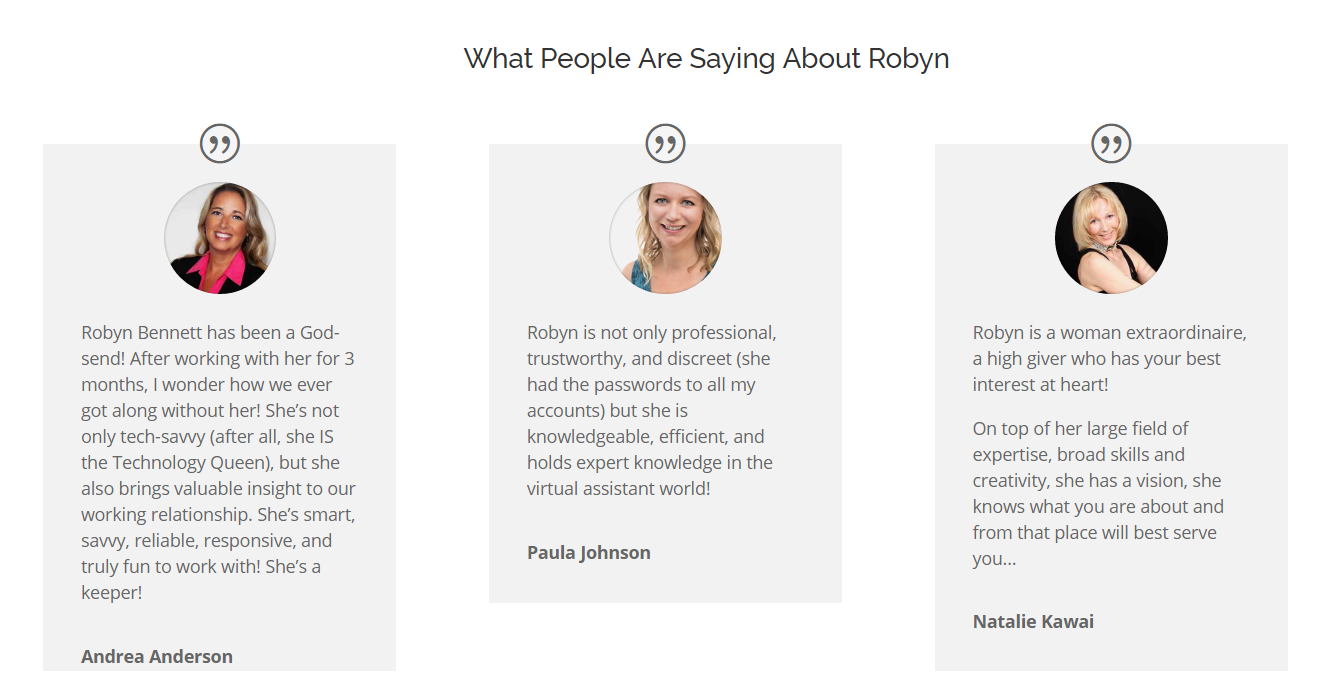 Acquiring positive feedback from your customers requires little more than curating comments via social media or email. If all else fails, simply ask some previous clients for their feedback: more likely than not, they'll be happy to show you some love.
The Power of Personalization
While parroting other successful businesses in your industry seem like a smart idea marketing-wise, businesses that stand the test of time ultimately have a unique voice and story.
Real people want real stories, not sales pitches.
From blog posts and tweets to language on your website, strive to accomplish the following throughout your content:
• Tell your tale: from your struggles as an entrepreneur to what led you start a business, your audience can relate to your humble beginnings
• What sets you apart from your competition (think: what makes your business' mission or background unique?)
• Avoid jargon: when you address your customers, speak to them like people versus industry robots
Remember: not all of your marketing messages need to be focused around what makes a sale. After all, sometimes it takes a good story to seal the deal.
Offer Up Some Freebies
Digital marketing may constantly be evolving; however, some simple truths never change.
People love free stuff.
Whether you're educating your audience through your company blog or offering a free e-book, freebies can act as powerful magnets to attract the attention of your audience. Likewise, offering free content in exchange for an email address is a tried-and-tested method of snagging leads and building your business' list.
For example, check out how Life Coach, Summer Van Man offers a free meditation for people wishing to cleanse their energy. While you don't have to offer up anything mind-blowing that promises to transform people's lives around, such freebies are enticing. As an added bonus, freebies present your business as a helpful resource versus yet another sales pitch.

Show Some Love to Others
This hack may seem a bit counter-intuitive. After all, why would you go out of your way to give attention to your potential competitors?
Here's the thing: businesses that do nothing but sing their own praises simply won't grow.
Don't be an island.
Instead, show some love to others in your industry through regular comments via blogs and social media (think: Twitter, Facebook, LinkedIn, etc). By spending a few minutes a day making comments, you not only grow your own exposure but also present yourself as part a tribe.
The more familiar your face becomes in the eyes of the audience, the more likely you are to grow your own following.
Market More by Writing Less
Simply put, sometimes less is more when it comes to marketing.
Small business owners have been fed time and time again the advice to craft massive, extravagant blog posts on a daily basis.
However, who really has time for that?
If you've been struggling to keep up with your company blog, consider producing bite-sized pieces of content that you can spread like wildfire. Smaller, actionable pieces of advice shared with your audience in a smaller setting (think: Facebook groups or LinkedIn) is much more valuable than a novel-length post nobody's going to read.
Invest in Video
"Video is the future of marketing."
You've probably heard this time and time again; however, you're naturally hesitant.
Thankfully, modern businesses can create videos without fancy software or massive budgets, given the power of smartphones.
Don't worry about coming up with a complicated production, either. Platforms such as Facebook live are blowing up in the marketing world; likewise, informal YouTube vlogging is all the rage right now.
Again, a "less is more" approach is more prudent when it comes to video, especially since most viewers will only watch two minutes of a video prior to losing interest. If you feel like you're at a loss for ideas, consider the following as fair game:
• Educational or how-to content (DIY videos that implement your product or service)
• Professional insight or motivation (sharing a recent study or quote that's relevant to your audience)
• A behind-the-scenes look at your business (showing off the in's and out's of your business)
Such videos can be applied to just about any industry, too.
Let's say you're a physical therapist: you could easily shoot a video of various stretches for pain management clients from the comfort of your office.
Or perhaps you run a restaurant or cafe: why not let your followers come into the kitchen and check out some new menu items as they're being cooked up?
Allowing for plenty of creative freedom, videos are easy for your audience to digest and require a smaller commitment versus a long-form blog post.
Bringing It All Together
Not all marketing hacks require a complete overhaul of your business strategy. By focusing on these six shortcuts, you can quickly and effectively revamp your marketing without breaking the bank. You don't have to try all of these all at once, either: simply start with whichever hack fits best with your business.
Which of these shortcuts do you think you could start implementing tomorrow? Let us know in the comments below!