Valentine's Day is coming, and love is in the air — especially at your business, where you should be getting ready to woo your clients and pamper your customers.
Valentine's Day is the perfect time for a tailored marketing campaign that uses themes of love, affection, and commitment. It's been a while since Christmas and New Year's-themed marketing, and it's still too early to break out the spring-themed material. Valentine's Day is exactly what you need to get you and your clients through a February slump.
No matter what your business, Valentine's Day is a marketing opportunity. Here are 4 tips for perfect V-day emails that help your customers to feel the love.
1. Plan a drip campaign
Valentine's Day is just one day a year, but your email marketing campaign should last for much longer than that. One email is never enough. Begin with an advance reminder to all your clients that Valentine's Day is on the way, so that they can begin to plan their Valentine's Day in ways that include your business.
Skin care and cosmetics brand Philosophy sends a gentle heads up that V-day is is just around the corner, so it's time to think about giving a gift.
But don't stop there. A few days later, it's time to send your next email, this one with suggestions for gifts and/or a link to your gift guide, as a nudge to your clients that it's time to act, like Mark & Graham did here.
Finally, right before Valentine's Day is the time to send a last-minute reminder to all your procrastinating customers that Valentine's Day is practically here, which is what Caudalie did.
The exact timing depends on your business; after all, there's no point sending a last-minute reminder email on the night before V-day if your products take 2 days to ship.
But businesses that offer digital coupons or instant online booking for treats like a spa date or luxury massage, are essentially selling instant gifts.
In that case, you could even push the envelope by sending this email on Valentine's Day morning. An "Oops, did you forget a present? Don't worry, we can save you from sleeping on the couch tonight" email is catchy and effective!
2. Hit the right subject lines
You already know that effective marketing emails begin with effective subject lines. The subject lines for your V-day emails should still be short, appealing, and make it clear what the email is about, but also refer to Valentine's Day. Use V-day language like "love," "perfect," "sweet," and "gifts" to trigger the right associations. Depending on your branding, you can also include emojis like hearts and gift boxes.
Before you start, take some time to think about how you want to approach V-day. Bear in mind that some people hate Valentine's Day, and some people are single, either by choice or because their partner cruelly broke up with them a week before (statistics show that breakups peak in the week before Valentine's. Ouch).
Do you want to appeal to the V-day haters, those mourning a breakup, or the happy lovers? You could take a neutral line, like "Ready for these sweet deals?" but sometimes when you try to hedge your bets, you end up annoying everyone and pleasing no one.
Here are some high-performing Valentine's Day subject lines to spark inspiration.
3. Use V-day colors and language
Valentine's Day can be God's gift to marketers, because it comes with its own color and design theme. Don't be afraid to draw on the design language of love and sprinkle your emails with hearts, florals, and plenty of pinks and reds, even if your business theme uses a completely different set of colors and images. In fact, it's especially effective when your business is not romantic, because the contrast makes your emails more memorable.
You wouldn't normally associate sports shoes with romance, which makes this email from New Balance particularly clever. It uses hearts, a pink-and-red color scheme, and reference to love without departing from its sporty branding.
I really love this Valentine's Day email from GasBuddy. Who would have thought that a gas company could leverage romance? But that's exactly what they did, using a retro-themed neon heart to send the message that if you love someone, you'll share your savings. It's all the more effective because this company has nothing to do with gifts, romance, or love.
For businesses that don't have an obvious connection to love or relationships, using V-day language like dating, commitment, or attraction is a way to tie your offer to Valentine's Day, just like this email for a V-day sale:
Finally, it doesn't have to be pink and floral to be romantic. This restaurant uses Valentine's Day to create an atmosphere of romance, flirtation, and temptation. Share recipes, use appealing imagery, and set the mood for love:
4. Present a relevant offer
An awesome Valentine's Day email must never be all flirt and no action. Include a clear Call-to-Action, so that your clients know exactly what to do when they open your email.
For example, direct recipients to treat their loved one by clicking through to a gift guide or V-day section of your online store.
You might choose to invite your clients to treat themselves, either as a consolation for being single, to prepare for a special evening, or to get ready for a wild night on the town:
Make it easy for your email recipients to take action. With vcita's online scheduling tool, you can add a link to the email itself to let recipients click and book an appointment on the spot!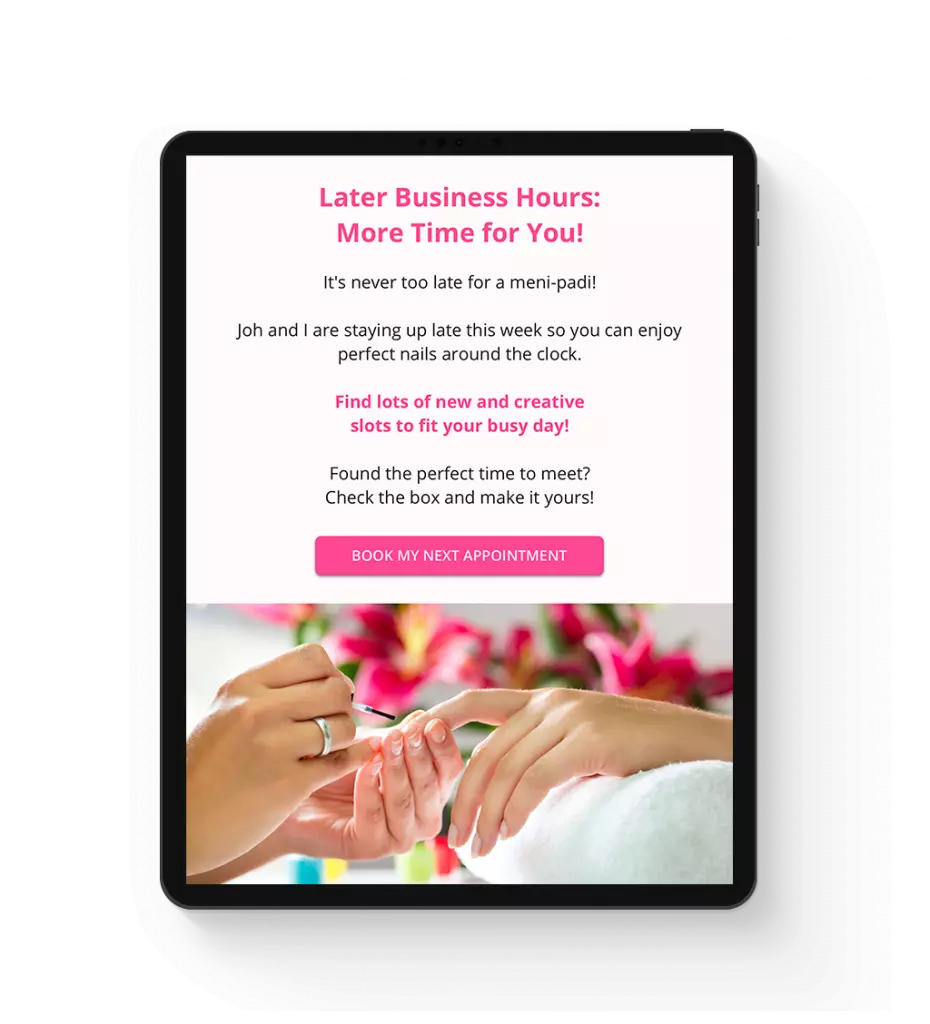 Your CTA might not be all about love and romance. Mouth uses their Valentine's Day email to appeal to those who were recently dumped, using clever copy to invite you to cope with the breakup by ordering their boxes:
The simplest type of Valentine's Day offer is one that focuses on the love between you and your clients. No matter your industry, you can send a V-day email that expresses how much you care, and that's why you're giving them this special deal or discount. Aww.
Are you feeling the love? Take these 4 tips for writing swoon-worthy Valentine's Day emails, and go break some hearts.