In wanting to find a way to deepen relationships with her existing clients and make connections with new ones, online retailer Dina Harbour decided to expand her offering into more than just an online retail shop.
She wanted her Weebly website to be a place where women could shop for great fitting clothes, learn how to start their own e-commerce business, or just get coaching from someone who could provide entrepreneurship and life advice. Find out how this hard working solo-prenuer used vcita LiveSite to expand her business even further.
Looking For A Way To Connect
Dina Harbour has been selling clothes for plus size women online since 2011. She's always wanted to provide a place where women could find attractive, great fitting clothes conveniently, and at affordable prices. This has been the core of her business and what she's worked hard to provide to her clients.
Recently, she was looking for a way to go further and deepen her relationship with her clients. A way to provide more value to her clients than just an online place to buy clothes.
"I wanted to work on my website abandon rate. I knew there were lots of people visiting my website and I had great traffic numbers but I knew I wasn't getting to everybody's needs or questions and that I was missing out on potential new business opportunities. That's when I came across vcita LiveSite…."
Dina researched online for ways to capture more website visitors and turn them into clients, and that's when she came across the LiveSite client engagement platform.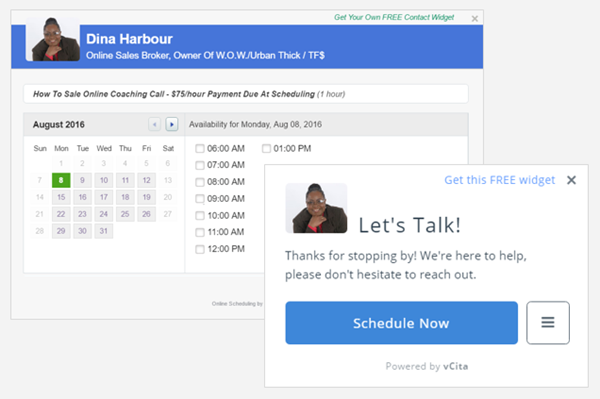 She wanted a way for customers to be able to reach out to her with questions anytime, as well as get more information on who her actual website visitors were – such as their email address, occupation, style needs, etc. rather than just providing a phone number for them to call.
She was able to capture this important client data by using customized fields she set up through the intake form vcita provides. All of this client information is stored under the "client card" in vcita, along with other relevant info such as past booking information, documents traded back and forth between the business and client, payment history, and more.
Expanding The Business
In starting to offer this with vcita and providing a place where clients could simply leave her a message and their information, Dina started strengthening her relationships with her clients, and through their questions and requests for more, she realized she had an opportunity to expand her offering into something even bigger.
"I was really looking for a way to connect deeper with my clients. I wanted to be there for them and be more available to them if they had questions or just needed someone to talk to about business or life strategy. I had a lot of clients wanting to get advice from me for more than just clothes. Women were coming to me for advice on how to start their own business and become entrepreneurs themselves. Many women were coming to her Weebly website to buy good quality clothes at great prices, but many had questions on fashion, how to start their own online store, how to solve complex business or life problems and get advice. That's when Dina realized she needed to expand her website and offering into more than retail, and into a place where she could provide business coaching and online marketing advice to entrepreneurial-minded women."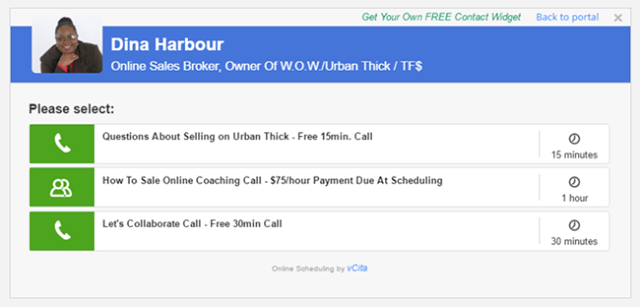 She started offering business coaching calls, expanding her vcita service menu and providing a way for clients to self-schedule with her through vcita. This vaulted her business to really take off. With clients now able to schedule a time conveniently whenever they wanted in Dina's schedule, she was now able to serve a wider audience of clients in less time, increasing her book of business in much less time.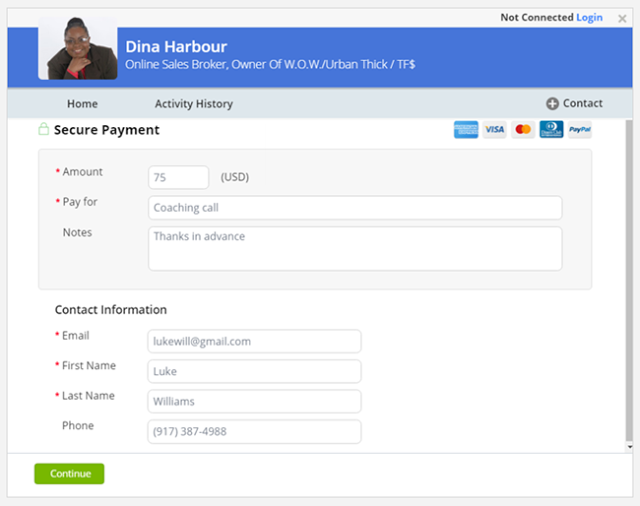 Taking It A Step Further with Social Media Online Marketing
From there she realized she could leverage the vcita platform even more with social media and on Facebook. She started getting more active on social channels and with the success she was seeing with vcita, stepped up her online marketing game.
"Keeping customers for repeat business used to be a struggle for me. Now, I try to analyze my customers' needs and their comments on my social media pages as much as possible. vcita taught me that. Wherever I get a response, I try to go there and make sure to service that customer right away. vcita makes it easy to stay in touch. I found that Facebook Groups and Facebook in general has been very helpful in getting and keeping customers and an audience. I try to post weekly if not daily. I focus on where I'm getting the most activity and the most responses and action." Dina realized pretty quick that clients loved interacting with her on Facebook. Adding vcita's custom scheduling button to her Facebook page enabled her to capture more leads and receive more appointment bookings."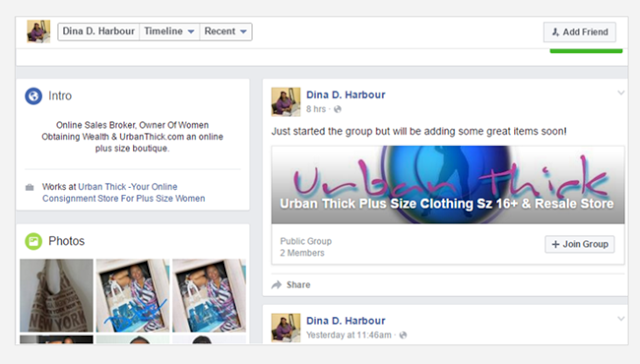 Dina also promotes her website a lot on social media, which in turn gets her more web traffic and now that she has a scheduling platform in place there as well, more clients are scheduling with her and paying her online. Dina also tried to choose a name for her website that would be unique and do well with SEO results. Using the the word "Urban" did very well with Google SEO results and also got a ton of customers for her through Google. Facebook, Instagram, Twitter, and Youtube. She posts to them all individually but uses the in-house capabilities of these to push to other social media outlets and feels it's more organic this way.
All For A Good Cause
It's very apparent that Dina is a people person and loves to help people. She decided that any unused inventory or unsold clothes after 90 days would be donated to a shelter for battered or abused women called "Hope for Domestic Violence".
This works very well and is a win-win in many ways. First, it draws a lot of attention from consignment sellers because of this donation to charity and attracts them to sell their clothing on Dina's website – they already want to work with her because of this. Also, this draws in more buyers as well because of this charitable donation.
"Overall, I love what I do everyday and love making a difference in people's lives. vcita makes it so much easier to get tons more done in half the time! I am loving the way it keeps me in touch with my clients needs as well. It's been fantastic!"
A special thanks to Dina Harbour for sharing her story with us!
Check her out and drop her a line on her website.