Podcasts aren't new, but it suddenly seems like everyone's listening to them (thanks, COVID) from kiddy science podcasts to motivational podcasts to podcasts on advanced data science.
There's nothing stopping your SMB from jumping onto the podcast bandwagon and benefiting from their huge popularity. All you need is a little encouragement, and this complete guide to how to create, promote, and profit from a SMB podcast.
Why use a podcast to promote your SMB?
First up, it's because podcasts are really, really popular today. Consider these stats:
And it's not just that a lot of people are listening to podcasts, but also that podcast listeners tend to be serious fans. The average podcast consumer spent over six hours a week listening to podcasts in 2020, and 82.4% of them listened to more than seven hours of podcasts weekly.
It's hard to believe, but 59% of podcast lovers spend more time on podcasts than on social media.
All of that adds up to a majorly engaged audience. Why wouldn't you want a slice of that?
http://media.giphy.com/media/u46yCmQydoBu0vOJYp/source.gif
The big media companies can read the signs. Spotify, which is already the most popular streaming service in the US, spent $400 million buying the podcast companies Gimlet Media, Anchor and Parcast in 2019, and in 2020 it bought The Ringer, a podcast-driven digital publisher. Also in 2019, SiriusXM bought the podcast service Pandora.
Need more reasons? We've got them.
Podcasting is like stepping back to the ancient art of storytelling. It's compelling, it's intimate, and it builds relationships on a level that videos, photos, and text still can't achieve.

People usually listen to podcasts alone, through their headphones, in their own world. They tend to feel more trust toward podcast hosts as a result. For example, photographer and entrepreneur Chase Jarvis hosts the

Chase Jarvis Live! Show

. It's about creativity and the creative experience, but it's based on transparency and authenticity. His About page is totally honest, direct, and raw, which is probably why his podcast has 100,000 subscribers.

Podcasting allows you to position yourself as a thought leader in your vertical.

Podcasting is an awesome way to establish your brand identity, directly from your mouth to your audience's ears. Not through an algorithm, and not through a social media post.

Podcasting helps keep you top of mind.
Preparing for your SMB podcast
Now that we've convinced you, all you need to do is decide what kind of podcast you'll make. You'll need to:
Choose a topic
Decide on a format
Fix on a structure
Set a schedule
Select the length of each episode
Don't panic; we'll help you with every step.
How to choose a podcast topic
The golden rule for podcasting is that you need something you are passionate about. Honestly, if you're not interested in your topic, you can't expect anyone else to be.
It doesn't have to be the exact same topic as your business vertical. Lauren Tilden makes custom paper goods and runs a home and design store, but her podcast, Making Good, discusses ways for business owners to give to their community while growing their business. Choose a niche that is not too broad, not too narrow, and ideally one that's underserved in the podcast universe.
That sounds like a tall order, but it can be easier than you think. Educational content is very popular, with consumers saying that the top reason they listen to podcasts is to learn new things.
You could share inside tricks from your vertical, like best ice cream recipes, top marketing advice, or how to run an effective e-commerce business, which is what the guys at Ecom Crew cover. They began by charting their experiences starting a business, but it grew into a coaching community that shares advice and guidance.

People love to hear about the story behind your business. Talk about what motivated you to found your company, how you come up with ideas, designs, or new service lines, and the challenges you've met along the way. Neil Tyra at The Law Entrepreneur podcast talks about the difficulties of establishing his own law firm. He gives a lot of useful advice to new solo lawyers and illustrates it all with entertaining anecdotes from his own experiences.
Finally, if you're in a fast-changing vertical like data science, tech R&D, or finance, your audience would love to hear your take on fast-breaking news and timely issues.
What format should your podcast take?
Typically, podcasts are either run solo, with just the host sharing their thoughts, or are interview-style (think David Letterman minus the suit and the teeth) with the host and a guest. This is also the easiest way to get started. Business coach Michelle Weinstein interviews a new business star each week for her Pitch Queen podcast.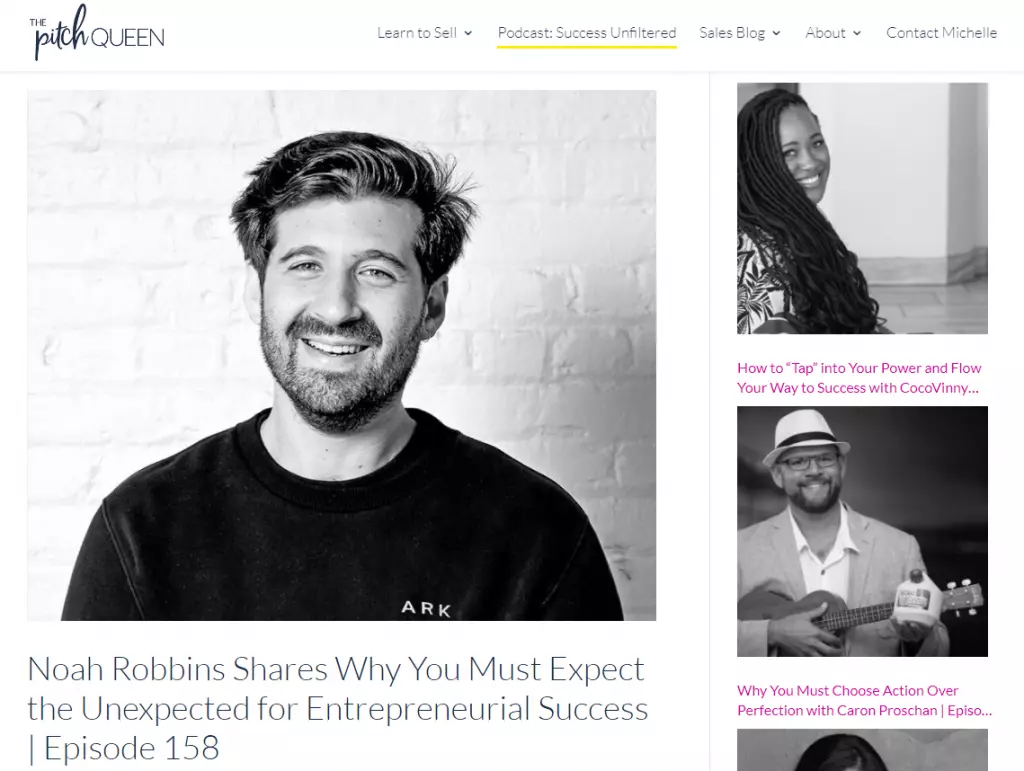 But if you want to try something new, you could run a live Q&A session, taking audio or text message questions from your audience and answering them on the show. Roundtable or panel discussions also go down really well, particularly for discussing news and thorny topics. It's a fresh, fun, and engaging format.
How to structure your podcast
The biggest appeal to podcasts is that they are natural and unscripted, but you don't want to slip into chaos. Listeners like episodes that follow the same structure every time so that they know what to expect. It makes it into a familiar ritual that soothes their souls since they're listening while they're running, doing laundry, driving, or they're otherwise disengaged from the world around them.
It also makes life much easier for you once you've established a fixed structure and style for your show.
Here are some things to include when you formulate your podcast structure:
How many related topics to cover in each episode (this depends on how long your podcast is, which we'll discuss shortly)
When to place your ads or CTAs (the very beginning, just after your intro, is a prime slot)
Whether your style (your voice! Your brand!) will be jokey or serious, chatty or straight to the point, friendly or straight and corporate
A typical podcast episode begins with a professionally-recorded introduction with background music (an "intro"). You can record this yourself, or hire a voiceover artist through a service like Music Radio Creative to do it for you. Some podcasters include an interesting soundbite from the podcast as part of the introduction, to convince the listener to stay.
It's best to then have a 1-2 minute introduction where you briefly cover what you'll be talking about in the episode, introduce your guest, and summarize key takeaways, before you delve into the content itself.
At the end of the show, reiterate your main CTA or ad, and review your primary talking points and the key takeaways again before the "outro". Your outro should use the same music as your intro, and thank the listener.
Erin May Henry, personal branding strategist, does this excellently on her Game Changers podcast.

Each episode features a different guest or explores a different individual's personal branding. She begins with the same professional intro; gives an overview of the episode before moving on to the main content; and finishes by summarizing what they talked about, promoting her guest, and sharing a CTA for her listeners.
What should your podcast schedule be?
Most podcasts are weekly or fortnightly, but it's totally up to you. Much depends on how long your podcast is. The longer the episode, the less frequently you'll run it.
What matters is that you set a regular frequency and stick to it. You want your listeners to look forward eagerly to the new episode, and you don't want to disappoint them.
How long is the right length for a podcast?
This is always frustrating for new podcasters, but the only answer is "as long as it needs to be." You want it long enough to cover everything you want to say, but without any fluff or filler. Never be scared to be flexible with your episode lengths; if your podcasts are generally 45 minutes long, but you've said all you wanted to in 36 minutes, then this episode will be 36 minutes.
The most common length for podcasts is 25-45 minutes, and the average US commute time is 26 minutes, so most podcasters like to stick to that kind of framework. However, Joe Rogan's podcast is the top most listened-to podcast for 2020, and it's a full two hours long, while at the other end of the scale, Chompers is a very popular twice-daily podcast that lasts for just two minutes (the amount of time it takes you to brush your teeth).
People choose which podcast to listen to according to the time they have available, picking shorter ones for a brief walk and longer ones to accompany them through a morning gardening session, for example, so don't feel constrained by time expectations.
What supplies do you need to run a successful podcast?
Here are the things you need to assemble before you begin your podcast (and don't worry, more details about each of these pieces are below):
Microphone
Recording software
Recording location
Editing software
Artwork
And here are some things that are nice-to-have, but you can get by without them:
Background music
Transcription services
Additionally, if you're interviewing someone online, you'll need to make sure you have reliable internet before you begin. Turn off any apps that use a lot of bandwidth before you start, like file syncing apps.
Microphone
A good microphone will cost around $100, although you can go higher if you want. Many podcasters love Blue Yeti USB or Audio-Technica mics. You can stand your mic on your desk, but you might prefer a mic stand that clamps onto your desk or stands on the floor instead.
If you get anything much more expensive, you'll need to buy a dedicated audio recorder too, which ramps up the cost. But if this appeals to you, the Zoom H6 recorder is a good choice, with four mic ports, a unidirectional mic attachment, and 20 hours of recording time.
Recording software
During COVID-19, most podcast interviews took place virtually, and it's still a good choice to save travel time and access awesome guests who live further away.
There's a number of good audio recording options:
Recording location
It goes without saying that you need a location that has next to no background noise, but not everyone realizes that acoustics matter too. If you're in an empty room with hard walls and floors, you can end up with a lot of reverb and echo. Use foam squares or moving blankets to dampen sound and improve sound quality.
Many podcasters end up recording episodes in the closet, because that's where they get the best acoustics. It may sound odd, but a little investment in sound quality preproduction saves you a lot of time and effort in editing post-production.
Editing software
You have plenty of choice here. Some of the top editing software options include:
Artwork
Podcasts might be all about the audio, but people see your podcast artwork before they choose to listen. Your artwork should visually express the subject of your podcast as well as your voice and brand.
Remember that it will appear as a thumbnail icon on podcast platforms, so it has to be easy to read and recognize in a small size. Use simple fonts, high quality images, and uncomplicated logos.
For example, business coach Jaime Masters' podcast, Eventual Millionaire, has an image that is clean, bold, easy to read, and that exudes executive class.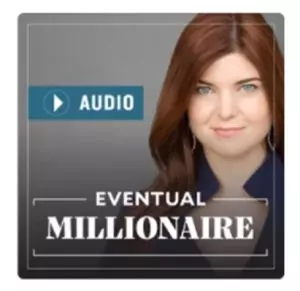 If you have graphic design skills, you can use Canva to create a template and prepare your own artwork. Otherwise, it's easy to hire a designer on Fiverr or Upwork.
Before you get started, check the image size requirements for each platform:
Music
Your podcast sounds more professional when you have music as part of your intro and outro, and as backgrounds to your CTAs or to smooth the move between sections. You can get royalty-free music and sound effects from:
You could also consider hiring a local band to record some music for you, giving them exposure and bringing you unique sounds.
Transcription services
Yes, yes, podcasts are all about the audio, but it can be worth it to offer a transcript as well. Some people like to skim the transcript before they decide to listen, or use the transcript as well as sound if they're hard of hearing.
The Copywriters' Club shares a full transcript of every episode, as well as links to the sites they mention in the show.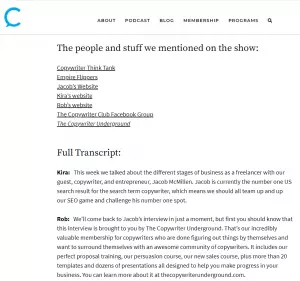 The main choice is between AI-powered transcription services like Temi, which are low cost (~10 cents/minute) but also lower on accuracy, and manual transcription services like Rev, which costs around $1/minute but is far more accurate.
Best SMB podcast tips
Start small
It's easy to get podcast burnout, so start by testing the waters — and your interest levels — with short Instagram Stories or mini audio bites. Use them to see which topics and styles appeal to the widest or most appropriate target audience by tracking reactions, comments, and shares. You could even float a podcast mini-series before committing to running it on a regular basis.
Learn how to run a successful interview
Interviewing a guest for your podcast can be harder than it looks.
You need to come up with good questions that spark interesting responses from your guest, but also keep the episode moving forward. One of the reasons why author and speaker Todd Henry's Accidental Creative podcasts are so popular is because he's a natural and warm interviewer who still manages to keep everything on point.
Many new hosts find it difficult to challenge their guests or to politely cut them off when they ramble off-point, but it's crucial to do so if you don't want a 30-minute unfocused infomercial full of fluff.
Brace yourself for the long haul
Podcast wisdom states that the first 15 or so episodes are delightful to prepare, the next 15-35 are an exhausting uphill struggle, and that after that, you'll get into the swing of things. Remind yourself that it's normal to feel faded at a certain point, and focus on the benefits that will come when this all becomes natural.
Avoid jargon
Even when you're talking about a serious topic to a knowledgeable audience, it's best to avoid jargon and insider talk as much as possible. Podcasts are meant to be light and engaging. For example, Ed Gandia is a business coach for freelance writers. His podcast, High Income Business Writing, is serious and business-focused, but the tone of each episode is still entertaining and fun.
Clearly express your value proposition
Just like all the rest of your marketing content, you need to communicate clearly what your topic is and what the listener will gain from your podcast (what's your "value-add"?) Nobody likes to be tricked into consuming content that isn't what they expected, or isn't going to set them up to come out of it amused, more knowledgeable, or ready for action.
Business coach Dave Kirby is a perfect example. The page for each episode lays out exactly what you'll learn today and what the takeaways are, making it easy for the visitor to decide if it appeals to them.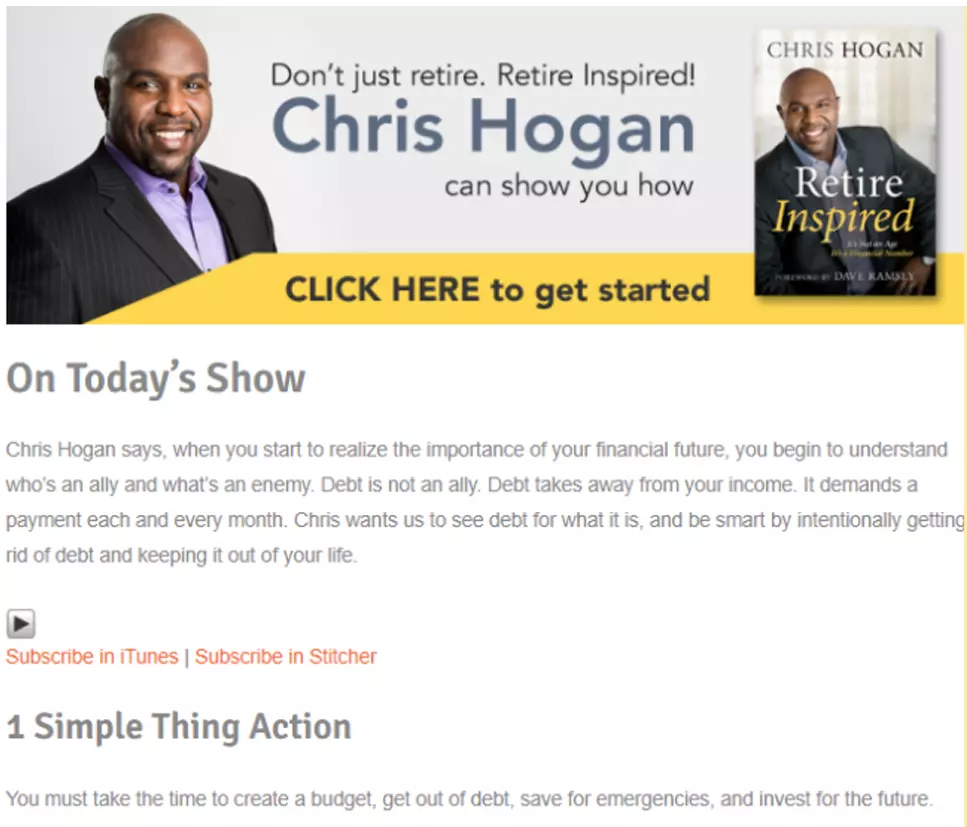 Make it mobile-first
The vast majority of podcast listeners are consuming content on the go, so make your podcasts mobile-first, not just mobile-friendly. Place podcast listen buttons above the fold of your website homepage so visitors can find them and listen easily, and optimize your episode layout for mobile users, like Paul Boag does for his UX design and CRO podcast, Boagworld.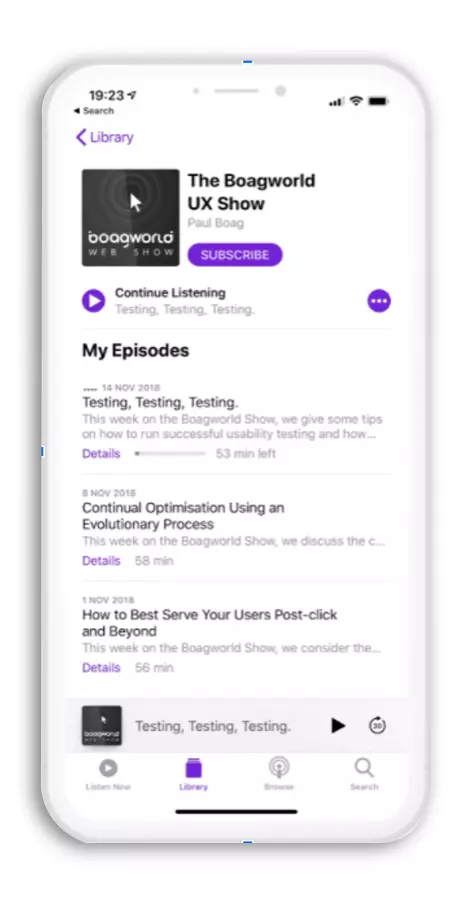 Place a summary or abstract below the audio
Yoga teacher Shannon Crow includes brief descriptions of what happens at key points in the podcast so that listeners can skip to specific sections if they want to. It's like including headings in your blog posts.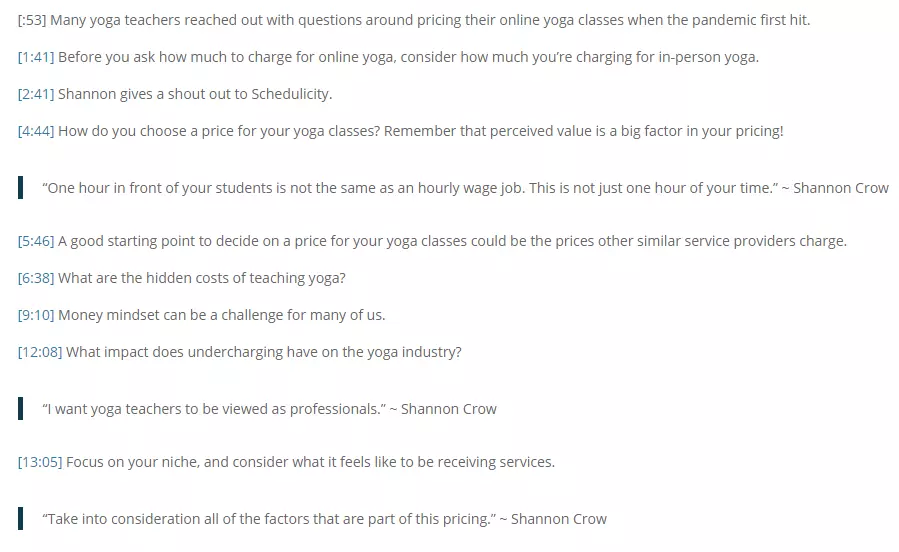 Expect the unexpected
Avoid getting caught without an episode because some work or a personal emergency came up. Don't launch until you've prerecorded at least four episodes, and then stay ahead of your schedule so that you always have two or three in reserve, in case something goes wrong.
Guest speakers and how to find them
Guest speakers are an awesome way to find new material for your podcast and build your audience, but finding new speakers can be a challenge. We recommend you try:
Inviting customers to talk about their business, which is the approach used by Basecamp, an SMB productivity and project management app. Basecamp's The Distance podcast interviews different clients about how they maintain their business in the long term.
Asking your guest speaker to recommend the next guest speaker.
Partnering with other podcasters. You could even appear on each other's shows!
Connecting with other businesses in your vertical or neighboring verticals, like The Copywriter Club does. Kira and Rob are freelance writers, and they interview other freelance writers to share their successes, failures, and workflow tips.
Podcast audio editing tips
Once you've recorded your material, you need to edit it. Hopefully, you've already got good sound quality, so you won't need to spend too long removing background noises (there's only so much you can successfully remove, anyway).
This is also when you check that all the content is relevant, interesting, and delivers value to your listeners. Don't be scared to ruthlessly cut sections that you decide aren't quite up to scratch. You can use a short music interlude to smooth over the gap if you feel it's too noticeable.
Here are some brief editing tips for your podcast:
Remove low-level noise, like an a/c unit, and any background hum from equipment in your location
Normalize the volume for all your episodes so your listeners have a more pleasant experience
Unless you are producing high-quality entertainment or music, record or convert all your tracks to mono
Export files at around 128kbps to keep file size low while maintaining audio quality, because mobile networks can't always support large file sizes
How does podcast hosting work?
When you've recorded your podcast, you can't just upload it directly to iTunes or Spotify. You need a media host (otherwise known as a podcast host) which is basically a subscription service that stores all your audio files.
Podcast hosts also provide analytics, marketing tools, inspiration, and link to podcast directories. Some of them will automatically publish each episode to certain platforms for you. You just open an account with the host and follow the instructions for that platform.
Choosing a podcast hosting service
There are loads to choose from, depending on whether you need unlimited bandwidth, bigger storage options, and of course, your budget. Here are some of the most popular podcast hosts:
Anchor.fm is now owned by Spotify. It's free, with plenty of useful features that include some editing tools and the option to record a call on your phone, and it connects to major platforms like iTunes, Google, and Spotify. The only issue with free hosts is that you don't know how they may evolve over time to limit your storage, add charges, or remove features.
Buzzsprout offers free hosting, but the free plan is limited to two hours per month so it's unlikely that it'll be enough for a business podcast. Paid plans begin at $12/month and you can pay for more content storage at any time, plus there's an in-platform transcription for an extra price.
Castos is a paid host, beginning at around $190/year, with useful features like auto transcriptions and integration with YouTube.
Podbean is another very popular host. It connects with all the major platforms and provides powerful analytics and monetization tools, plus unlimited bandwidth and storage for all the paid plans.
Seriously Simple Podcast plugin for WordPress is owned by Castos, but it's free. It allows you to self-host your podcast by uploading it to your WordPress website, although you have to submit the podcast to platforms yourself.
Transistor.fm is a paid hosting service starting at $19/month, with unique features like a separate hosting website for each podcast. Paid hosts like Transistor and Castos enable you to focus your branding without any interfering watermarks or brand items from the host.
How to promote your SMB podcast
When the host has stored your podcast, they'll give you an RSS feed, which is like the URL for that episode. You'll share that to the podcast platforms, embed it on your site, and publicize it to listeners. If you don't already have a website, you definitely want to register a domain name and build a quick site as a home for your podcast.
Don't relax yet! The hard work is only just beginning. Gaining traction for a new podcast is 90% promotion and just 10% content, according to podcasting coach Matt Medeiros. Before you launch your podcast, build a buzz by sharing the news across all your communication channels.
Before you knock yourself out spreading the word, bear in mind that with podcasts in particular, the right audience is far more important than a large audience.
Brand your podcast
Yes, you're using audio rather than video, but that doesn't mean you can step away from your branding. Platforms like iTunes care a lot about visual details like your artwork, so invest some time and effort in your thumbnail image, banner, and logo.
Carry the same branding consistently across all your channels and platforms and throughout your website, like esthetician Lori Crete does with her Beauty Biz Show. Every image uses the same layout, the same muted color scheme, and the same image size and orientation.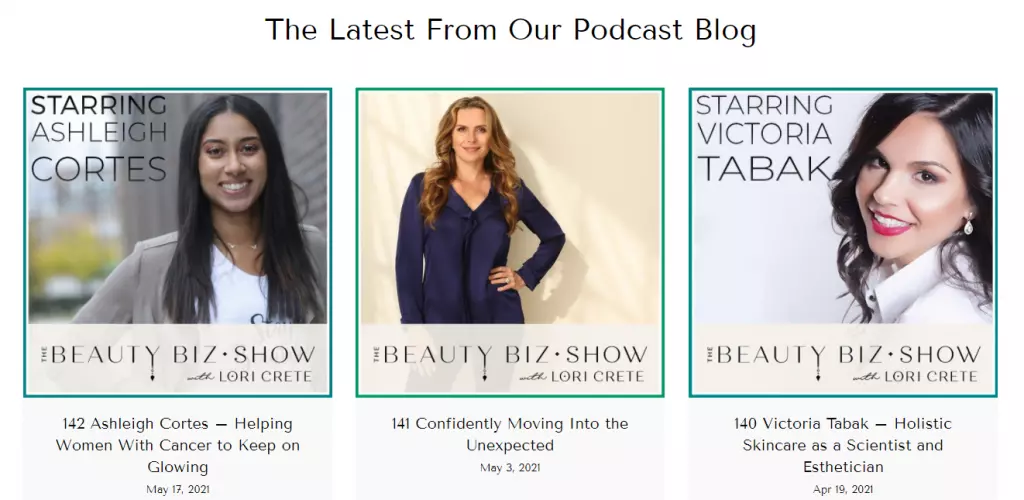 It's important to create a podcast branding pack that includes digital assets like social media banners, featured images for when you highlight a guest or pull a quote in a blog post, and visuals for Instagram posts. You'll use it on social media when you share your podcast so that every post is branded.
For example, Hairdustry's podcast Your Day Off, which shares hair trends and hairstylist insider tips, uses consistent layouts and branding when it posts on Instagram.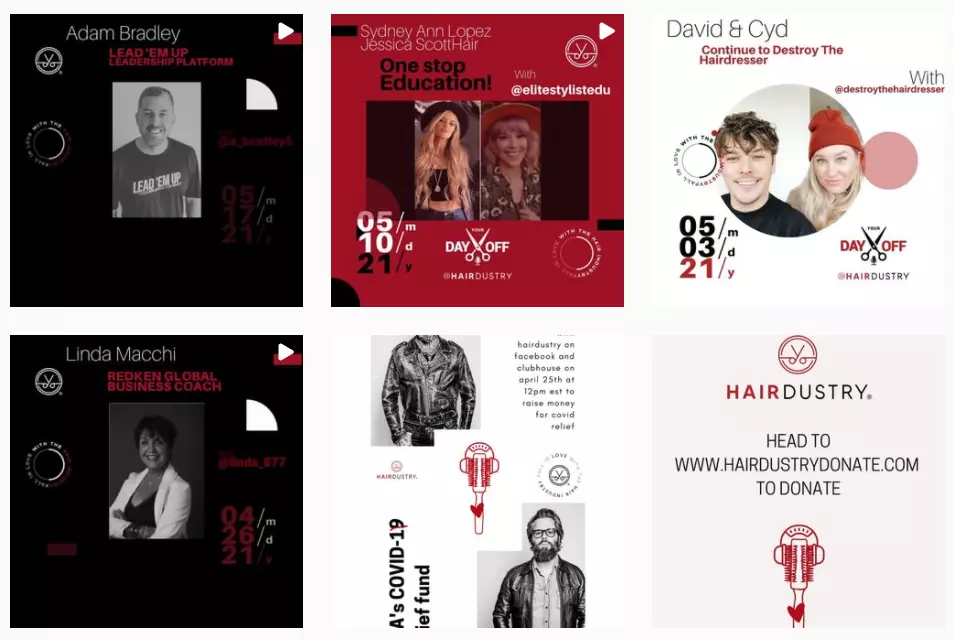 Choose a name carefully
Selecting a podcast name is another important element of branding. You don't necessarily need to use your business name, but you might want to incorporate it within the podcast title or use your own name to boost your personal branding. Personal branding is especially useful if people know you more than your business.
Keyword stuffing is a no-no, but if you can find ways to include them naturally in your podcast name, episode titles, and descriptions, it will boost your podcast SEO.
Jenni Stone hosts HR Rescue podcast, which she uses to drive traffic to her HR consultancy business, HR Shield. Although her business name isn't in the podcast title, the primary keyword of HR is there, improving SEO while also making it clear what the podcast is about.
Title each episode wisely
Episode titles drive the initial click, so think hard about them and possibly even A/B test them, just like you do with blog post titles. Episode titles should be enticing, describe the topic of the episode, and mention the name of the guest when relevant.
Amanda Boleyn, freelance business consultant and host of She Did It Her Way, always uses the episode title to name her guest and present the podcast topic.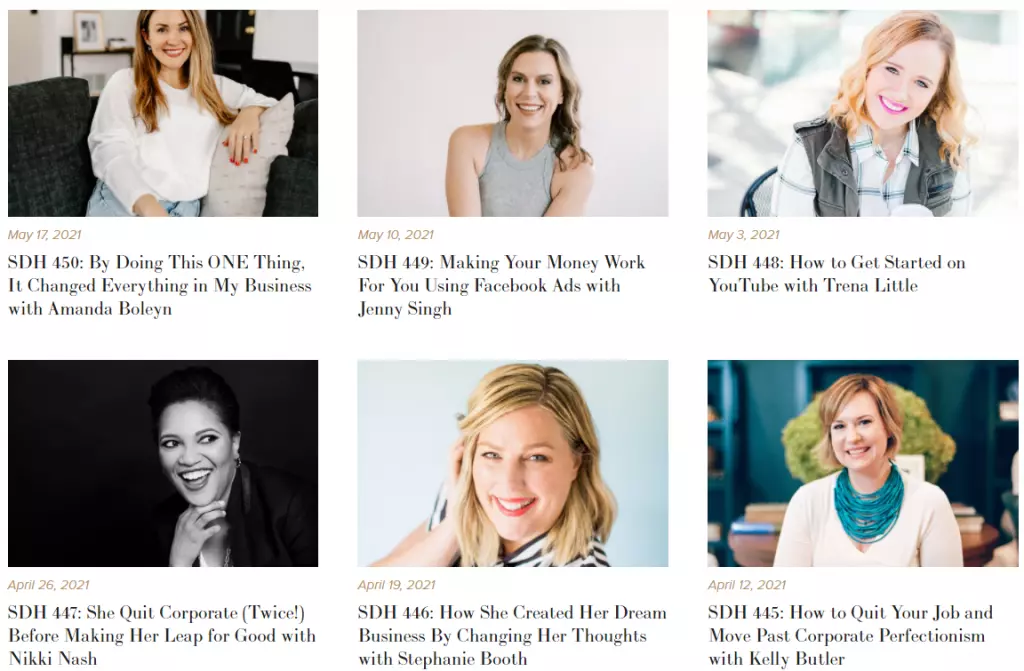 Write an appealing description
All the same advice applies to episode descriptions. Descriptions are your chance to capture new listeners, as well as another opportunity to boost SEO.
Give a prominent position to naming important guest speakers and listing trending topics or exclusive content included in the episode. Illustrate the value you'll bring to listeners and explain the benefits of your show.
For example, the Tropical MBA gives this enticing outline that reveals what the episode will be about while teasing the visitor to want to learn more.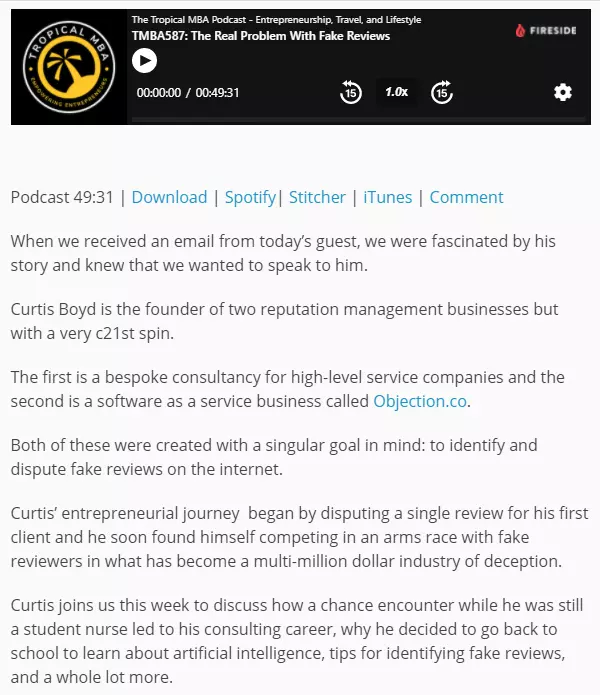 Share everywhere
It's a given that you'll send your podcast to the big platforms like iTunes, Stitcher, SoundCloud, TuneIn, Pandora, and Spotify. 30% of the US population listened on Pandora within the last month, and 24% used Spotify.
But don't stop there. Post links to your podcast on all your social media channels, and share teaser extracts on Instagram and Facebook Stories. Embed your podcasts directly into your website, and email them to subscribers to your email newsletters.
Don't overlook voice-enabled devices like Google Assistant and Alexa. Podcast consumption on voice-enabled devices is growing steadily, so be there too, like the marketing agency Beetle Moment does with their podcast.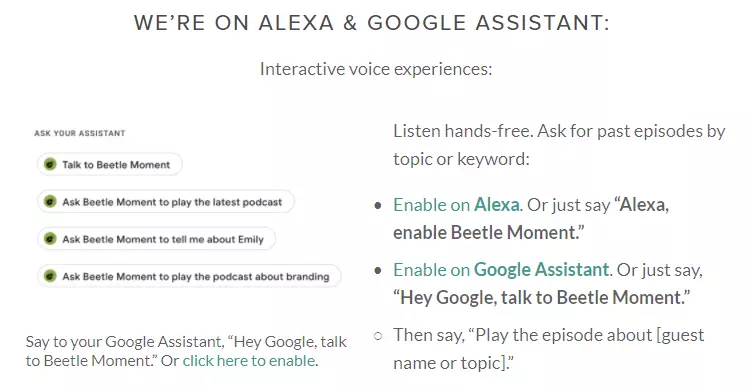 Make the most of your guests
Make it easy for your guests to promote your show to all their followers and fans. After all, they'll get a high-quality podcast that they didn't have to create, so it's a fair exchange. Ask them to link to your episodes on their website and mention you in their newsletters.
You should also share your digital assets with them so that they can post them on their social media channels. That's what Jaime Masters does. When she interviewed sociobiologist Rebecca Costa, she sent her a branded pull quote image, and Costa used it in her promotional tweet, thereby extending the reach of Masters' branding.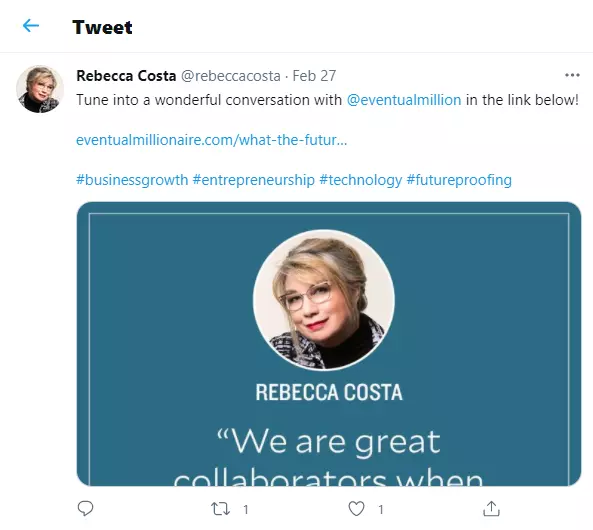 Maximize your content
It takes around 8 hours to prepare a single podcast episode, so you want to make the most out of all that effort. Turn every podcast into cornerstone content that you repurpose in multiple ways, like converting an episode into a blog post, sharing snippets as social media posts, and if you capture video too, reframing as an on-demand webinar.
This is what Jay Nixon, fitness instructor and host of Thrive Forever Fit, does. He posts every podcast on YouTube as well as on podcast platforms, embeds the audio into his website, and also creates a blog post based on the podcast.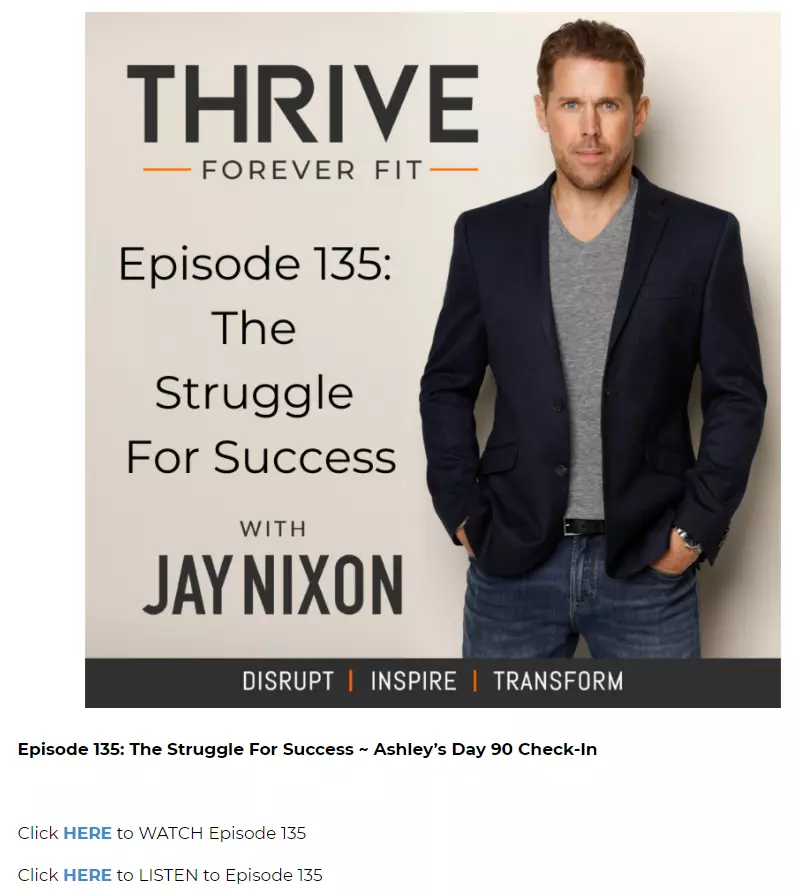 Solicit and get reviews
Reviews play a huge role in convincing new listeners to join your podcast, so do all you can to encourage them. Be upfront about asking visitors to leave a review on iTunes, because people read those reviews. They matter.
For example, Duct Tape Marketing is a podcast run by an SMB marketing agency with the same name. The host has a loud and clear CTA for visitors to leave a review on their iTunes site.
Once you get the reviews, use them. Read them out on air, share them on your website as social proof, and respond to them on social media to make listeners feel that their opinion matters to you. (It probably actually does.) Replying to reviews, either on-air or online, turns them into two-way conversations.
Encourage more engagement
You want your podcast to be more of a conversation than a monologue, so take steps to encourage listeners to communicate with you. You could invite them to send in an audio note with a question that you'll play and answer on air, or announce the next show's guest and ask what they'd like to learn from that person.
That's what Elizabeth Faye, a business mentor for hairstylists, does on her Hair Love Radio podcast.

You could also offer small giveaways for listeners or prizes for people who call in or use your hashtag. The awards could be things like a free session or a digital gift card, or you could ask your guest to provide a small giveaway item.
How to drive your podcast to profitability
Ultimately, your podcast is another powerful marketing tool that helps drive revenue. When people enjoy listening to your audio content and feel connected to your brand, they'll be more likely to check out your sales channels, subscribe to your emails, and pay for your services.
A podcast works best when it's part of a digital business. After all, podcasts can reach a global audience, but if you're only selling yoga lessons in-person to your local neighborhood, there's not a lot you can offer listeners from outside your city. Once you add online yoga classes, bundles with branded yoga balls and mats, and advanced virtual mentoring for new yoga teachers, though, you can make sales anywhere that people tune in.
Invite listeners to subscribe
It's important to connect your podcast to the rest of your marketing and sales funnel to see results for business growth. One must is to create a Subscribe page that serves as your landing page for listeners. Someone might tune in to your show by accident, but once they subscribe, they're listeners and they are engaged.
Listeners can arrive through a number of different platforms without touching your website, so repeat the URL frequently on your show to drive people there.
Your Subscribe page should be distraction-free and focus solely on encouraging people to connect with you. Include your social media profiles, podcast distribution platforms, and your email newsletter signup form so you can capture their details.
Here's a perfect example again from Matt at SouthCoast.Fm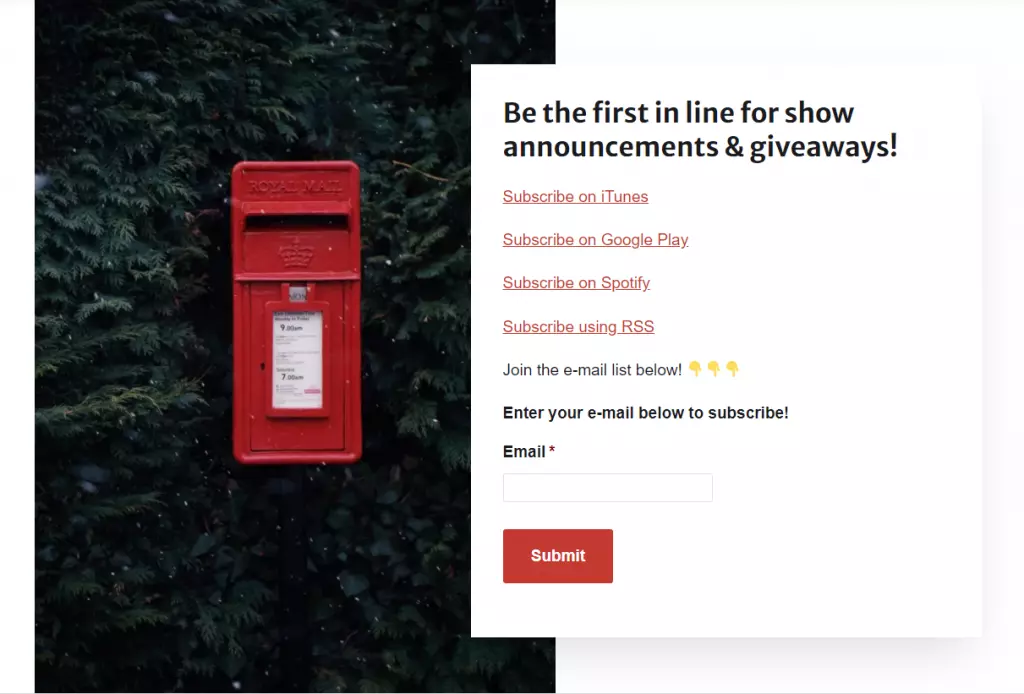 There's plenty of white space, a clear CTA, and no distractions.
Include CTAs in your podcasts
It's wonderful to have an audience of committed listeners, but now what? You're running the podcast to drive sales, so you need to tell your audience what to do next. Just like with your blog posts and social media posts, you need clear CTAs that guide leads onto the next step.
It might be subscribing to your email list, checking out your website, downloading an ebook, using your branded hashtag on Instagram or Twitter, or registering for your upcoming event. What matters is that you pick a CTA and repeat it throughout the show.
It takes more than just one hearing to convince someone to take action. Three mentions during the show — after your intro, somewhere in the middle of your content, and as part of the outro — are recommended, although the longer the episode, the more ads you can include.
Eric Cacciatore, aspiring restaurateur, and podcaster at Restaurant Unstoppable makes his CTAs quite loud and clear. As well as mentioning them in his podcast, he also posts them as part of the show notes below every episode.

Sell subscriptions
You could also use your podcast to open up another revenue channel for your business by charging people to subscribe. You'll need to spend some time building a strong following first, although it doesn't need to be enormous. Around 100 committed, consistent listeners is a respectable size audience and one that you can begin to monetize for your business.
If you do charge for subscriptions, it's best to have a regular free option as well as a premium paid membership. Offer your premium members early access to new episodes and exclusive content to give them more value.
Sell ads and sponsorships
Podcasts have been proven to be incredibly effective advertising channels, with 61.3% of listeners saying they've bought an item after hearing an ad on a podcast, and 54% saying they are more likely to buy from brands advertised on a podcast.
This means you could use your podcast as a secondary revenue channel alongside your regular business, by selling ads and podcast sponsorships. Revenue from podcast advertising in the US rose by close to 15% in 2020, despite the impact of COVID-19, and is now close to $1 billion.
Podcast ads are usually sold by cost per mille (CPM), or for every 1,000 listeners. Going rates for podcast ads are around $18 CPM for a 30-second ad and $25 CPM for a 60-second ad. Podcast hosts typically read out ads at intervals during the show, rather than playing a prerecorded ad, and/or include ads and sponsors in the show notes for each episode, like Eric does here.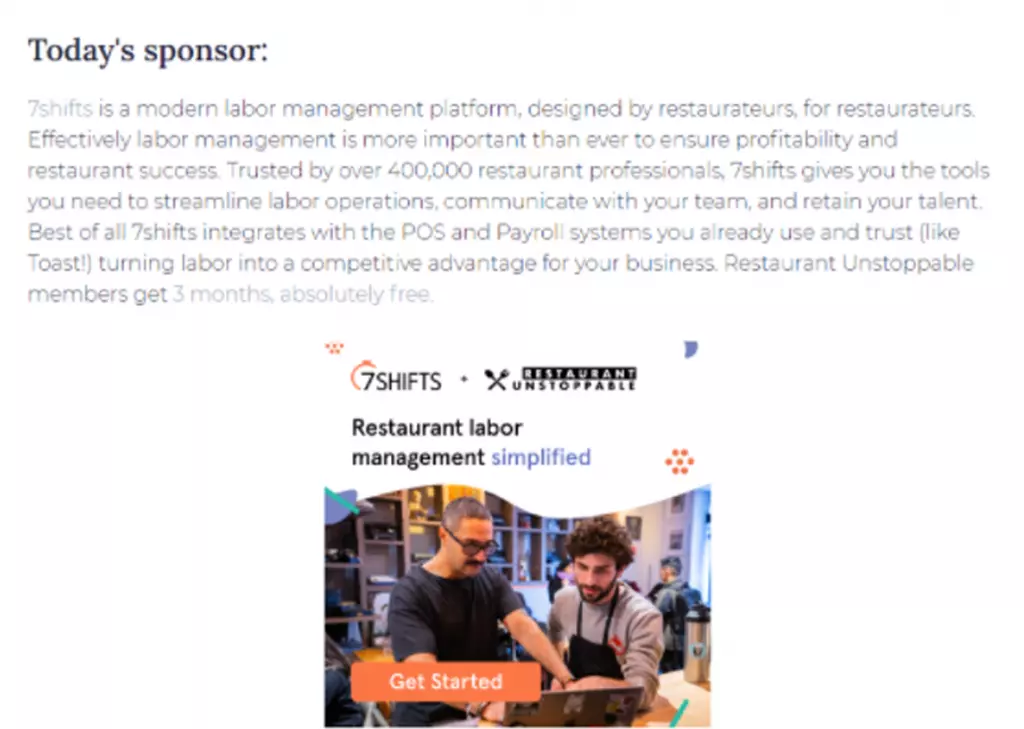 Measuring your podcast results
Like every marketing effort, you need to track metrics and set goals to measure whether all this effort is worth it. You'll find analytics from your podcast platforms and hosts, as well as from Google Analytics data on your own website.
However, it can be worth it to use advanced analytics platforms too, especially if you're committed to podcasting and want to develop it for the long term. Chartable and Backtracks are both podcast-focused analytics tools that help you stitch together listener details, downloads, and conversions across all the many devices that podcast consumers tend to use.
Chartable begins at $20/month. Backtracks is a more powerful platform with bespoke pricing. It helps you work out how many people who clicked and downloaded actually listened to the show, how many listened till the end, and what's working in terms of ads and content.
Important metrics to track include:
The number of regular audio listeners who listen to more than half of the show
Email subscribers, which shows whether you are generating engagement as well as just clicks
Sales that result from the podcast
Now you're fully briefed in how to create, promote, and drive a profit from your SMB podcast, there's nothing stopping you from making it a reality.