After you've read one or two "How to Market your Small Business" blogs, you've read them all.
Create great content? Yep.
Be active on Facebook, Twitter, Pinterest, and Instagram? Exactly.
Giveaways and contests? You got it.
SEO? I know, I know.
Google Adwords? Sure thing.
Maybe you've done it all already. Or maybe you haven't… but you're itching for a marketing tactic that doesn't feel like you're trodding down a path so well-traveled it's become a superhighway.
For the creative, the brave, and the bold, we suggest trying at least one of the following unconventional ways to market your small business.
Stand out from the crowd
Richard Branson's publicity stunts for Virgin's umpteen businesses have earned him a near-legendary reputation and – more importantly – millions of eyeballs directed at him and his brands.
From dressing up in a wedding gown and makeup for the launch of the Virgin Brides bridal store, to driving a tank through Times Square and "blowing up" the Coca-Cola sign in an effort to promote the expansion of Virgin Cola into the USA, there's no way you can fail to hear about Virgin's brands.
But lest you think you need the financial resources of a millionaire and the spirit of a daredevil to do such things, you're wrong. Social media expert Barry Feldman proves how a $6 T-shirt and a little creativity can win big brand publicity.
Way back when Barry was just getting started in social media, he decided to attend the BlogWorld conference.
On the spur of the moment, he put together a cheap white T-shirt and some Twitter bird graphics to create his "Twee-Shirt." On the front, the little birdie told you, "I'm @feldmancreative. Where u @?" and Barry, armed with a black Sharpie, invited other conference attendees to write their Twitter handles on his shirt.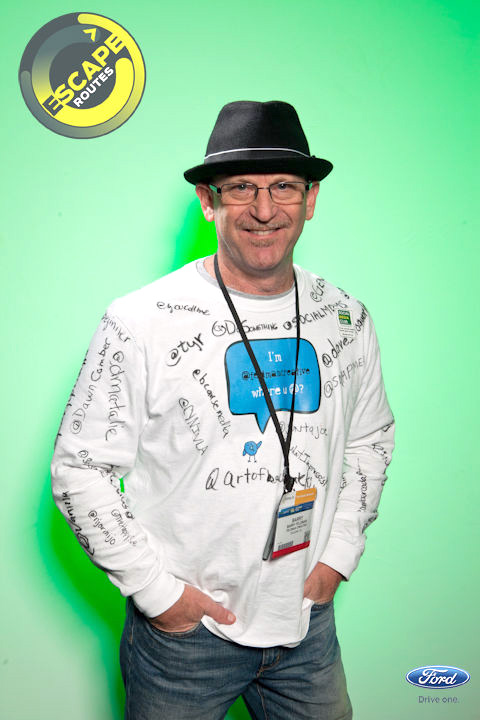 The result? In Barry's words, "My Tweet-Tee (I nicknamed it) gave me wings. What was a slightly awkward little ice breaker for the first few minutes became a confidence builder, a catalyst for making connections, and the starter for hundreds of conversations clocking in well above 140 characters."
Whether you're going to a conference or a networking event, greeting a potential client or just walking down the street, invest a little thought and effort into the question: how can I stand out from the crowd? How can I project who I am and what I do in a way that is unforgettable?
Branded checklist? Check!
From to-do lists to grocery lists to packing lists, we all make checklists. So imagine if your business could latch onto that human desire to feel prepared and accomplished, and be known as the one who facilitates that.
How?
Create a branded checklist connected to your niche. It doesn't have to lead your customer to say, "Oh, I must call you right this second," but it should create an association for your customer as you for a go-to resource on this topic.
One great example is Kim Hughes' Your New Home checklist. It reminds you of all the items that you'll need to have accessible immediately after a move.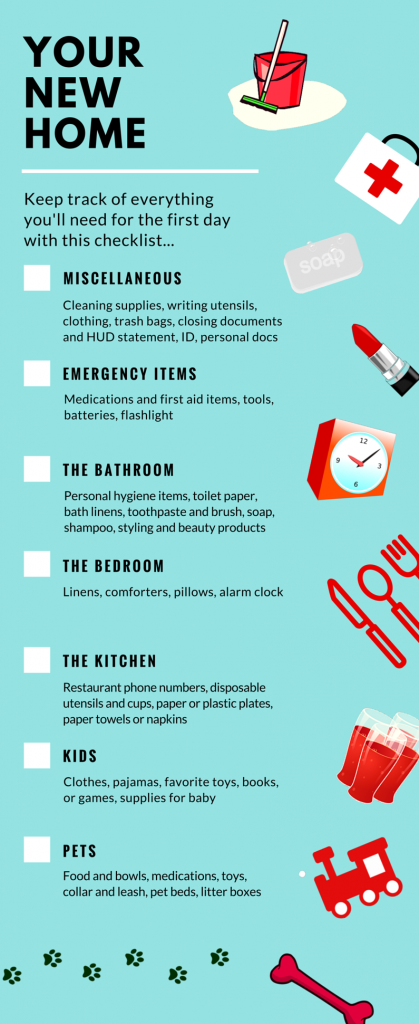 Without this list, half of those items would definitely get packed up in boxes and suddenly you'd be stuck without your cat's litter box on the first night you moved in.
While Kim Hughes is a real-estate coach, imagine the impact if a moving company had created and promoted that checklist (branded with their logo, tagline and contact info, of course). It's a very handy checklist, and so the company could get in front of the eyeballs of tons of potential clients who are in the market for services such as theirs.
Here's another checklist that could have been gold for a moving company, from LifeHacker:

Make your ads street-smart
Drawing on outside pavement or walls is on the one hand very current (have you seen the ridiculously cool things that street artists can do?) and on the other very, very old-school (think cave paintings brought into the 21st century).
If you're a big brand like Folgers, you might be able to afford the ridiculously cool stuff:
But even a small business without a big marketing budget can leverage street advertising.
Advertising agency Bio Eko Paint specializes in pavement advertising using their unique paint which stays on until removed by a special gel with all biodegradable ingredients.
If you don't live in the UK, leverage their idea by using paint and stencils to craft noticeable ads right on the pavement people are walking on. (Make sure this doesn't violate any rules in your area).
Or you could forgo the paint and embrace chalk. For a really old-school method, just write your ad on the sidewalk with colored chalk. Add in some curlicues, arrows and other decorative elements, and you have an inexpensive, unusual eye-catching advertisement.
There's no such thing as a stupid question… on a quiz
Now that's a blatant lie.
Of course there are stupid questions on quizzes, and sometimes the entire quiz is silly… but for some reason, 98% of human beings love quizzes so much that they don't notice.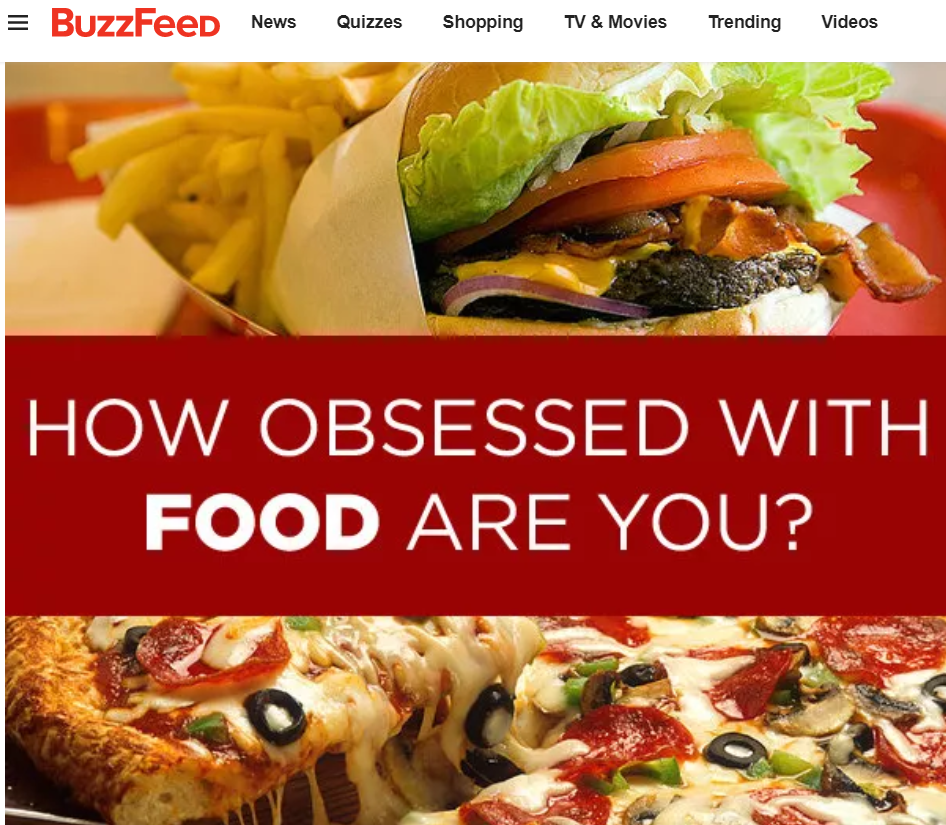 Moral of the story? Create a quiz for your business. Then promote it (Facebook ads work very well for that kind of thing.)
While a Playbuzz-type quiz might work to draw attention to your brand, the best kind is the one that is actually directly connected to your business and what you offer. The quiz and results can highlight your expertise, building trust and your reputation. Additionally, the results can give the quiz taker guidance as to which of your products or services would help them the most.
Executive coach Talane Miedaner has created several free quizzes on her Lifecoach.com website. The (lengthy) quizzes are designed to help quiz takers identify their emotional, personal and professional needs.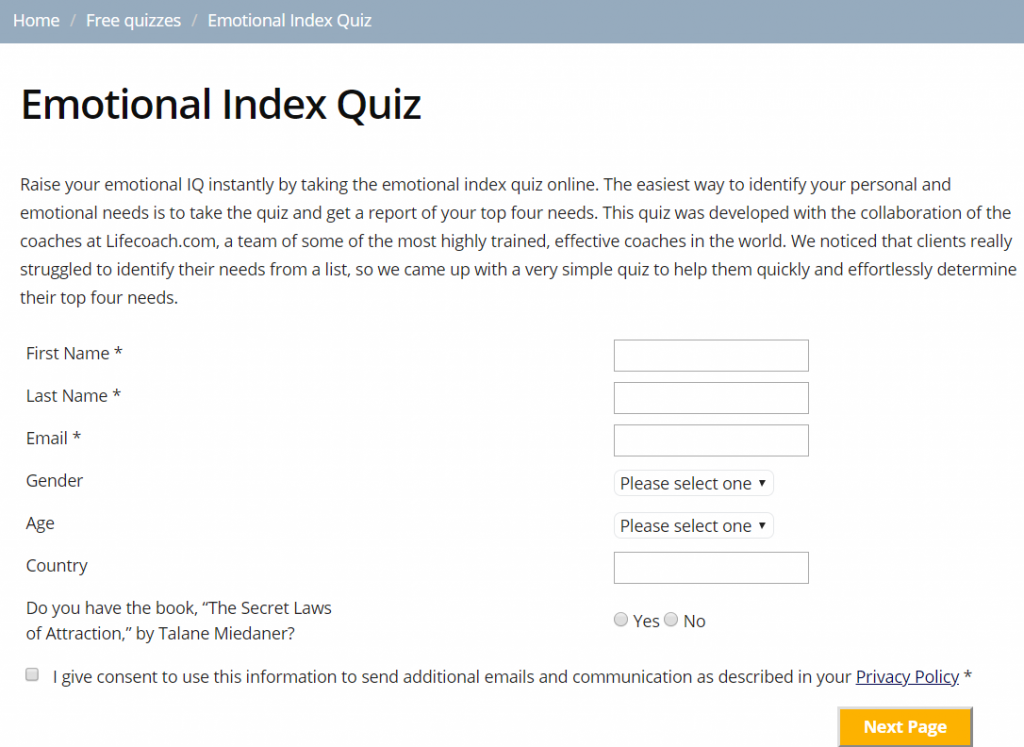 In addition to generating leads for Lifecoach.com (you need to give your email to take the quiz), the quiz itself effectively introduces the potential client to Lifecoach.com's approach to life coaching, and subliminally encourages them to turn to Lifecoach.com for help and guidance in getting their needs met.
Build a supportive community for customers & potential customers
If you offer a product or service, ostensibly, you are addressing a pain point and meeting a need. What if you could offer current and potential customers the ability to meet in a safe community? To share advice and empathy with one another?
Aside from the altruism and community service values that you're embodying, you will also be drawing a natural audience of potential clients. Play your cards right by providing helpful information, and you'll be seen as the expert and the go-to resource.
Social media groups are a natural environment for these micro-communities, but you could also have a forum on your own site and a group in another venue.
An example is geriatric care manager service B'Lev Shalem. They created a Facebook group called Sandwich Generation Israel for any English-speaker in Israel simultaneously dealing with the challenges of caring for their kids and for their aging parents.
This steadily growing group numbers over 1000 members, and has progressed to the point where the members actively ask and answer each other's questions, making it a true self-sustaining community.
Are all these members going to become B'Lev Shalem's clients? No, but some will. And some will appreciate the expertise of B'Lev Shalem and refer them to friends.
Creating a helpful, supportive, focused community for your target market takes some effort and patience, but it can pay off big-time. Need a little inspiration to get your group off the ground? Check out these 6 examples of high-converting content for Facebook groups.
Use new marketing methods, but keep the old
Don't give up on social media and SEO, content marketing and PPC. Those are the basics – the foundations of today's marketing.
But don't just stay there. Get your creative juices flowing! Expand your marketing horizons and your client base.