Marketing is never easy, but marketing a law firm can be particularly difficult. The law market is officially oversaturated, so you're competing with dozens of other law firms, all chasing the same clients. It's also not easy to think of discount offers for new customers, or come up with attractive two-for-one bundles on law consultations.
With all that said, digital marketing in 2020 offers so many ways for you to market your law firm. It's not just about entries in the Yellow Pages and billboards asking if you've "been in an accident that wasn't your fault?" any more. You can and should get creative with law firm marketing, to attract new clients and keep the loyalty of existing ones.
To start you off on the right foot, here are 5 original ideas for marketing your law firm in 2020.
1. Expand into Video Content
Hopefully, you've already got a blog on your law firm website, but there's so much more to content marketing than that. Instead of sticking to traditional blog posts, branch out into video marketing.
Video is very popular, and it's stunningly successful at converting new leads. Video marketing statistics show that 88% of video marketers are happy with their ROI, and that video marketing brings in 66% more qualified leads each year and raises brand awareness by 54%.
If you think that law topics aren't well suited to video content, think again. Video content is full of potential for law firm marketing. For example, short, funny videos like this one from Pasha Law can reassure new clients that lawyers aren't all money-grubbing individuals and can actually make very nice humans.
If humor doesn't mix well with your brand, don't force it. You can always create a video that introduces your law firm, so that potential customers feel a sense of relationship with your partners.
It's a great way to build a connection with leads, and makes people more willing to trust you with their legal issues when the time comes.
Video is also a powerful educational tool, with 72% of people preferring to learn from a video rather than from text. This offers a golden opportunity to create marketing videos that explain legal jargon or guide viewers through the process of suing someone for medical costs, for example.
The Nomberg Law Firm uses video to the hilt, with hundreds of short videos that deal with specific questions about workers' compensation in Alabama. Here's a sampling:
Their video content strategy is designed to get them in front of their potential clients when said clients search for answers to their questions on Google. SEO + video marketing + lead gen: Nomberg Law Firm has got this strategy down pat!
All in all, video holds great potential to capture new leads and convert new clients in 2020.
2. Upgrade to Live Chat
Live chat is the future, and it's already coming to law firms near you. After all, your clients are used to live chat. They use it to order pizza, book a doctor's appointment, and check up on movie times, so they have no issues about using it on your law firm site as well.
Think about it: when someone needs to consult a lawyer, they usually have a LOT of questions, from "How much does it cost?" to "Could I go to jail?" They might not be ready to hire a lawyer straight away – at first, they just want to know what's involved in suing someone for running into the back of their car, or what's the worst that could happen if a lawyer doesn't check out their latest contract.
But no one wants to have to pick up the phone or write an email to get these answers. We want answers like we want movies: on demand at the tips of our fingers. When you have live chat, you've set up a quick and easy way for people to get these answers, which raises your firm's reputation.
Here are some other benefits to using live chat for your law firm site:
Your website is open to potential customers round the clock
Providing fast, reliable answers builds trust
It gives you an image that's modern and cutting-edge
You can capture lead details and use them for future marketing campaigns
Using live chat doesn't have to be hard work. There are numerous agencies that offer live chat capabilities, so that your clients can communicate with a human being at all times, even when you're not at work.
You can also use one of the many AI-powered chatbot tools, which answer basic questions and capture lead data on your behalf. You can embed them within many social media platforms, like WhatsApp or Facebook Messenger, which gives you a connection with enquiring users and opens up new marketing channels. Live chat is much more popular and appealing than static FAQ sections, so think about pursuing this option in 2020.
3. Offer a Free Introductory Consultation
Nowadays it seems like everything is available in free trial format, from makeup to music streaming. Guess what? You can offer a free trial of your legal expertise as well.
It might sound impossible, but actually it's a brilliant marketing technique. All you need to do is to promote a free, 15-minute legal consultation as a kind of "taster" experience.
When someone interacts with you over the phone or on a video call, it gives you the opportunity to build trust and establish a connection with them. This makes them far more likely to hire you for their legal work, or come back for a paid consultation in a few weeks or months when a new issue arises. Your conversation also delivers valuable insights into customer needs and concerns, which you can use to refine your marketing for the right audiences.
Promoting a free consultation call is easy when you use tools like vcita.
The vcita team understands that sometimes prospects just need that extra push to become a client.
That's why they developed an interactive widget that doesn't invite prospects to contact you for the sake of it, but rather for the sake of value.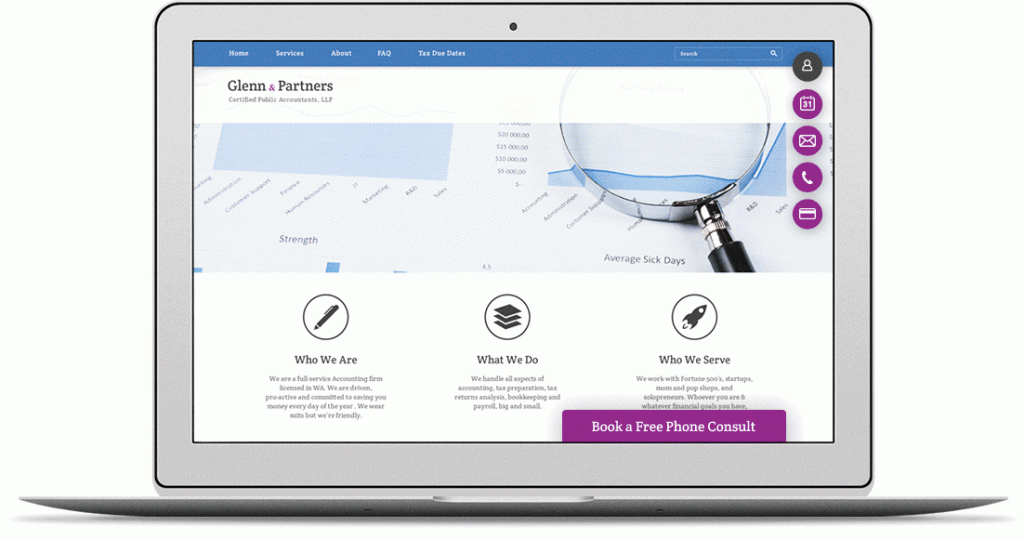 With vcita installed on your website, emails or Facebook page, you can offer specific actions such as signing up for free lectures and workshops and scheduling free phone consultations. vcita's widget isn't just a communication tool – it supports every and any action that can be translated into dollars and cents down the road.
As a bonus, the vcita lead capture widget captures their contact details, so you can follow up your introductory consultation with targeted marketing content that matches their interests and concerns!
If you've never provided free consultation calls before and are feeling a little nervous about it, read our complete guide on how to turn a free consultation call into a slam dunk sale.
4. Promote Yourself on Social Media
Social media isn't just for millennials. 87% of Generation X-ers and 70% of people aged 45-60 think that businesses should have a Facebook presence. It's where your target audience hangs out, so you should be there too.
If you're on social media, you make it easy for potential customers to find you and to recommend you. It's a lot faster for Mr. Previous Client to tag your firm on Facebook than to Google your business name and paste the link to your website, for example.
Managing an active social media presence also nurtures your relationship with future clients. It gives you a human face (which is important when you consider the reputation that lawyers have for being soulless and heartless), increases your reach, and boosts your brand messaging.
It is important to choose the social media platforms that are most popular with your target audience. For example, divorce attorneys would do better on Facebook, but contract lawyers should focus on LinkedIn. Personal injury lawyers can probably target any channel they like, but you don't want to overdo it.
If you're still not sure, check out your competition. They've probably already got a Facebook page, just like James McMinn in North Carolina does.
In 2020, everyone who's anyone has a social media profile, so why not your law firm?
5. Encourage Online Reviews
Hiring a law firm isn't like ordering takeout. People are scared of the consequences of getting something wrong, so they invest a lot of time and effort in finding a law firm that they can trust. This makes it very important to gather plenty of online reviews to prove that you are reliable and effective.
It's reassuring to see that your lawyer has been used and trusted by many other people before you. If someone sees that your law firm has 57 reviews, and your competitor has only 3, they're much more likely to use your firm.
Some of the strategies for getting more reviews include:
Setting up a presence on review sites like FindLaw.com and Avvo.com, because that's where people go to look for a lawyer
Being active on social media, so that everyone can see positive reviews left by your happy clients.
Reaching out to ask clients to leave a review on your website or a review site. There's a really easy way to do it by using a simple yet super effective email template
Always responding to reviews and comments, whether they are positive or negative, so that people can see that you listen to feedback and care about their opinion
You also need to make the most of the reviews you get, like by setting up a widget on your law firm website that displays your top customer reviews, or showcasing video testimonials like the Shulman law firm does.
Well, we've given you 5 solid gold creative ideas for marketing your law firm in 2020. What else will you come up with this year?