You're the proud owner of a business, and you've got an awesome, new, shiny logo to go with it. Once you've finished admiring it from all angles, it's time to face the question: What do you do with it now?
Sure, you can put it on your business cards, (not that anyone uses business cards much anymore), your website, and your social media profiles, but your logo has so much more potential.
Your logo is the face that your business shows to the world. You want to put it everywhere possible, so that whenever someone needs a manicure, a lawn care service, a personal trainer, or whatever your line of business is, they'll immediately think of you.
It's time to break out beyond the business cards and websites with these 15 great ways to truly make the most of your logo.
1. Local Sports Teams
Getting your business name and logo onto sports team shirts isn't just for mega-corporations like Vodafone, who splashed their name and logo across the UK's Manchester United soccer team's shirts for about 25 years.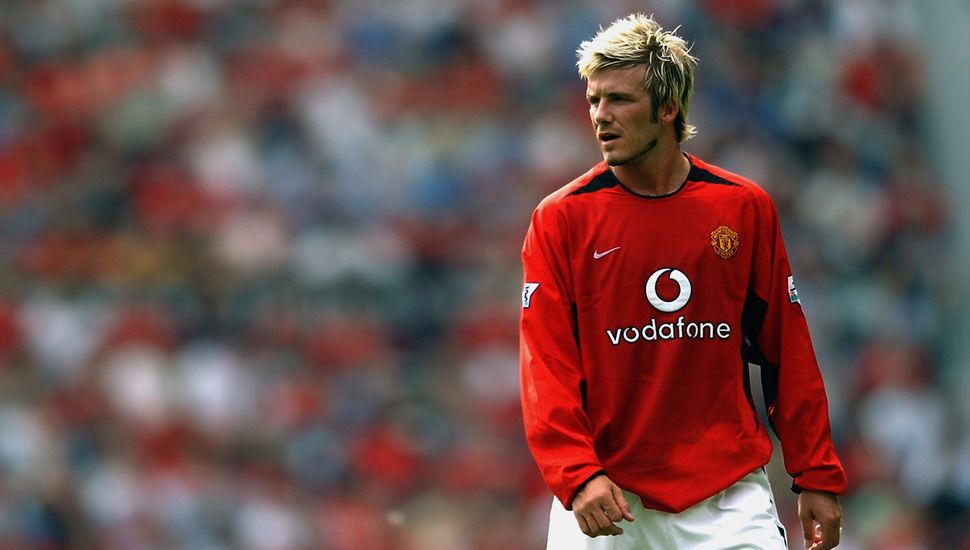 Ok, so you might not be able to afford to get your logo on the Mets' or the Yankees' baseball shirts, but you can still sponsor your local Little League team, under-18 ice hockey team, or under-12 soccer team. All those proud parents will be watching your logo race around the field for hours each week — plus you'll win points for being so community-minded.
2. Packaging
If you sell products as well as services, that's a golden opportunity to display your logo a little more. Think about customized packing boxes, wrapping paper, packing tape, and packing paper with your logo on it, like this from Happy Socks.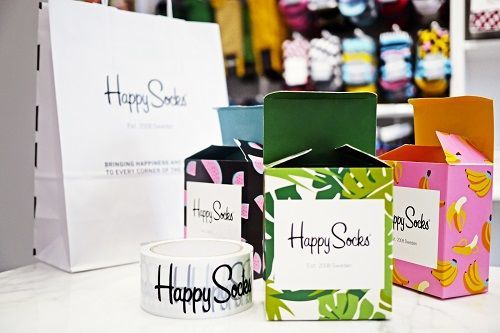 Here are just a few ideas:
Moving companies can brand their customers' moving boxes
Hairstylists who also sell hair products can drop each bottle of shampoo in a branded bag
Handypeople who repair small appliances can wrap the fixed item in packing paper stamped with their logo
3. Company Vehicles
Cars, delivery vans, trucks, and motorbikes are all excellent places for you to plant your logo, turning every minute that your paralegal spends stuck in traffic into a marketing opportunity.
It's especially good for any service-based business that makes house calls or travels to other businesses, like DJ businesses, construction contractors, interior designers, etc.
Car decals are the easiest and most cost-effective option, since you can have all your employees place them on their bumpers, rear windows, side doors, etc. But if you want to take it a step further, it's not so expensive to have the whole vehicle painted with your brand colors, logo, and slogan. It's even an option for bikes, if you have employees who bike to work.
Just be super-careful with logo and image placement, otherwise your vehicle art can end up making the wrong kind of statement.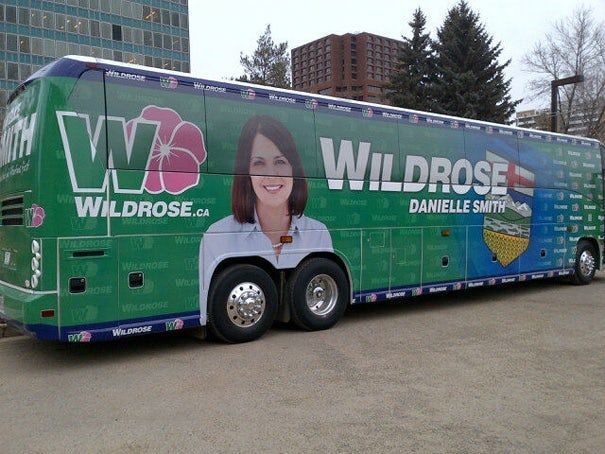 4. Promotional Freebies
Everyone loves a freebie, so these are ideal places to slap on your logo. Move beyond the classic pens and jotters to get creative, offering logo-branded freebies that are connected with your business and really get used.
This is a great example of branded items from a dog grooming salon that thought outside the box: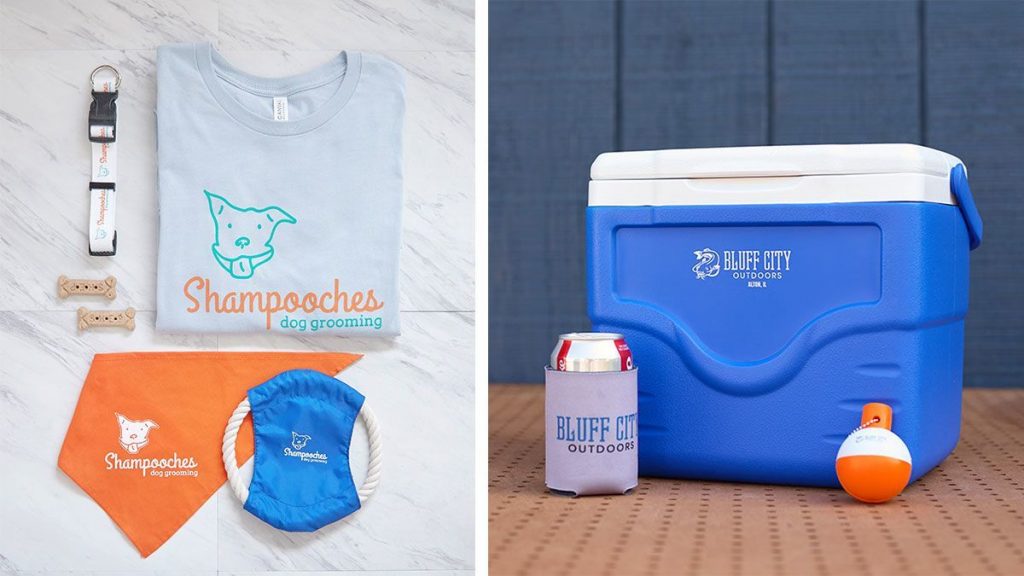 Here are some suggestions:
Extermination services can give out logo-ed fly swatters
Personal trainers can put their logo on frisbees, sweatbands, or baseball caps
Golf trainers, tennis coaches, and baseball coaches can stamp their logo on balls
Party planners can offer drinks coolers
Caterers can give away candy jars or heat-resistant trivets with their logo
And everyone always loves items like water bottles, smartphone cases, USB drives, and tote bags!
5. Decor
Your business premises is the perfect place for your logo. Don't overdo it, but do look for clever ways to place it where customers and visitors will notice, like a decal on the front door, the front window, or along the walls; as an accent note on the receptionist's desk; on the soap dispensers in the bathrooms; or on the welcome mat.
This Fiverr vendor says she can turn any company logo into a professional, realistic-looking 3d wall: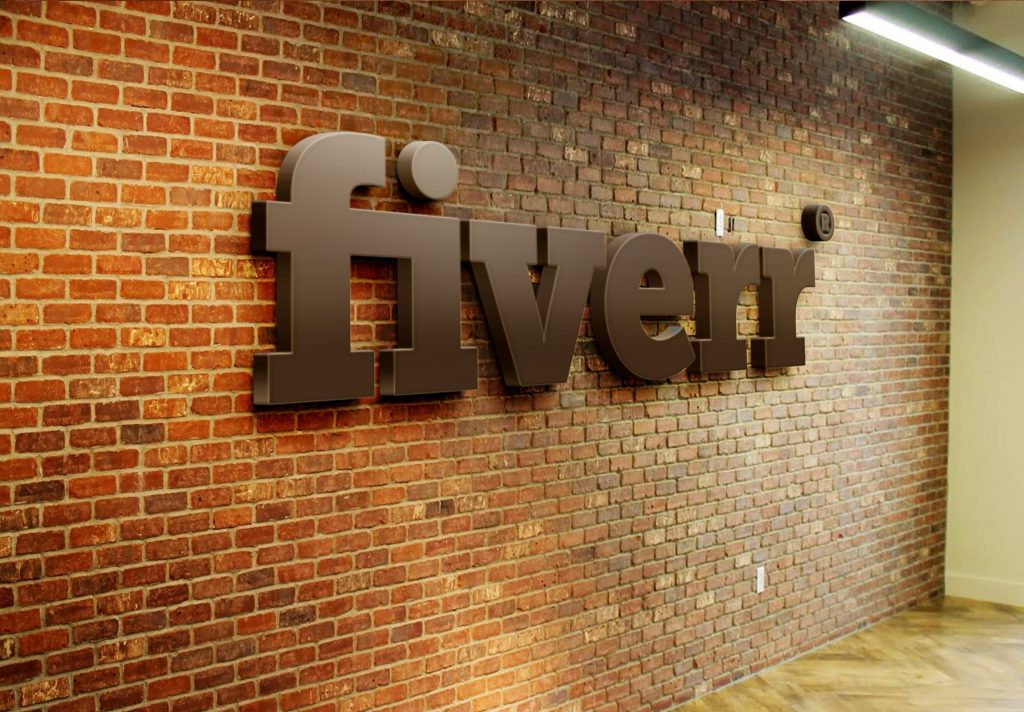 6. Social Media
Hopefully, you've already placed your logo as part of your profile image for all your social media accounts, but there are even more ways to include your logo on your social media content.
For example:
Include your logo in a custom frame for your employees' profile photos, as well as any images, memes, and infographics you post to your feed
Use your logo in the background of every image you share
7. Clothing
You don't need to dress everyone in a uniform shirt with the logo on the pocket, but you can and should find ways to incorporate your logo into your team's clothing.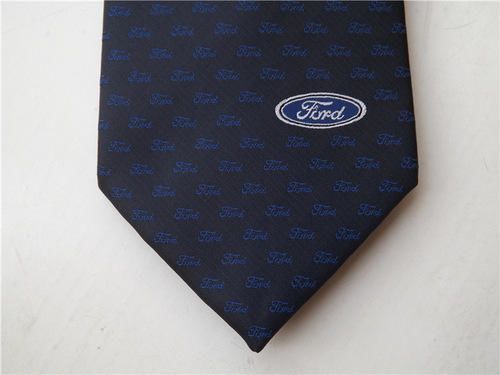 For example, a law firm could place the company logo on the ties worn by lawyers and paralegals; yoga teachers could have t-shirts with your logo; lawn care workers' baseball caps can be printed with the company logo; etc.
8. Office Supplies
You can and should go a little wild with your office supplies. If anyone comes in to your office for a consultation, your logo should be on everything they pick up. That means pens, coffee mugs, notebooks, calculators, mousepads, filing systems — you name it, you can put a logo on it.
9. Stickers
Printing your logo onto stickers means that you can place them almost anywhere.
Order logo stickers by the thousand from online sources like StickerMule, StickerYou, or PrintRunner, and then stick them on:
Laptops that you'll use for presentations
Notebooks
Folders of documents that you give to your clients
Free notebooks
Mousepads
Packaging boxes
Envelopes
You can also just give them away at conferences or in public spaces, so that people can stick them wherever they like.
10. Email Signatures
Instead of simply signing off every email with your name and your business company, turn your email signature into a colorful and memorable marketing space. There are easy email signature generators that help you create a distinctive email signature with your logo, like WiseStamp's.
11. Party Supplies
Events are fantastic opportunities for spreading your logo around.
If you're throwing a 5-year anniversary party, a grand opening, or sponsoring a community dance or tailgate picnic, splash your logo onto the paper goods, as well as banners, balloons, and party hats. You can custom order items like cups, plates, napkins, coasters, and more with your logo from party supply stores.
12. Paperwork
Paperwork may not be very exciting, but it is necessary. Everyone you interact with sees your receipts, invoices, bills, proposals, etc, so make sure to include your logo as well your business name.
Green invoicing software, like vcita, invite you to upload your logo so it will appear on every item of paperwork you produce.
13. Wallpaper
A clever and subtle option is to use your logo as wallpaper on your laptop and smartphone. Whenever you open up your laptop to give a presentation or discuss a project plan with your client, they'll see your wallpaper. Each time you pull out your phone to give someone your number, they'll see the logo on your lock screen.
14. Favicons
Favicons are the little icons that appear on the tab of each website in your browser, and next to your name when you comment on blogs. Think of it as your profile picture for other parts of the web.
As long as your logo isn't too complex, you can use it as your favicon.
That way, whenever you comment on someone else's blog, you'll also be promoting your business logo. If your logo is too complex to display as a tiny favicon, try pulling out just one element of it and using that instead.
15. Review Websites & Local Business Listings
If your business isn't already listed on Yelp, Google My Business and other review sites and local business directories, it should be. These are classic ways that people discover your business, and you want yours to stick out and be remembered.
When you list your business name and contact details, include your logo as well. Your logo should also be the image for your business on Google My Business, so that your logo and not a photo of the outside of your premises appears on Google Maps, Waze, and other map apps that people use to locate your business.
There you have it: 15 excellent ways to make the most of that awesome logo of yours. What are you going to try first?