You've for sure heard this one (or some version thereof):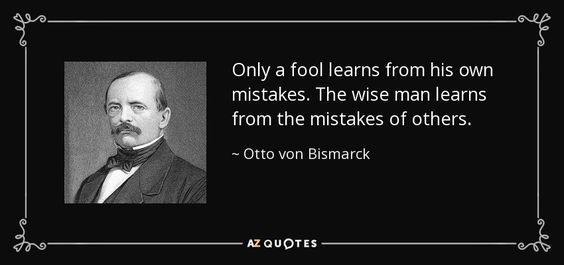 We believe in learning from your own mistakes (that's what our mothers drummed into us), but we definitely prefer when we can learn from those of others. Same lesson, but without having to suffer the painful consequences.
It's true for life, and it's true for business owners.
That's why every service-based small business owner should be reading business blogs. These are your golden opportunity to learn from someone else's mistakes… er, experience.
You'll learn things from how to manage your customer service to the best analytics tool to how they learned the hard way not to lower their prices to undercut the competition.
So, without further ado, here's our reading list of the 10 best blogs to read to help grow your service-based business.
Read it for: Help with customer service
If there's one element that's vital for every business, no matter how big or small, it's excellent customer service. In today's impatient, always-on digital world, customers won't give you a second chance if you're too slow in responding to their needs, and they demand a very high level of attention and concern.
That's why it's a good idea to read HelpScout on a regular basis. The HelpScout blog is packed with advice for improving your customer service, recommendations for customer service tools and workflows, and guidance for making your company culture more customer-centric.
3 posts to read:
Go-to scripts for 10 tricky customer service scenarios
5 key principles of customer-centric selling
7 ways to improve your online customer service
Read it for: Social media marketing
You already know that social media isn't just for cat videos, photos of your lunch, or even for chatting with friends. Social media is one of your most powerful marketing tools, so you can't afford to be lagging behind.
Sprout Social is here to help you maximize social media marketing strategies to grow your business, boost your brand reputation, and capture new leads. You'll find tips for social media analytics, advice about social media marketing tactics, and much more.
3 posts to read:
How to build your social media marketing strategy
9 Instagram analytics tools to master performance
How to use social listening tools for business-wide success
Read it for: Business finance and cash flow
As well as being one of the world's leading credit card companies, American Express also has a very useful blog for small businesses. As you'd expect, it's mostly focused on issues of business finance, cash flow, budgeting, and similar topics, with plenty of actionable insights and practical advice about managing the money side of things.
However, that's not all. The American Express blog also discusses business leadership and development, marketing and sales, cybersecurity, productivity, and more, with frequent guest blog posts from leading entrepreneurs like Mike Michalowicz and Guy Kawasaki.
3 posts to read:
How to get the most cash back from your business credits cards
How to perform a cash-flow analysis
12 ways to hook an audience in 30 seconds
Read it for: Small business marketing on a budget
One of the most important elements to any small business success is good marketing. The trouble is, most marketing blogs assume that you've got a large budget to draw on to fund all your marketing activities.
We're happy to tell you that at vcita, we do not make that assumption. We know that every dollar counts, so you'll find plenty of advice, how-to posts, and tips for low-cost tools to help you to manage killer marketing on a shoestring budget. 
3 posts to read:
5 Out-of-the-box small business marketing ideas
How to turn a simple "happy birthday" email into a repeat client
5 Examples of life coach branding that win clients over
Read it for: Everything you need to know about SEO
SEO is one of the central pillars of your marketing strategy. It's the science of making your business more visible in search engine results pages, and it's the passion and focus of the Moz blog.
Moz brings together some of the world's best SEO experts and digital marketing gurus to guide you through SEO and other online marketing techniques. Don't miss Whiteboard Friday, when Moz experts use a whiteboard to explain another complicated concept in SEO in ways that everyone can understand.
3 posts to read:
Pay attention to these SEO trends in 2020 and beyond
Measure form usage with event tracking —  Whiteboard Friday
The true value of top publisher links
Read it for: Small business development
Sometimes, you need to read a blog which really understands your viewpoint and experiences as a small business owner. That's when you want to read SmallBizDaily. It's all about running a small business and is loaded with advice about marketing and sales, finance, women entrepreneurs, business tools and apps, growing your business, dealing with problems at scale, and more.
Pay special attention to the management section, which offers guidance and support with issues like business leadership, hiring and firing, leadership, employee engagement, and other challenges that crop up when you run your own business. 
3 posts to read:
3 essential risk management practices for entrepreneurs
Theft in the workplace: What happens when an employee breaks the law
How the entrance of Generation Z will reshape the workplace in 2020
Read it for: Sales funnel advice
As you can probably guess from the name, this should be your go-to blog for actionable insights into sales. No matter what you're selling, whether it's lawn care treatments, therapy sessions or car services, you need a solid and effective sales strategy that works.
The Close Sales blog discusses cold calls, cold emails, qualifying and converting leads, and other steps along the marketing and sales funnel. You'll find best sales practices, tips for advanced sales performance, and suggestions for sales tools.
3 posts to read:
7 things you can't do with a CRM spreadsheet
6 reasons why salespeople win or lose a sale
Getting the demo: 3 tips for successful email outreach
Read it for: Branding, marketing, and business development
The Big Brand System blog combines branding, design, marketing, and business development advice to help you to grow your business even faster. It's the ideal place to come when you're trying to brand or rebrand your business, stuck on a business name or logo, or are trying to push through a barrier to your business growth. You'll find plenty of solid advice, tools, and strategy guidance here.
3 posts to read:
7 business name traps to avoid 
How to build the perfect online business for your current life
Read it for: Help writing copy and content that converts
No matter what type of business you run, you can't get away with poor quality copy, whether that's on your website, your email newsletters, your print ads, or even your business name. Copybloggers focuses on the skills, tricks, and tools that help anyone to create good content.
You'll find posts about a range of copywriting issues here, including SEO, email subject lines, ad copy, and storywriting, all of them aimed at helping to raise your traffic, boost your external links, and convert new leads. If you prefer to learn by listening, there's also a Copyblogger podcast!
3 posts to read:
How to create cornerstone content that Google loves
3 important SEO tips you can start using today
Increase your conversions by using the right message
Read it for: Business development guidance and inspiration
Running your own business isn't always a piece of cake. Sometimes you need some inspiration, encouragement, and guidance from someone who has been there, done that, and can't afford the t-shirt. That's what Mike Michalowicz's blog is here for.
Mike is a serial entrepreneur and business owner who's run both successful and failed businesses. On his blog, he shares strategies that he's learned through bitter experience for growing a strong business, maximizing profitability and productivity, business leadership, and pushing innovation.
3 posts to read:
Positive reinforcement for more profits
Eliminate this for a successful business
That's your reading list all lined up for you. Now all you have to do is check out these top business blogs, and put what you learn into practice to help you grow your business into the powerhouse it should be.