Understatement: 2020 was a drag.
So we asked ourselves: What can we do to make sure 2021 is the year where everybody – yes, everybody – can rebuild their confidence and kick their business back into gear?
Luckily, two of the best people in the world to talk to about the future of business agreed to talk to us about small business trends for 2021 and beyond: Shelly Bar-Nahor, vcita's CPO, and Adi Engel, formerly CBDO and vcita's recently minted CMO.
We created this recap to share all the resources, insights, and great ideas that came up during our conversation – and you can also catch up by watching the recording below.
Small business trends we covered:
Delivering remarkable online services
Supporting a growing community
Driving collaboration
Building financial resilience
1. Delivering remarkable online services
Everyone is talking about moving online, but what does that really mean for small businesses, entrepreneurs and partner communities?
Adi Engel, CMO, vcita:
The most important thing to remember is that digitalization and automation are not about removing your personal touch points with clients! Moving online is about extending and scaling up your capabilities. It's also about creating new, engaging, customer-focused spaces for you and your clients.
Let's take vcita's Client Portal feature for example. If you're a small business owner, our client portal feature can make all the difference in transitioning into a more digital landscape. You're basically empowering your clients to choose between assisted help (calling or emailing your business) and 24/7 self-service (through a personalized, secure, client portal).
With a 24/7 self-service client portal, your clients can can view and manage their bookings, access, and share documents, check out invoices, and pay for past or upcoming appointments. They can do all that in their own time, whenever and wherever it suits them.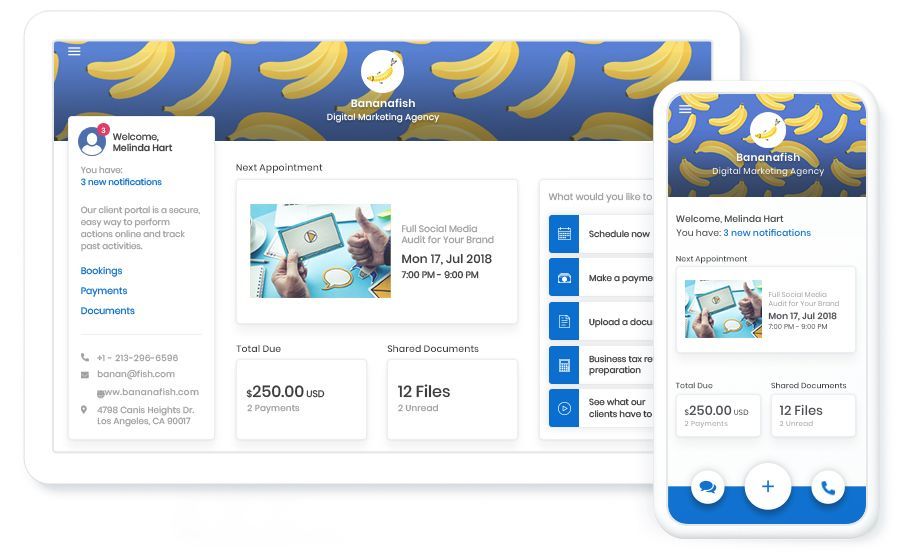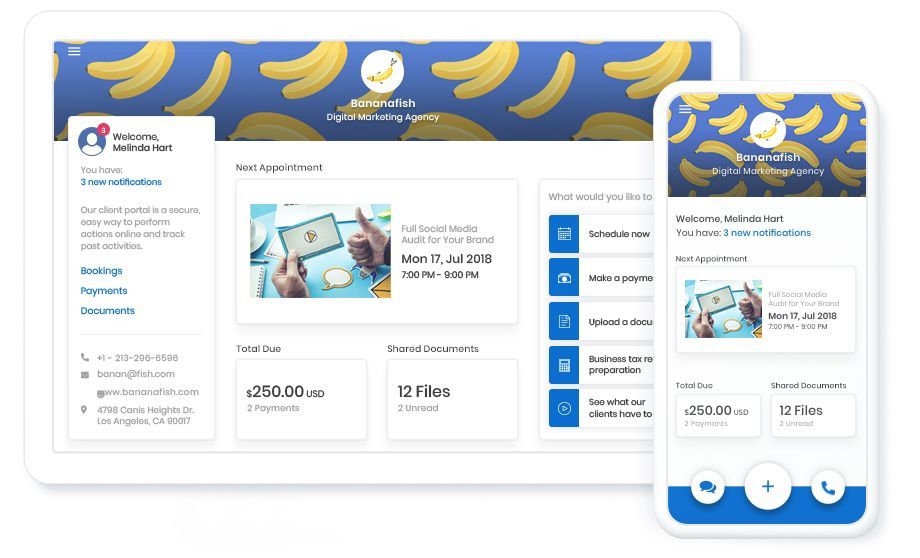 With the onset of COVID, we realized that many businesses were not only scheduling and collecting payments online but delivering their services online too. So, we launched a full array of service features to support online deliverables.
Introducing the Zoom integration for online meetings and Pay by Mobile for convenient payments was met with great excitement. On top of that, the completely revamped online scheduler made scheduling as engaging and intuitive as possible.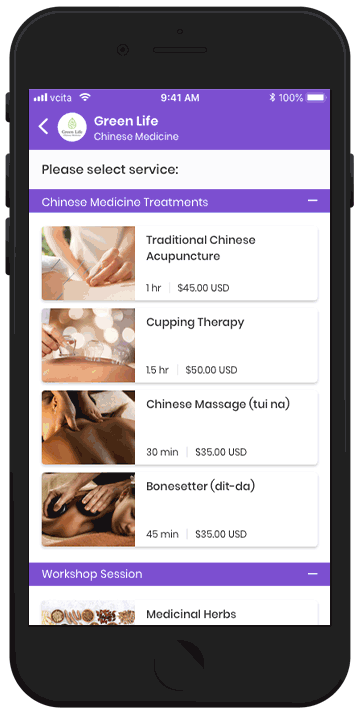 We have multiple solutions for helping clients understand what works for them, including great self-assessment tools to break their needs down to specifics.
Shelly Bar-Nahor, CPO, vcita:
Going digital isn't just abot extending your availability to clients. It also informs your day to day, your work processes, the way you bring your own team into the picture, and overseeing all those moving pieces.
For example, we recently released a new feature, "Nesting", that enables users to "group" several contacts or projects under one "umbrella contact". This allow customers to book appointments on behalf of others, like a parent booking a driving lesson or a therapist's appointment for their child.
The point is that moving to digital records doesn't only streamline your workflows. Using digital, real-time client management tools can also supercharge your customer experience overnight.
2. Supporting a growing community
In times of need, and in particular, over the last year, businesses have in general received a heart-warming amount of support from their customer base, a trend that is gaining momentum with genuine invested interest.
In other words: Having a stake in the health of a community is intrinsic to the prosperity of all involved.
A strong bond strengthens the communication between service provider and customer through a shared purpose. And with a tight-knit, reliable, loyal client base in place, revenue is generated, enabling growth.
Both Adi and Shelly recommend leaning into your community and understand that your services are valued and needed. This sense of comradery and insight strengthens business opportunities, customer advocacy and long-lasting relationships.
vcita provides the infrastructure for managing these relationships, even when they are from a distance:
Shelly Bar-Nahor, CPO, vcita:
My team [vcita's Product team] is focused on relationship building and helping small business owners build a communication cycle, a rhythm, with their clients. This rhythm is set to encourage the formation of a community of loyal clients: Delivering great service, offering flexible or instant payment options, and securing the next booking before clients go cold. The Client portal features does just that by offering a seamless app-like experience that keeps clients informed and engaged 24/7.
To reinforce the concept of creating a rhythm of happy customers, think of Packages – another recently launched vcita feature.
With packages, small business owners can create customized service bundles and special deals along with pre-pay capabilities. This feature not only gives your clients a way to easily and conveniently express loyalty but also gives you peace of mind to withstand the financial struggles and impact COVID has had on businesses.
However, this model doesn't work for all business types and that's why vcita is set to focus its attention on offering automated recurring payment adaptability depending on the service sold. This new feature will support various billing scenarios, and can be used to automatically charge upfront, after each session, or periodically. It all depends on who you are and how you do business.
3. Driving collaboration
This new year has brought with it a burst of much-needed optimism following last year's emotional roller coaster. But, as things stand, remote working is still very much a reality we need to cope with. It will most likely be with us for a while, perhaps even long after COVID blows over.
One of the biggest business challenges we all have faced is the "working from home" trend and its impact on teamwork. If you manage a team or work as part of one, you can probably relate to how collaboration, transparency, and knowledge sharing is now more important than ever before. 2020 forced us to grow as a team, pushing us outside of our comfort zones, challenging us to build new ways of communicating and share information to better function as a unit.
Recommended reading: 5 Best ways to coordinate schedules
During this time vcita, already a team management tool, took the opportunity to upscale its digitalization infrastructure to better serve the needs and wants of our clients. The key, collaboration at scale. And as a result, we saw teamwork functionality sore. One of the biggest projects vcita is working on is helping you work better together by creating a structure for shared responsibilities and ownership.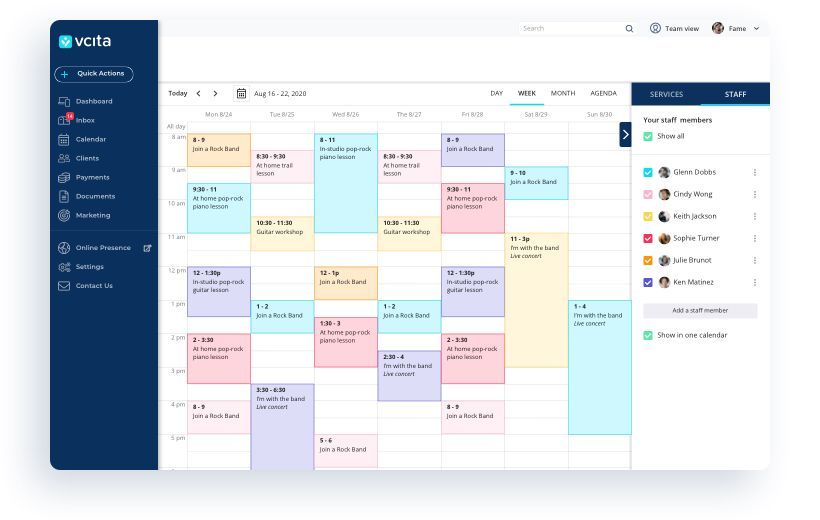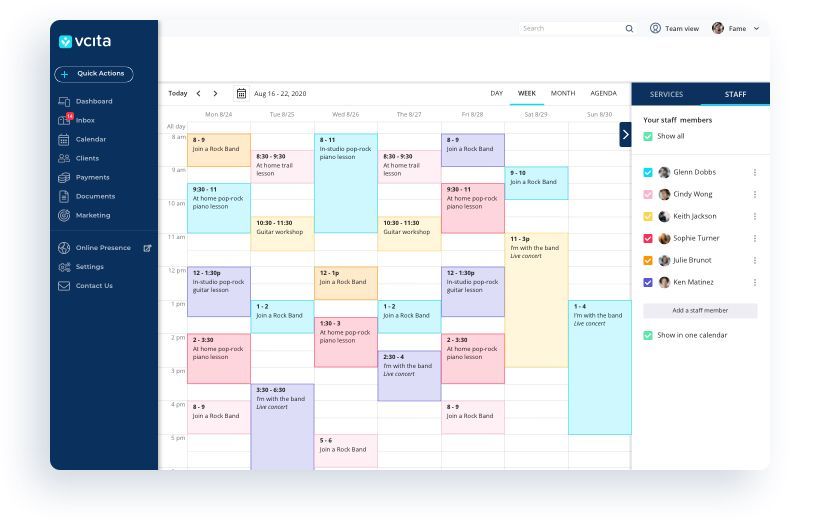 Already in action, the vcita Calendar gives team members the ability to share (with permission) their schedules with one another for optimized efficiency. Client cards are also valuable so that team members working with the same clients are always synced with one another's activities and communications. In essence you can collaborate as much as you want to or not, the choice is yours.
More improvements on this are expected to rollout in the coming months, including the expansion of roles and permission options to boost flexibility, as well as giving you robust reporting tools to help you visualize important data so you can learn and grow.
4. Building financial resilience
If you want to build financial resilience, build relationships that last, and "wow" your clients with sleek and convenient online experiences that future-proof your lines of revenue.
As a fundamental and unavoidable part of the business process, having to discuss payment can very often be particularly uncomfortable and even awkward.
Adi Engel, CMO, vcita:
We need to reframe the way we think about payments. Small business owners should focus on the fact that you do what you do, giving value to your community through your service offerings. Therefore you need to build resilience within your business and also your customers need you to have resilience.
This idea ties back into the idea that you need your community as much as your community needs you. It's a symbiotic relationship that thrives on mutually beneficial actions and outcomes.
My advice to all service providers out there is to use 2021 as a reset button for how you manage your finances. Streamlining your collection process will make all the difference when the end of the fiscal year comes, so take that step to align yourself and your business with your customers' payment access points.
If you need to choose one area of your business to invest in this year, make it payments.
vcita has introduced many features on this subject so far and plans to release a whole lot more in the coming months. It's highly recommended that you take full advantage of these capabilities on offer. If you feel like you are lacking in any way or not using the full feature set, reach out to vcita's customer support or customer success for assistance.
This is your chance to reset how you think about money, talk about money, and how you manage money within your business.
Everyone benefits when you're transparent about payments. Highlight all the ways to pay and your customers will be more inclined to settle their accounts in a timely manner. Creating a new standard of online payments will help you to build your businesses' financial resilience.
Shelly Bar-Nahor, CPO, vcita:
To regain control with online payments, flexibility is key. You need to offer clients several ways to pay online, and make it easy for them to pay for a product, service, package, or even just close any outstanding balance.
When it comes to payment there are a lot of scenarios and a lot of flows to make things easier, better, and smoother. vcita is invested in solving these frameworks. We want to give you everything you need to get your hard-earned money in the bank on time, so watch out for big payment solutions gearing up for release soon. One of these being selling products that complement services. Definitely, a game changer for small businesses everywhere.
Exciting times ahead and we can't wait to see what's next.

Take the Leap into 2021 with us!
___________________________________________________________________________
Shelly Bar-Nahor, vcita CPO:
Shelly is Chief Product Officer at vcita. For the past 9 years, Shelly has been leading vcita's product development from the initial concept and through post launch adoption and analysis. Together with her team of Product Managers, Shelly oversees the development of the vcita platform in accordance with the evolving needs of the small business community, and in tune with the latest technological advancements.

Shelly combines deep understanding of technology and software with the ability to understand customer needs and the importance of designing simple and user-friendly services. She continues to lead a customer-centric product development approach, harnessing technology to create value for the small business community.
Adi Engel, vcita CMO:
As Chief Marketing Officer, Adi is responsible for leading vcita's strategic thinking and global marketing objectives in supporting micro and small businesses on their journey to success and digital transformation.
Coupled with her business acumen, Adi has a host of experience and customer-centric product knowledge, which she constantly brings into new, innovative, company-wide, initiatives that are guided by her passion for enabling the inclusion of the underserved.
Driving a growth culture and mentality, Adi, together with her team, are helping to positively impact hundreds of thousands of small businesses around the world to build businesses they are proud of.