So much of being a successful small business owner is about getting the most bang for your buck.
This is especially true when it comes to picking out software for your business.
Whether it's the price tag or the amount of time it takes to learn something new, we can only allow so much room in our budgets.
And so the right software choice represents a valuable, long-term investment that we need to get right the first time.
Because pouring time and money into a system that just doesn't work for you is a total drag.
The good news? Long gone are the days of small business owners having to wrap their heads around bloated, big business solutions with tons of features that you'll never actually use.
Fast forward to present-day where there are tons of business apps tailor-made for the "little guy." Affordable and offering some much-needed flexibility, SMB apps have no shortage of options when it comes to new software solutions.
Oddly enough, this freedom of choice has resulted in an unexpected problem: analysis paralysis.
In fact, choosing the right technology is one of the top challenges of today's business owners who just can't make up their mind.
If your own head is spinning when it comes to picking out software yourself, don't panic! We've put together a quick, five-point checklist to help make the decision for you.
1. See if the Software Vendor Helps You Set Things Up
There's much more to a new software than the features on the surface.
For starters, you need to know that you're going to actually set up your new system without pulling your hair out.
That's why it's important to look at your product and vendor as a sort of "package deal."
Think of a software vendor as a sort of business partner. If you're going to commit to their solution for the long-term, you need to make sure they're going to be there for you.
That means helping with setup and helping you deal with any potential issues as you scale.
Getting off on the right foot with a new software means understanding how to use the features that matter most for you when you set it up.
As a small business owner, you're expected to juggle the task of learning new software while also running your day-to-day operations. Squeezing in some time with your vendor can make this process go much, much smoother.
2. Avoid Solutions with Bloated Features
When it comes to business software, sometimes "less is more."
And just because something comes loaded with a laundry list of features doesn't mean you need to be paying for all of them.
All-in-one solutions can be fantastic but some may feel like a sort of "jack of all trades, master of none."
Remember: it's much better to look for a solution that does a few things really well rather than one that does a million things "just okay."
As a small business owner, it helps to do your homework on the specific features of any software in question. You can do this by conducting your own SaaS tools analysis.
But where do you start?
First, identify your main objective. To zero in on what you're looking for, ask yourself the following questions:
What problems should your software solve? Figure out your biggest pain points in terms of time, money and/or efficiency.
What's the ROI for my investment? Determine the benefits of the software that would result in a positive ROI for you (saved time, etc).
Then list your software requirements. Based on your objective, you can go into the specifics of what to look for in a software. Here are some examples:
Set of features
Mobile compatibility
Ease of use
Available support
Scalability
Once you have these pointers in front you, you can better determine at a glance which solutions are the right fit for your business.
3. Keep Your Budget in Mind
Technology is any small business' best friend. From boosting your income to helping you find more free time, software solutions allow you to focus on tasks that involve interacting with customers and, you know, getting down to business.
Obviously, anything you purchase on behalf of your business needs to stay within your budget.
We get it. Small businesses typically have small budgets.
And that's okay!
Unfortunately, costs for business software can quickly spiral out of control. The idea of being locked into a subscription or getting hit by hidden fees understandably scare some small businesses from making a purchase.
Bear in mind that you can test the waters of many solutions with a free trial. Free solutions and trial periods allow you to experience firsthand whether or not a software is a strong fit. In these cases, a paid upgrade is usually just a few clicks away.
SMB-focused products are typically available at SMB-friendly prices. Monthly subscription plans, commonly offered in cloud-based software systems, keep costs down so you don't have to shell out a ton of dough upfront.
Either way, a basic cost-benefit analysis is essential. Sometimes paying just a little extra for a higher tier can be worth it in the long-run. It's all about that ever-so-important ROI for your time.
For instance, manual data entry consumes up to 23% of a small team's workday. That translates into a full day's worth of work over the course of a week. Paying a few extra bucks per month to cut down on such a tedious task is totally worth it, right?
And on a similar note, don't just go for the cheapest price tag and assume that you're getting a deal. Although there are certainly some bargains out there, the old saying "You get what you pay for" still applies today.
4. Consider Your Software Vendor's Support Hours
If you can find a solution catered towards small businesses that offers dedicated, on-call support, consider that an awesome added bonus!
Because again, the quality of support directly impacts how well you use your software.
So, what should you look out for?
For starters, check out what channels they're advertising for customer support including:
Phone
Email
Livechat
A Facebook group
Support tickets
Naturally, real-time support is preferable to having to wait hours to go back-and-forth with someone.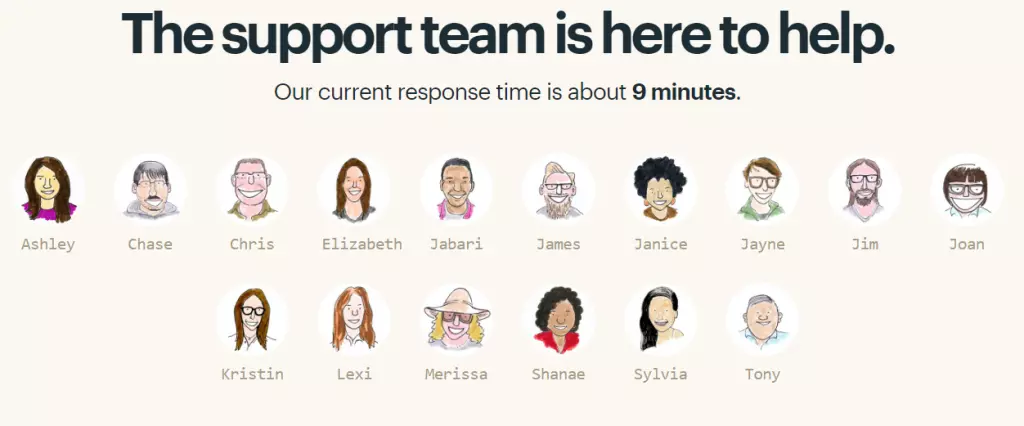 You should also double-check to see if the vendor provides a knowledge base or self-service center for their app. A bit of digging around can oftentimes help you find the answers you're looking for without having to contact support.
5. Read Reviews from Actual Users
Finally, take time to play the role of detective.
One of the most important things you should do to get to know the product better before buying is conducting software for small business research.
The challenge? What you'll find on vendor sites is mostly marketing content.
You know, lots of claims of being the "best-in-class" product and that sort of thing.
There's a reason why 97% of consumers will first search and read online reviews before making a purchase.

Legitimate reviews from third-party sites can provide meaningful insight into what a tool looks like in action for flesh-and-blood business owners.
Through the experiences of others, you can understand the pros and cons of a tool without paying a dime. Some things to look for in reviews include:
Buyer confidence. You can use reviews to legitimize claims of the vendor regarding the product.
Buyer feedback. Gain insight on what the product lacks or needs improvement on, especially if it's a feature you need.
Buyer loyalty and satisfaction. See if its customer base is loyal and strong which reflects the quality of their service and product.
Of course, be wary of any reviews that sound a bit too glowing.
Legit reviews usually offer some sort of criticism of suggestions, subtle as they may be. If the feedback for a product is overwhelmingly positive over an extended period of time and don't feel like they're written by a robot, chances are they're real.
Ready to Go Software Hunting?
A little bit a planning and research can go a long way in making the best software choice for your business.
No matter what you're after, consider how business software is an investment.
So ask yourself: what are you and your business going to get out of your purchase?
While there might be a ton of solutions and variables impacting your decision, these five tips can narrow down your search and make the choice so much easier.
And with that, happy hunting!
** This guest post was written by the team at FinancesOnline, the leading platform for software and financial products reviews.