Working with SMBs is the best decision I ever made.
In my role as director of Customer Success & Sales at vcita, I speak with SMBs on a daily basis and it never gets old. I love hearing stories of business owners, listening to their challenges, and helping them overcome these challengs with the support of technology.
But it's not all fun and games.
As a marketing agency, you're likely familiar with the high churn rates that come when working with SMBs.
The good news is that there are a few steps you can take to minimize this churn and replace it with bullet-proof customer loyalty. In this article, I'll cover some of the tactics I find most helpful in combatting the churn of SMB clients.
Why do SMBs churn?
SMBs can be more vulnerable than bigger businesses. With zero-to-no cash buffers and regular cashflow issues, SMBs are likely to only invest in services that deliver real hard value. And they like to see that value as soon as possible.
So when an SMB feels that they aren't seeing the value they expect, they are likely to churn.
A common example I've seen in the agency world is SMBs that get excited about building a website or launching a lead-gen campaign but then cancel the service before the agency gets a chance to deliver the ROI.
Detecting churn before it happens
Sometimes the writing is on the wall, and if you spot it on time, you can minimize churn by proactively recognizing it. These are two churn indicators my team keeps an eye on:
Decreased Engagement: If your clients are visiting your platform less, not participating in weekly calls with their account manager, and reducing their budget in your campaigns, it may be time to take action. Our team has a system in place that calculates a health score for each account, alerting us to any accounts that may be slipping away, so we can pour attention into retention.
Low Performance or Results: If the results from your campaigns are not meeting expectations, this is a good time to reach out and have a conversation about where things stand. In these cases, I've seen agencies do a great job at explaining that results can take time, and creating a plan for solving any issue and delivering the expected value.
Besides these two, I highly recommend analyzing your churned clients to reveal patterns and common characteristics, such as specific industries or business sizes. By analyzing this data, you can identify high-risk clients and track them closely, preventing future churn.
For example, many of our agency partners find that start-up businesses are at higher risk of churn. Knowing this enables them to take preventive measures.
Train your teams with retention in mind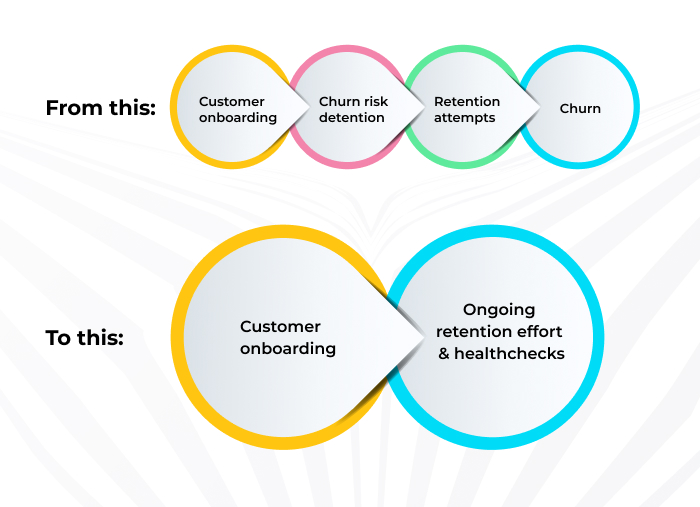 Another crucial element of reducing churn and enhancing SMB loyalty is to teach your teams to focus on retention, rather than just sales.
If you ask anyone on my team, they'll tell you that churn reduction is something we talk about on a daily basis. Here are some tips I recommend implementing across your Customer Success teams:
Emphasize Customer Goals: Train your team to assist SMBs in setting clear goals, document these goals, and let SMBs know about the actions being taken to help them achieve these objectives. For example, when a customer once called to cancel our service, instead of offering a discount, my team said, "Wait! Giving up now could mean postponing the expansion you told me you were planning. Let's try to take another approach and help you open that second location you want". Connecting to your clients' real-life goals this way can help them see the bigger picture.
Incentivize Retention and foster a Customer-Centric Culture: Reward your team based on customer retention and the number of happy accounts instead of just new sales alone. For example, our teams are incentivized on "leading indicators" like adoption. This helps prevent churn from the start. 
Integrate Retention into your business processes: Invest in implementing regular customer satisfaction check-ups. It's great to do this with customers directly (over the phone or in person) but even better is to do it at scale and even automate the process.
What I'm getting at, is that retention needs to be a regular effort and not a last-minute scramble to save a client when it's probably already too late.
KPI is king
I've learned the hard way that if something doesn't have a KPI, it pretty much doesn't exist. When it comes to tracking retention and churn, here are the KPIs you should be considering:
Customer Churn Rate (CCR): The percentage of clients that are dropping or canceling your services. A common goal at B2B companies is to stay below 5% monthly. 
Lifetime Value (LTV): Calculate the long-term value of each SMB customer to gain insight into how much they contribute to your business over time. If the score is low in comparison to your Customer Acquisition Cost (CaC), it means you are losing your clients too fast, before you are able to get a good return on the investment. A good ratio here should be 1:3.
The Customer Health Score – a metric used to understand the likelihood of a customer's growth, consistency, and churn. Monitoring this metric helps you better understand the risks associated with individual accounts. 
Churn will happen. But it can happen less and less. When you take a proactive approach towards retaining customers, detect churn early on, and use the right KPIs to measure and improve: your SMB clients will remain happier and more loyal, keeping your business stable and your growth positive.
April Ayers, our Global Director of Customer Success, offers years of hands-on experience serving SMBs, providing her with a deep understanding of the challenges and pain points faced by small businesses. Her unique insight into the SMB growth journey positions her to shed some light on innovative tech adaptation by SMB decision-makers.
vcita partners with leading organizations that serve SMBs to propel forward a joint vision of empowering SMB digital transformation. To learn more, check out vcita's partnership program.