Traditionally, telco partnerships and target segments have been focused on markets that represent high volume or high value. As a result, consumer and large enterprise markets have been the natural first choice given the opportunity for telcos to be able to standardize and scale product offerings and services in these markets.
But as competition increases and large enterprise and consumer markets mature, the potential for continued growth is waning as highlighted in this McKinsey report. Telcos are now looking for alternate markets to target and small to medium businesses (SMBs) are looking increasingly attractive.
The SMB market may be complex, but it is also the dynamic backbone of the economy that represents a worthwhile opportunity for telcos as growth starts to plateau in other market segments.
Why has the telco-SMB partnership been slow to emerge?
Small businesses cover companies of varying sizes from solo entrepreneurs to companies with 30 or more employees, in all sectors. Many have hybrid work models including fully remote roles which require customized IT infrastructure. Compared to consumer and enterprise market segments, SMBs are much more complex because almost every business as a customer has unique needs.
From a telco perspective, this ramps up the cost of customer acquisition, makes it difficult to standardize product offerings and requires more investment in sales service, as small businesses typically need more hand holding.
Yet despite these challenges, some telcos have recognized the potential in SMBs and have been able to sustain higher-than-average growth and profitability. What are they doing differently?
Benchmarking telco to SMB best practices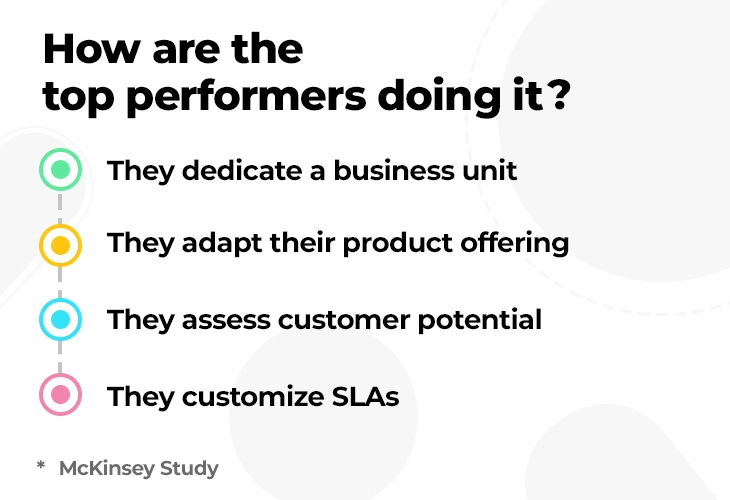 For telcos to be successful at targeting a segment they previously avoided, it requires two key focus points: Realizing the untapped potential in the SMB market, and the willingness to adapt strategy to deliver what SMBs want and need. The McKinsey report: From Afterthought to asset: How top telcos succeed with SMBs, identifies four key areas where top telcos took a different approach:
1. They dedicated a business unit to SMBs
As a start, the top telcos created a dedicated business unit focusing on SMBs. Because there is a fair amount of overlap between consumer and enterprise, the temptation is often to simply slot them into whichever business unit their needs are a closest match to. But it's never a perfect fit because those business units are not equipped to partner with SMBs and tailor solutions to their needs. The result can be frustration for both the telco and the SMBs. Instead, having a business unit dedicated to SMBs helps avoid internal conflicts with other business units and focuses on developing products that are more suited to their needs.
2. They adapted their product offering
While it's true that SMB needs differ from large enterprises, the core needs are similar in that the majority of products remain data and voice. It's simply a case of adapting product offerings to suit the different market segments. The approach of top telcos has been to bundle products with a stronger focus on B2B offerings. For example: Bundling connectivity products with other solutions so that there's a single solution that SMBs can use to manage their business operations.
3. They assessed customer potential
To know which SMBs to target, top telcos have developed three primary criteria to define business potential: current value of the business, future value of the business, and how technologically mature companies are. For example: Are they using CRM or other technologies that help small businesses interface with their customers? This provides a better overview of customer potential. It also opens up opportunities to collaborate with partners, potentially reducing the cost of customer acquisition.
4. They customized SLAs
Creating customized service level agreements (SLAs) for SMBs shows how top telcos are making the effort to understand what SMBs need and adapting their operations, field services, and customer care to match. Part of this is being proactive about customer retention and working to identify opportunities to upsell and cross-sell to existing customers.
What's changing in the SMB market and what do they want?
The SMB market is maturing with a growing trend towards investing in technologies to make their businesses more efficient and more resilient. To highlight the buying power of the SMB market, it's predicted that global IT spend by SMBs will reach $1.45 trillion in 2023.
This is backed up by findings in a recent SMB survey showing that despite economic uncertainty, SMBs remain positive with 50% intending to spend more on digital tools to support their business growth.
As much as SMBs are increasing their adoption of technology their preference is still to keep things simple. For small businesses, their primary focus is on their customers. They don't want to have to deal with complex technologies, and when it comes to IT, SMBs primarily want fast and reliable internet, and tools that help make their daily lives simpler. Equally important is cybersecurity and compliance as smaller businesses are now becoming targets of attacks.
How telcos can leverage the opportunity in the SMB market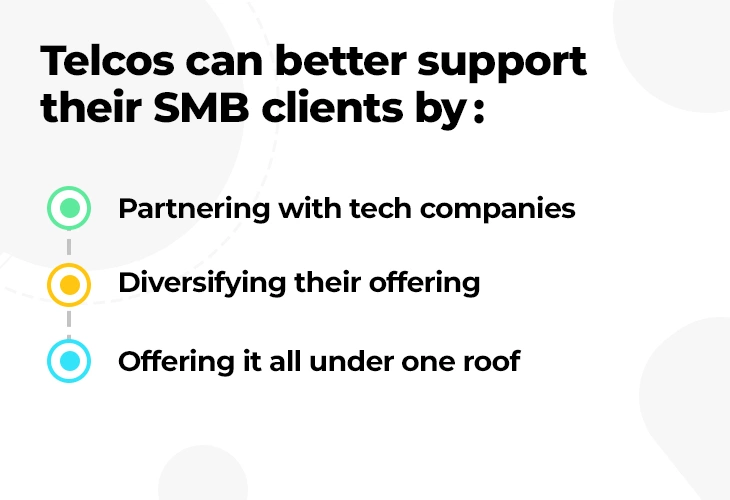 Having a broad portfolio of products that can be customized to specific SMB needs is a good starting point. A goal should be to have a single solution that has the capability to manage most business operations and customer relationships as this makes for an attractive proposition to SMBs. It aligns with their desire for simplicity while still advancing their use of technology.
The advantage for telcos of a single tool is that as they advance their footprint in the target market it creates opportunities to diversify revenue streams and cross-sell, all while building customer relationships and loyalty.
To achieve this there is an opportunity to tap into partnerships with technology companies already serving the SMB community and who have an in-depth understanding of their needs. Tools that promote productivity, process payments, help manage customer accounts and loyalty programs, and support business development are what SMBs are using to their advantage. If telcos develop product offerings to support these tools in partnership with technology companies, it plays directly into what SMBs are looking for.
This can help telcos align product offerings, customer service and business units with specific SMB business needs without the need to develop their own as white label partnerships garner a plethora of benefits for the business. Additionally, serving all solutions through a single environment can help create more upselling opportunities, all while developing an indirect channel to a growing SMB market.
Key takeaway
As growth plateaus in other sectors, the SMB market represents a good opportunity that most telcos are likely to go after. Already the top telcos are proving it's a profitable sector. With this in mind, speed to market and a detailed understanding of what SMBs need, is critical to gaining a competitive advantage.
To advance further into the SMB market, there's a unique opportunity for telcos to partner with technology providers that already serve the SMB market to diversify product offerings as part of a single suite of services. There's an advantage to be gained by partnering with those already established in the SMB market that know technology and understand how to meet the diverse needs of SMBs. For telcos the takeaway is that it's a simple way to accelerate access to a potentially very profitable market. 
vcita partners with leading organizations that serve SMBs to propel forward a joint vision of empowering SMB digital transformation. To learn more, check out vcita's partnership program.